Business loans up to R50,000
Working capital
Fast loan approval
In-page navigation
---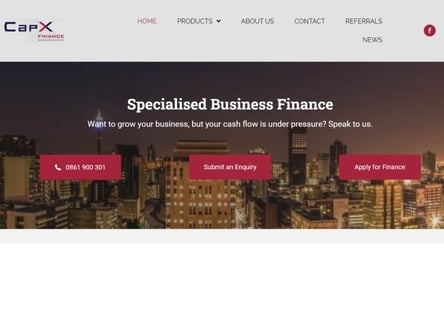 Author CapX Finance. Screenshot of CapX Finance website.


[Accessed January 31, 2023]
CapX Finance - Together they'll grow your business
Is your business feeling as though it's hit a plateau? Are you looking to grow it and expand to new avenues, but unsure how to go about doing it? Even if your cash flow is under pressure, there is a way and you've come to the right place.
CapX Finance is a finance company that was established in 1999 to provide short-term finance to SMEs and property owners. They have a vast range of financial products that they offer clients and they are built on the core foundations of simplicity and exemplary service.
They are well-known in the industry
These unique foundations are what sets them apart from traditional lenders who may well be known in the industry for other standards but come up unmatched in terms of theirs. Their average client is usually smaller and therefore often experience impersonal service from those lenders, where they focus on making every client feel respected, regardless of the size of their business.
A passion for business
Their experience has led them to share their passion for business, people and finance throughout all their encounters over the years. This passion, coupled with the technology that they have in today's age, is what allows their client services to be as quick and efficient as it is.
They are currently represented by a respected network of franchises, independent agents and associates all over South Africa and Namibia.
Working capital for your business
CapX Finance understands that sufficient and quick cash flow is without a doubt the backbone of a business. Without it, you simply cannot grow your business to where you need it to go. At times cash flow problems can be a direct result of adverse credit terms. The annoying thing is that the smaller your business, the less chance you have of receiving good credit terms with typical lending institutions.
They take these problems and quickly turn them around by giving you working capital for your business. At CapX Finance, they work quickly to solve your cash flow problems and do so by minimising their paperwork process and being completely transparent when it comes to fees and charges. You can expect to apply for a minimum business loan amount of R50 000.
Business finance solutions
When opportunity knocks, open the door, quickly! Apply for business finance with them and you can expect to grab this opportunity by the proverbial horns and feel good about having taken a leap of faith with a new venture.
Why their finance? Other banks can take months before approving or even declining a business credit application and no one can afford to sit by and wait while their business starts plummeting.
They felt that if you don't receive an answer immediately, it can add further strain to your already worrying situation.
Business finance
They'll assist in putting together a transaction that suits you, by considering budget components such as cash flow, payment options, tax, etc. and above all - business sense.
They pride themselves on being entrepreneurs. Where security is concerned, they will take a bond on the fixed property and focus primarily on this form of collateral over anything else.
Invoice discounting – If you feel as though your business is struggling with cash flow, they offer you invoice discounting to assist with this. They alleviate that pressure by giving you some room to breathe.
Invoice discounting
Did you know that statistics show most businesses fail within the first few years due to a lack of knowledge and capital when it comes to sufficient cash flow? Invoice discounting works to provide working capital for your business.
This form of flexible business finance helps you decide what your working capital requirement will be at any point. All businesses that supply goods or services on credit with a good credit standing have access to invoice discounting.
How does it work? A business sells its rights to any future invoice payments, to a finance house. The finance house then pays the business owner straight away while taking over the invoice and collecting the money from the debtor when payment of the invoice is due.
They also make sure to provide disclosed and undisclosed (confidential) invoice discounting to SMEs.
CapX Finance – Business loan
Loan Type

Business loans

Loan Amount

up to R50,000
Benefits of CapX Finance
Property finance
Supply chain finance
Business finance
Improved cash flow
CapX Finance - they'll help you keep your suppliers happy
CapX offer supply chain finance to make sure you keep your suppliers happy!
If your business is in a position where conserving every last cent of your cash flow is imperative to continue, you should definitely consider bringing instant finance to your supply chain. What that translates to is keeping your cash for longer while your suppliers still get paid on time, even earlier than in most cases.
They can help you with cash flow solutions
When it comes to cash flow, buyers and sellers often bump heads when it comes to payment and credit terms. Buyers typically want to pay as late as possible and suppliers want to be paid as early as possible. This is understandable as both try to keep as much cash on hand for as long as possible.
Generally, the stronger of the two businesses will win this battle, which leaves the smaller business at risk of encountering cash flow issues. Next, you guessed it, leaves a weak link in the supply chain, which ironically could end up biting the stronger business in the behind one day when it needs to source a new buyer or a supplier if the partner is forced to close their doors.
Another name for supply chain finance is reverse factoring, which aims to inject cash flow into the supply chain at points where these problems could exist between buyers and suppliers. That way, both are given breathing room, so everyone wins!
Invoice factoring helps those stronger businesses in the supply chain
Invoice Discounting and Invoice Factoring are two business loan or financing products that are actually quite closely aligned. In terms of the former, a business will generally have a good variety of clients of various sizes, in various industries and with excellent payment histories. They offer a continuous service on the debtor's book, which they derive from their assessment of the book's credit status, the client's trading history and its balance sheet.
Even though they will confirm invoices with debtors, they do not request payment and also do not call for the client's book unless they specifically need to do so. This product best suits larger companies with fewer, larger debtors.
Customer Reviews & Testimonials
"
April 2018
The whole process was super smooth.
Tumi S
— Kimberley —
October 2018
After applying for a business loan, I didn't have to wait weeks for a decision, which I really liked.
Jacque O
— Cape Town —
April 2019
I'll definitely use CapX Finance again without a doubt because they simplify the process of getting a loan to the basics, making it so much easier. Also, their customer service is really tops.
Diederik S
— Durban —
March 2019
I like that CapX Finance explains everything upfront. This helped me feel confident throughout the process of applying for my business loan.
Carina R
— Stellenbosch —
CapX Finance Contact
Contact Number
E-Mail
Website
Physical Address
D`urbanvale

Cape Town

Western Cape

7550

South Africa
---
Postal Address
PO Box 4402, Tyger Valley, 7536, South Africa
Opening Hours
Monday

08:00 – 17:00

Tuesday

08:00 – 17:00

Wednesday

08:00 – 17:00

Thursday

08:00 – 17:00

Friday

08:00 – 17:00

Saturday

– Closed

Sunday

– Closed