Business loans up to R15,000,000
Angel investments
Repayment up to 13 years
In-page navigation
---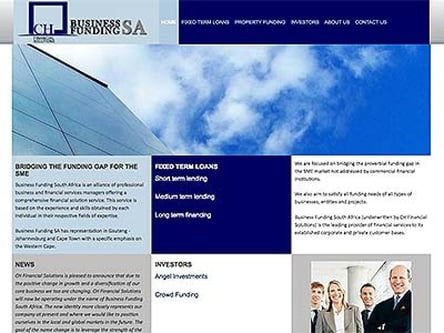 Author Business Funding SA. Screenshot of Business Funding SA website.


[Accessed January 31, 2023]
Business Funding SA - Reliable funding for your business
At Business Funding South Africa, you will find some of the most innovative professionals when it comes to finance and business!
Their managers boast a level of expertise that can offer fully comprehensive solutions to any and all of their clients.
Extensive knowledge and expertise
You can find their offices and representatives located around the country in Gauteng - Johannesburg and Cape Town.
A little bit of background behind the founding member of this firm - Hein Rautenbach boasts an impressive portfolio of global business contacts and this is due to his innate networking skills!
Hein's success can be attributed to the knowledge and expertise he has gained through years of dedication to the world of business funding.

Insurance aside, Hein has dealt with and is the frontman of many large and significant transactions successfully too. Figures that rank from a few hundred thousand South African Rands to millions of US Dollars have been in the workings of Mr Rautenbach himself.
Tailor-made finance solutions
Their company is also striving to attain the best opportunities out there. Opportunities where they can develop and better serve their clients. Whatever your goals are, they take them seriously and ensure that they develop quick loan solutions that bring those goals to fruition.
Their core focus is to bridge the gap between funding and small businesses in the SME market that are not receiving what they need from larger lending institutions.
At Business Funding SA, they also make it their priority to service all types of businesses when it comes to funding. They do not discriminate.
They have flexible loan terms
Business Funding South Africa is proud to say that they are the leading provider of when it comes to financial services for all established, corporate and private customers.
They offer short-term loans
When you need an amount that isn't significant enough to take out a large sum over a long period, but rather just to assist with an unforeseen expense then a short-term loan is the best option. The funding option basically suits a short period of time. It's certainly the smart option if you only need to repay the loan for up to a period of 12 months.

Does this sound like it's right for you? If so, contact them to discuss the way forward in terms of who, how, where and what! They even have a loan form for your convenience if talking isn't your thing.

Examples of short-term funding include anything from a trade, stock and imports, to a contract, project and pre-debt funding. You can also expect to receive services such as bridging capital and invoice discounting when you deal with Business Funding SA.
Need something more than short-term? Try their medium-term lending
You can apply for this online as well via their online form, or simply call them should you prefer. Examples of medium-term lending include funding for cash flow, post debt reviews, securities and projects funding. Just consult with them to choose the best avenue for your business.
For the longer term, they have long-term loans
Their long-term business loan and financing solutions range from a period of 5 years to 13 years. This period all depends on what is allowed based on your financial situation. With this type of funding, one can acquire commercial property, equities and any business-related commodities that require terms exceeding the typical 60-month period.
Business Funding SA – Business loan
Loan Type

Business loans

Loan Amount

up to R15,000,000

Repayment

30 days to 13 years
Benefits of Business Funding SA
Crowd funding
Affordable business funding
Angel investments
Business Funding SA - They're there to help you fund your business
Business Funding SA takes a look at Property Funding
Residential
Business Funding SA is here to assist you with your real estate financing. This may be news to you, but that's exactly why they're there, to show you the ways this is possible!
Auction stop
Is your house about to go to auction? They can help you. They'll stop this process in its tracks and avoid the misfortune of being left empty-handed. They have a form you need to complete and a motivational letter that you'll have to submit, but they will not let you lose your house.
Bond payment arrears
Have you missed a number of payments? Or short paying on your bond? They'll assist you before you reach the point of potential liquidation or property going to auction with a personal loan. Call them, they'll sort the debt out.
Sell your property, then rent it back
Don't want to lose your house, but have no option but to sell? They'll buy it from you! Yip, that's right and they don't want to live in it, so they let you stay there and subsequently pay rent for it. When the finances are in your favour again, you can speak to them about repurchasing your property.
Get an advance on your property
They can assist you over a short-term period until your pension fund is paid out to you. Have you sold your property and just need the advance against the purchase price? Then give them a call!
Commercial
Short on cash for your business or need a business loan for expansion?

Has there been a little hiccup in the cash flow of your business? Or perhaps you're starting a new one and need access to capital. Whatever it is, give them a shout because you're an un-bonded or nearly un-bonded property that will benefit you in ways you had no idea it could. Unsure what they're referring to, that's fine, just call them or fill in their online form and wait for the good news!
Do you have a desire to own your own commercial property?
Let them arrange the finance for this property, whether you currently occupy it or wish to! Your business deserves it, either way, so let them help you make that happen.
Don't delay, apply today!
If any home loan or bond is required for a commercial property, they are here to assist you. Call them or complete the online loan application form and a consultant will contact you. Service excellence means everything to them, so they hope that you will give them the opportunity to prove it!
Customer Reviews & Testimonials
"
July 2017
The online application was a breeze to get through.
Sibongile C
— Johannesburg —
April 2018
Business Funding SA caters to my needs when I need it. Whether I need a short-term loan or need something for a longer period of time, I know I can count on them to get me exactly what I'm lookin...
Mathew K
— Stellenbosch —
March 2019
I think of Business Funding SA as one of my partners since I started my business because they have always been there for me whenever I needed financial assistance. I love working with them.
Brian M
— Cape Town —
Business Funding SA Contact
Contact Number
E-Mail
Website
Physical Address
1 Galloway Square, 3 Anderson St

Strand

Western Cape

7140

South Africa
Opening Hours
Monday

08:00 – 16:30

Tuesday

08:00 – 16:30

Wednesday

08:00 – 16:30

Thursday

08:00 – 16:30

Friday

08:00 – 16:30

Saturday

– Closed

Sunday

– Closed