Business loans up to R10,000,000
Low-interest starting from 10.71%
Repayment up to 60 months
In-page navigation
---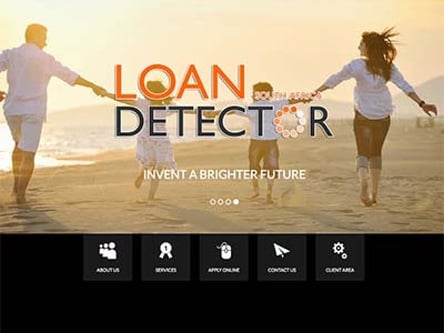 Author Loan Detector. Screenshot of Loan Detector website.


[Accessed January 31, 2023]
Loan Detector - They will find the best loan to suit your business needs
You can find Loan Detector situated in the Western Cape in a city everyone knows and loves – Cape Town.
At LDSA, they run their business through a high-tech call centre that works hand in hand with their new technology web-based applications. These online loan applications facilitate a masterful 2-in-1 service package for all their clients.
Their effort is unmatched
The package comprises an affordable telephonic legal assistance plan, coupled with a complimentary personal loan finding service.
Their efforts in the industry go unmatched and as a result, their efficiencies in the South African market and their experienced staff are able to process over 12 000 applications per month on behalf of their clients.
No matter the business requirement or situation your firm is in, their finance options are there to provide you with the best deal possible. They'll help you through their skills and services which they can confirm do adhere to the laws of the National Credit Regulator.
Loans between R1 000 and R10 million
The business loan amounts that they have available are from R1 000 – R10 million! That's not all, they also provide their clients with tailored procedures when it comes to assisting you in those nasty, unforeseen financial times. Another benefit that you can expect with Loan Detector SA, is that your loan repayments are always going to be affordable since they ensure this during the approval of the loan.
Requirements for a loan
South Africans over the age of 18 that possess a valid SA identity document and have a, are welcome to apply with Loan Detector SA. Please make sure to provide proof of address and have a South African bank account.
Loans up to R10 million
Loan Detector SA has designed a package that offers a host of paralegal services for your legal convenience.
Upon your first month with this option, you will pay only R399 in subscription fees and R99 per month for the remaining 11 months. This type of service package is all you need when you're looking for services that cover legal needs. You now have the opportunity to experience all the benefits yourself!
Complimentary loan-finding service
When looking at their service package's Telephonic Advice Service, it constitutes a multitude of Advice, Assistance services to suit the business needs when it comes down to the legal stuff.
Motor Vehicle Accident Claim Assistance Advice Services, Personal Injury Advice, Assistance Services, Conveyance Advice, Assistance Service and Domestic Violence Advice, Assistance Services are among these facilities that are on offer to you.
As mentioned previously, you even receive a complimentary personal and business loan finding service that you have access to use as and when you please during the period of the package.
Reliable loan options
When you need a quick loan, they can guarantee that you will be pleased with their reliable options. On offer, they have a multitude of secured loans for those unexpected cash emergencies and unsecured loans for individuals who don't have access to security to offer in place of a loan.
Loan Detector offers bonds, sometimes referred to as mortgages, for those who are in the market to purchase a house for their family. If that's not all, they still offer the typical personal loan that gives you access to a lump sum of funds to use as you please, i.e. no specific purpose needs to be provided in order to obtain this loan.
Whether it be a medical emergency or simply a cash injection for a long overdue family holiday! Other services through Loan Detector include vehicle finance, bridging finance and even debt consolidation.
Loan Detector – Business loan
Loan Type

Business loans

Interest Rate

10.71 – 27% p/a

Loan Amount

up to R10,000,000

Repayment

3 months to 60 months
Benefits of Loan Detector
Start-up loans
Compare business loans
Loan Detector is here to assist your business when it matters most!
Their loan periods range from a minimum period where you can expect 3 months, while the maximum they offer their clients to repay over is 60 months.
What happens if you pay later than my monthly due date?
You, unfortunately, will be found accountable for the interest charges that will occur. When you approach Loan Detector SA once a loan has been granted, and they have also considered your loan and determined that you are not in a position to afford the repayments, they are obliged to assist in trying to source a workable solution that could include rescheduling of the loan or a bad credit loan.
Should you further not meet the agreement requirements, this will, unfortunately, result in your profile being handed to attorneys for legal intervention. They will do their best to collect the outstanding money on the accounts, so be prepared to pay interest and legal costs should this occur. Don't forget that this could have a negative impact on your credit score, rendering you unable to receive future credit.
What are the consequences of non-payment of a loan?
Missing a payment completely is far worse than a late payment since your creditworthiness is completely compromised. Other creditors are privy to this information and will judge you when attempting to apply for future credit.
Even though you had a reason for non-payment, Loan Detector SA would still need to report the loan in arrears, which after a few attempts at trying to collect the payments, would render your credit history poorly affected.
Understanding the service fees of creditors
Fees are charged for the service of drawing up an agreement, and that is basically to cover the costs of administering and maintaining the personal or business finance agreement. The service provider has the choice to rather charge this fee monthly or annually, depending on what suits them. The NCR regulates all service fees, namely the maximum fees that can legally be charged, that way you can rest assured that you won't be overcharged at Loan Detector SA.
What is the Annual Percentage Rate (APR)?
The Annual Percentage Rate can be defined as the rate for an entire year, not only the monthly fee or charge applied for loans, bonds and credit cards. In short, it is the total finance charge, over a period of a year.
Customer Reviews & Testimonials
"
January 2018
It's nice to have a company like Loan Detector in my corner because they help me find exactly what I need as quickly as possible, which means my business can keep thriving.
Bianca S
— Nelspruit —
February 2019
I got a business loan through Loan Detector and I was so happy with how affordable it was.
Joe C
— Durban —
Loan Detector Contact
Contact Number
E-Mail
Website
Physical Address
16 Voortrekker Road

Cape Town

Western Cape

8000

South Africa
---
Postal Address
PO Box 405, Parow, 7499, South Africa
Opening Hours
Monday

08:00 – 17:00

Tuesday

08:00 – 17:00

Wednesday

08:00 – 17:00

Thursday

08:00 – 17:00

Friday

08:00 – 17:00

Saturday

– Closed

Sunday

– Closed