Business support
Business finance
Repayment up to 8 years
In-page navigation
---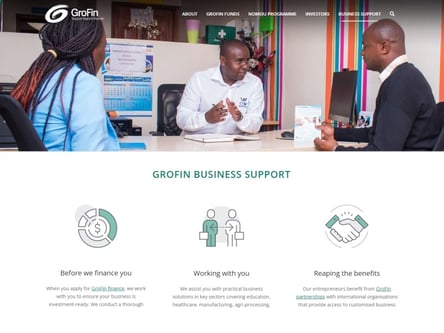 Author GroFin. Screenshot of GroFin website.


[Accessed January 31, 2023]
Grofin - Support for businesses
GroFin is a company of professionals that are the pioneers of developing and specialising in the financing of small and growing businesses (SGBs) across the African continent, as well as the Middle East.
They were established in 2004 and since then have offered this support and financial aid through the combination of medium-term loan capital and value-added business support.
Creating employment
Development of economic growth on this continent is imperative when you look at those who succumb to the living conditions of low and middle-class households. They strive to build markets and improve where they can by creating employment for those individuals.
With over 30 international development finance institutions as partners, it's no wonder the development organisations and private funders have helped them raise figures that to some might seem impossible, yet they achieved these numbers.
Through these raised funds, they are able to fund programs that help less fortunate individuals through opportunities for employment. Simply by investing in SMEs, they bring joy to households that beforehand weren't bringing home any fat for their family to live on. Some 95 000 jobs were generated alone through Grofin.
Their objective
To provide an unparalleled solution for business finance and support to small to medium enterprises. Their singular and fundamental goal is to help sustain employment and subsequently impact the communities that are struggling with poverty and lower incomes through the development of a sustainable model for this small growing business segment.
Their aim is to be leaders in the development of sustainable finance for the future entrepreneurs of small-to-medium-sized companies. They strive to put these companies in a reputable standing with other stakeholders, consumers and all others that see value in the business.
Value-added products and services
When it comes to service, Grofin always brings their A game. They have designed a toolkit that easily enables you to apply for any of the valuable services that they have on offer.
Depending on your requirements, you can apply for the product that suits you best and you will subsequently receive hands-on, experienced support in that sector.
They are confident that you will see benefit from these services and that is solely due to the 8 000+ entrepreneurs that they have assisted in growing their businesses.
Reliable investment manager
They are a firm believer in support and finance being a partnership offer when doing business as well as guiding you in business.
They offer services through their reliable investment manager, who is certified by the Association of Accredited Small Business Consultants (AASBC).
They understand why business tends to fail in the rudimentary years of establishment, that is why they take every aspect of your business and analyse and guide you in a way that you can circumvent this problem and rely on long-term growth.
Expert assistance with your finances
When you receive your dedicated Investment manager, you receive a mentor. The beauty of this person who is dedicated to your business loan account is that you don't need to go from pillar to post trying to sort any queries out.
They are there to support you through everything. No matter what your business entails, whatever it needs in terms of perspective, advice and development information to help grow it, they will ensure that you are always assisted
GroFin – Business loan
Loan Type

Business loans

Repayment

2 years to 8 years
Benefits of GroFin
A unique approach to finance
Apply for a business loan online
Financial support for entrepreneurs
Grofin is more than just plain finance – they create growth!
So, how do they go about this actually? They take the SMEs in the business sector and support them in such a way that they help them realise their potential.
They aim largely to impact the poorer communities that struggle to receive such benefits in the country. As a part of this process, they also ensure sustainable returns for their stakeholders.
Expect services from their local and SME stakeholders
Stakeholders, of course, are welcomed when it comes to small and growing businesses, that is why they connect you to them to bring about synergy in your new business. They offer through these means, technical advice, sales and marketing advice and IT services.
Don't forget – they don't forget with their continuous health checks
Quarterly checks on your business are part and parcel of their service to you to ensure that you are sustaining your business.
That cash flow is up, figures are good and the business is growing. If they spot any major errors, in the way things are being run, they will guide you through the process of resolving these issues.
If you're an entrepreneur and want to start your own business, Grofin will take your hand and guide you through all the challenges you may face and ensure that you understand them and know how to deal with them.
they are committed to providing you with value-added business loans and general support through this exciting time! And through their networks and partnerships, you will have access to expert finance and support.
At Grofin they promise to show you as well as lead you and your business to its potential wealth. Their mentors will assist you with your business loan application online and attend to all of your needs.
Customer Reviews & Testimonials
"
March 2019
GroFin doesn't only lend money to businesses, it actually cares about the people behind the business. That's the sense that I got when I applied for a business loan with them and I don't think I ...
Xander V
— Potchefstroom —
January 2019
GroFin helped me secure the finance for my business so that we could expand. Your service is awesome!
Andile N
— East London —
March 2019
I had someone throughout the entire process of me securing a business loan guide me along the whole journey. That was really nice because I always had someone to rely on and it made everything le...
Janette J
— Cape Town —
GroFin Contact
Contact Number
E-Mail
Website