Tailormade credit cards
60-days interest free
Quick and easy applications
In-page navigation
---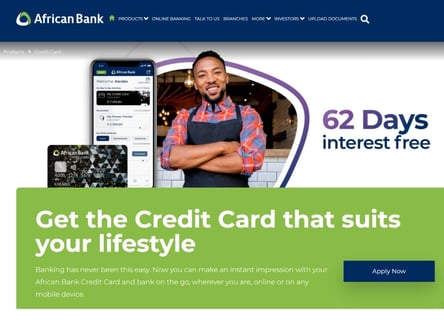 Author African Bank. Screenshot of African Bank website.


[Accessed January 31, 2023]
African Bank - Humanity through banking
Get the credit card that suits your lifestyle with African Bank.
African Bank opened its doors in April 2016. They are committed to providing you with the simplest and most user-friendly credit cards.
They aim to live their brand purpose of 'humanity through banking' in everything they do. Their credit card products are not only relevant but innovative too, ensuring you always get more than what you expect in terms of value.
Experience is the key
Their team has years of experience in the financial industry, and they use their experience and expertise to supply you with the best products available. All their employees will provide you with great customer service as well as excellent financial guidance.
African Bank will treat you with respect and you will be their highest priority. They are the preferred lender for many South Africans, and their numbers continue to grow every year.
African Bank's mission
Their values are at the core of everything they do. They are:
A bank that cares
African Bank cares about its employees, customers, and surrounding communities.
They strive to serve you with compassion and understanding and will add a personal touch to all their services from answering the phone to helping you complete an application.
Gold visa credit card for thrill seekers
Banking has never been this easy. Make an instant impression with your African Bank credit card and bank on the go, wherever you are, online or on any mobile device.
These great services are extremely convenient, giving you access to your account information and services 24 hours a day, 7 days a week.
The free credit reports
At African Bank, they care about your financial well-being. That is why you can get a free credit report with them, even if you don't bank with them. Your free credit report means you are well on your way to a better credit score. This will help you to budget and also give you a clear indication of what you can afford in terms of repayments.
Your credit score and your ability to afford credit will help you to achieve your financial goals like:
Financing your dream career
Getting the car you desire
Buying your own home or doing renovations to your home
Purchasing household items
Education for your children
African Bank can offer you insurance
Life can be unpredictable, but with Credit Life Insurance you'll be covered for those unforeseen insurable circumstances like:
Permanent or temporary disability
Compulsory unpaid leave/temporary lay-off
African Bank – Credit card
---
African Bank - they will meet your financial needs
If you do not have enough time to get to the bank, African Bank has got you covered with their safe and secure online application that can be done from anywhere.
Make payments easy
African Bank has made paying your account effortless. Payments can be made:
In branch
A debit order is set on a specific date to go off each month
Via EFT payment
Follow these easy steps to apply for a Credit card at African Bank:
Step one:
Fill in an application form on the African Bank website with your details and attach the documents needed like a copy of your ID, bank statements for the last three months and your payslip.
Step two:
A credit check will be done before approving your application to ensure everything is in order with your credit record and affordability. This is to see whether you can afford the minimum payments required.
Step three:
When your application is approved, the bank will authorise a credit card limit. This is the maximum amount available on your credit card.
Make a wise choice and choose African Bank today. A credit card with them can help you open financial doors to the future.
African Bank Benefits
African Bank credit cards are accepted globally at all merchants and ATMs displaying the Visa logo.
Using your card is safer than cash.
Cash withdrawals can be done at participating merchants including Checkers, Shoprite, Spar and Pick n Pay.
You will receive a free SMS notification on all successful transactions.
Set your own personalised transaction limits.
Up to 62 days of interest-free credit

African Bank is a trusted & reliable provider of credit cards
In our review, African Bank adheres to the compliance criteria in accordance with the National Credit Act, where the granting the loan will not cause financial distress to the consumer.
✅ African Bank is a registered credit provider in South Africa: NCRCP5
Customer Reviews & Testimonials
"
March 2019
African Bank is definitely a bank for the people; their employees reflect our truly diverse country and thus know how to treat people from various walks of life. When I walked into African Bank I...
Yameka Q
— Butterworth —
September 2018
The gold credit card at African Bank will make you feel like royalty. They offer a low-interest rate of three percent which allows you to cater to your own lifestyle and preferences without worry...
Thabo M
— Port Elizabeth —
June 2018
If reasonable interest is not enough for you then the other perks that come along with an African Bank credit card will definitely help you to make up your mind. Their credit life insurance will ...
Daniel M
— Uitenhage —
August 2021
Friendly and helpful staff. I would recommend African Bank to anyone that needs a credit card.
Maskanda T
— Jeffreys Bay —
August 2021
The employees at African Bank are just amazing. They treated me with respect and helped me every step of the way.
Bence K
— Durban —
October 2021
African Bank offered me a credit card that helped me financially. The application was fast and easy.
Draaghoender A
— Kimberly —
African Bank Contact
Contact Number
E-Mail
Website
Physical Address
150 Commissioner St

Marshalltown

Johannesburg

2107

South Africa
---
Postal Address
Private Bag x170, Midrand, 1685, South Africa
Opening Hours
Monday

08:30 – 17:00

Tuesday

08:30 – 17:00

Wednesday

08:30 – 17:00

Thursday

08:30 – 17:00

Friday

08:30 – 17:00

Saturday

08:30 – 12:00

Sunday

Closed –