Compare card options
Get loyalty points
eBucks rewards
In-page navigation
---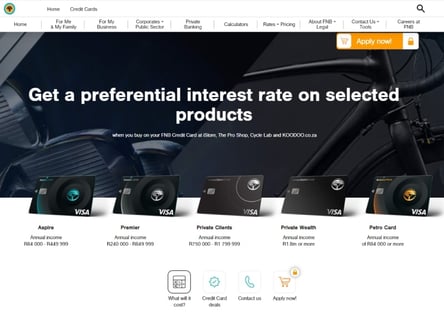 Author First National Bank. Screenshot of First National Bank website.


[Accessed January 31, 2023]
FNB - Superior credit card services
FNB can offer you a wide variety of credit cards that will fit your budget.
Its first branch was opened in Grahamstown in 1838 and they are the oldest bank in South Africa today, FNB is a division of First Rand Bank Limited. The First Rand Group was established in 1998, by the union of First National Bank of South Africa, Rand Merchant Bank, Momentum Insurance and Asset Management.
In 1874, they added another four divisions in Grahamstown, Middelburg, Cradock, and Queenstown.
NCA Registered
A credit card can be a convenient way for you to make payments if you don't have cash available immediately. It can also be used in an emergency to pay for that uninspected trip to the ER or a car that needs to be fixed. FNB is registered with the NCA to make sure that when spending, you do it in a responsible manner.
FNB's awards
FNB has received some great awards over the years as a token of its wonderful service. Some of these awards include:
In 2017 FNB was named the strongest brand in Africa.
In 2019 They received an award for the most valuable banking award.
From 2015 to 2018 they were the most reputable bank preferred by customers.
FNB cares about the community and the environment
Some of the branches have arrangements with a recycling company to get their paper recycled. The funds they receive from recycled paper are donated to charities. Other branches donate their reusable material to community projects and street artists.
How can they help you
FNB is well-known for its fast and excellent service.
FNB will make sure you are satisfied
First National Bank knows how important time is and that is why they don't want to waste yours. Walking into one of their branches, you are guaranteed fast and excellent service.
They go above and beyond to ensure that all their customer queries are attended to and answered in a manner and language they understand.
"TAP" your contactless card
You can make purchases by tapping your credit card on a contactless card machine. When you tap your card on the contactless card machine, your card information is captured, and your purchase can be processed.
This is a quick and safe way to make smaller payments without your card leaving your hand. For larger payments, you will still be required to enter your pin. The most amazing benefit is that "TAP" payments are up to 4 times faster than normal card payments which means that you don't have to spend a lot of time in a queue.
The Petro card
The Petro card will entitle you to road assistance for only R55 per month. It can be linked to your existing card and shown on your statement. It can also be used as a standalone card which then will have its own statement.
Petro Cardholders receive free AA Emergency Roadside Assistance when anything unforeseen happens and they experience problems with their vehicle. The services included are:
Roadside repair service
Tow-in service
Accident towing
An AA guard stands by you when your car breaks down.
Courtesy services
First National Bank – Credit card
Benefits of First National Bank
Get eBucks as rewards
Manage your credit card with the app 24/7
---
FNB - They are well known for fast and excellent services
The application can be done online by completing a call me back form, you can also contact them telephonically or go to any of their branches.
Documents needed
A copy of your recent payslip.
Three months' bank statements.
South African ID.
Proof of residence
Qualifying yearly income criteria
Aspire R84 000 - R449 999
Premier R240 000 - R849 999
Private clients R750 000 - R1 799 999
Private wealth R1,8 million and above
Petro card A minimum of R84 000
What your Credit card will cost you
Having a budget is important, this helps you to keep track of your expenses and gives you an idea of what you can afford.
To work out your instalment enter the amount of credit and select the period of repayment as well as the interest rate on the credit card calculator. It's simple and you will have your answer in a few seconds.
Get rewarded with eBucks
You earn eBucks automatically whenever you use your qualifying FNB account to purchase items. When you use your card with an eBucks partner, you can earn even more eBucks. It can be earned at Engen when you are paying for fuel or buying groceries and essentials at Checkers, Shoprite, and Clicks.
Your eBucks are automatically allocated to your eBucks account every month without any fuss and they can be used to buy electricity, purchases at supermarkets, play Lotto and so much more.
The great part is it never expires, so you can start saving up to use your eBucks for something special like a holiday.
First National Bank Benefits
Earn Ebucks at qualifying participants.
Safe and easy-to-use contactless payments using your credit card.
Book travel tickets and accommodation with your card.
Roadside assistance from the AA.
Professional and friendly staff ready to assist you.
A variety of credit cards to choose from.
Great rates and pricing.
Apply for a credit card at FNB today, it's easy.

First National Bank is a trusted & reliable provider of credit cards
In our review, First National Bank adheres to the compliance criteria in accordance with the National Credit Act, where the granting the loan will not cause financial distress to the consumer.
✅ First National Bank is a registered credit provider in South Africa: NCRCP20
Customer Reviews & Testimonials
"
October 2018
First National Bank offers credit card services that are definitely a cut above the rest. From the interest rates to the perks and the repayment options and fees I cannot fault them on anything. ...
Martha M
— Queenstown —
May 2019
FNB offers an array of credit card options each with its own individual benefits and perks. Whether you are a new client or an old one, FNB knows how to create an attractive deal that takes care ...
Benjamin M
— King William's Town —
September 2018
I made a trip to FNB to organise my credit card. Upon walking through the doors I was greeted by a friendly employee who immediately assisted me and told me where I should go. I did not have to w...
Taylor S
— Alice —
July 2021
I made a trip to FNB to organise my credit card. Upon walking in I was greeted by a friendly employee who immediately assisted me. I highly recommend them to anyone who needs a credit card.
Ali F
— King Williams Town —
September 2021
First National Bank offers credit card services that are a cut above the rest. From the interest rates to the perks and the repayment options and fees I cannot fault them on anything.
Jantjies E
— Bloemfontein —
November 2021
FNB offered me a variety of credit card options to choose from. FNB knows how to create an attractive deal and take care of their clients
Hopkins A
— Pretoria —
First National Bank Contact
Contact Number
E-Mail
Website
Physical Address
3, First Place, Pritchard St & Simmonds St, Bank City

Johannesburg

Gauteng

2000

South Africa
First National Bank Universal Branch Code
---
Postal Address
PO Box 1153, Johannesburg, 2000, South Africa
Opening Hours
Monday

08:00 – 17:30

Tuesday

08:00 – 17:30

Wednesday

09:00 – 17:30

Thursday

08:00 – 17:30

Friday

08:00 – 17:30

Saturday

08:00 – 13:00

Sunday

– Closed