Choose your card
Compare rates and fees
Low interest cards
In-page navigation
---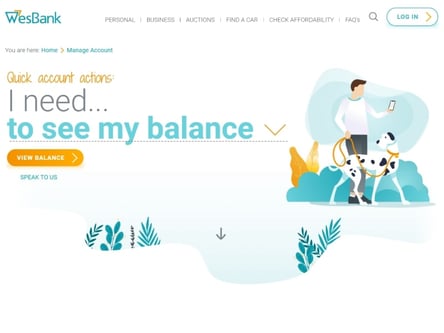 Author WesBank. Screenshot of WesBank website.


[Accessed January 31, 2023]
Wesbank - We give you financial freedom
Wesbank will offer you one of the most amazing credit cards.
They are a division of FirstRand Bank Limited and have been around for over 40 years, helping South Africans to find the best financial solutions. They also have branches in Botswana, Kenya, Lesotho, Mozambique, Namibia, Swaziland, Tanzania, and Zambia.
What sets them apart from other banks is that they take their time to help you reach your financial goals
Long-term relationships with their clients
Their products are competitive in the financial market, and they aim to make their products more innovative, simple, and convenient. They will offer you tailored-fit solutions to fit in with your needs easily and they have a great range of credit cards available.
If you need advice and support you can visit a Wesbank branch and speak to one of their friendly, professional consultants about your financial needs.
Making a difference
Wesbank cares about the community and the environment, and they contribute 1% of their after-tax profits to support organisations in need. They do this to help the organisations maximise their effectiveness and sustainability.
Organisations that have aided include:
African Children Feeding Scheme.
Abalimi Bezekhaya.
Heifer South Africa.
African Co-operative Action.
Umthathi Education and Training.
Soil for Life.
You have the freedom to choose
With a WesBank credit card, you can easily have access to credit that can be used in-store, online and worldwide.
Making payments by using your card is one of the most popular methods used, and the biggest advantage is you don't have to carry cash.
The most amazing thing about a credit card is that you'll have the opportunity to qualify for a 0% interest rate if you pay back the credit you borrowed within a certain time. This can differ from lender to lender.
Security and fraud prevention
With your WesBank card, you can confidently transact and shop wherever you go knowing that the needed safety measures are in place. The safety measures will keep your information and money safe and secure and prevent any suspicious activity or fraud.
Make sure you maintain a good credit record
As soon as you receive credit approval you immediately start doing transactions to build up a credit score. It is important to make payments on time so that your credit score is positive. With a good credit score, you could qualify for a higher spending limit after a certain amount of time.
Your WesBank card can be used for anything like shopping sprees or medical emergencies and the best is that you will earn rewards points every time you swipe.
Benefits of WesBank
Quality financial assistance
A simple and secure online loan application
Car insurance
---
Wesbank – Creating financial solution to create a better lifestyle for you
WesBank has become modern and innovative, and they strive to offer you maximum convenience.
You can use their online platform to apply for a credit card. You can apply for credit at any time, and a consultant will contact you with the outcome of your online loan application.
For banking solutions that create a better living, get an account with Wesbank. With a whole lot of benefits available, they can help you open doors to a brighter financial future.
Contactless payment and how it works
Contactless payment is when you use your card to make payments with the help of near-field communication. You will tap your card to make the payment without inserting your card into the card machine provided.
To check whether your card is contactless, just look for the contactless symbol on the back of your card. The contactless symbol is four curved lines that get bigger from left to right, and it looks like the WI-FI sign.
What DebiCheck is
Debi Check is a debit order confirmed by you to make a payment on your credit card. The funds will be deducted electronically monthly, and all the details will be confirmed upfront with you.
For new DebiCheck debit orders, you will need to check and confirm the new debit order information you will have to update the bank. This could either be in person, using online banking or your banking app or remotely by the WesBank call centre.
Benefits of a WesBank credit card
Choose your card
Compare rates and fees
Low-interest rates.
A simple and secure online loan application
Car insurance
Wonderful service from their professional staff.
NCR accredited.

WesBank is a trusted & reliable provider of credit cards
In our review, WesBank adheres to the compliance criteria in accordance with the National Credit Act, where the granting the loan will not cause financial distress to the consumer.
✅ WesBank is a registered credit provider in South Africa: NCRCP20
Customer Reviews & Testimonials
"
January 2019
When you apply for any form of finance at Wesbank one of the questions they as you is about your financial plans for the future. I love that they are dedicated to a long-term customer relationshi...
Roger S
— Paarl —
February 2019
The credit card options offered by Wesbank are affordable, fair and competitive. The credit card that I was provided has made my everyday living so much better and helps out when I stumble upon a...
Benny B
— Simon's Town —
May 2019
Thanks to Wesbank I was able to get the credit card I needed that fits my preferences and financial situation. They are awesome enough to tailor-make a credit card deal for each individual in ord...
Jennifer B
— Swellendam —
October 2021
I enjoyed the fact that they are dedicated to long-term customer relationships. They made the process of getting a credit card with them effortless.
Gilbert R
— Paarl —
November 2021
The credit card options offered by Wesbank are affordable, fair, and competitive. The credit card that I was provided has made my everyday living so much easier.
Moraphe A
— Cape Town —
November 2021
I would recommend WesBank for a credit card. They helped me to get a brighter financial future and offer solutions to my financial problems.
Van Dyk P
— Swellendam —
WesBank Contact
Contact Number
E-Mail
Website
Physical Address
Portside, 21st Floor, FNB Building, Buitengracht Street & Hans Strijdom Avenue

Cape Town City Center

Cape Town

8001

South Africa
Opening Hours
Monday

07:00 – 16:30

Tuesday

07:00 – 16:30

Wednesday

07:00 – 16:30

Thursday

07:00 – 16:30

Friday

07:00 – 16:30

Saturday

08:00 – 12:00

Sunday

– Closed