Rewards and benefits
No annual fees
Low rate cards
In-page navigation
---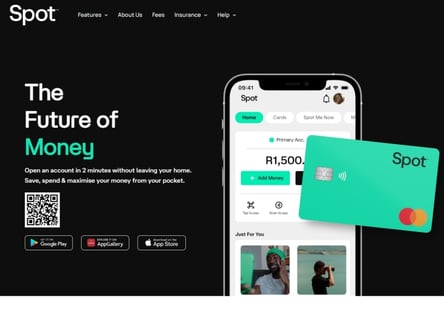 Author Virgin Money. Screenshot of Virgin Money website.


[Accessed January 31, 2023]
Virgin Money – they make your money work for you
Choose the best banking partner, choose Virgin Money.
Since 2006 Virgin Money has been providing South Africans with financial solutions through exceptional service.
It is their mission to ensure that your financial needs are taken care of and the end goal is to make sure you save money and use your credit cards cost-effectively.
A Credit card can be a safety net for emergencies
With life being very expensive, it's no surprise at all that we all need to make use of a credit card now and then.
The most important thing when it comes to upfront credit is you only use it for out-of-the-ordinary expenses and not as an additional income. Managing your credit card and the credit available to you can be a great tool for building up a good credit score and help you out in emergency situations. It is vital to learn to manage this kind of credit responsibly.
How a credit card works
To determine the most suitable card for your budget, they will look at your financial statements and your credit profile and decide on the amount of credit that you qualify for.
This amount is then placed on a credit card for you to use as you desire. Your card will have a limit and it will depend on the above checks that are performed. They won't give you access to credit if you cannot pay back the full amount.
Custom designed credit cards
Get rewarded for spending.
A Credit card is a good option
Their website contains information that will help you to decide which credit card is best for you. All Virgin Money credit card plans are top-class, and they are all set up in a way that is suitable, affordable, and convenient for you.
Free financial tools
They have added some reliable tools to help you manage your finances. These financial tools consist of articles and calculators so that you can have an idea of what to expect
You can also use the online calculator to determine the interest of your credit card. Alongside the financial tools, you can also get assistance from their professional and dedicated staff.
Rates and fees of the Flexi Card
You can get up to 57 days interest-free on qualifying transactions with no transaction fees on purchases. There will be fixed monthly payments and you can pay extra on your monthly instalments if you need to.
Virgin Money – Credit card
Benefits of Virgin Money
Get a range of benefits
Competitive interest rates
No annual credit card fees
---
Virgin Money – Convenient banking
You can apply for a credit card with Virgin Money in-store or via their online application.
Requirements when applying for the Flexi Core Card
A monthly income of R2 000.
Valid South African ID book.
Proof of residence.
Your latest proof of income for three months.
Above 18 years old.
Payments made easy
Virgin Money offers you digital solutions to make payments faster, easier, and more convenient. Start to manage your money from anywhere, at any time with their simplified mobile and online banking services.
Payment can be made with:
Samsung Pay.
Absa Masterpass wallet.
Follow these four easy steps to apply for a Credit card at Virgin Money:
Click on the "apply now" button.
On the application page fill in your details as well as the required documents.
Complete an affordability assessment.
Once your application is completed click on the 'apply button".
Get a credit card with a company that has your best interest at heart. Apply for a credit card today and start to make your financial dreams come true.
Benefits of a Virgin Money credit card
You can earn great rewards.
Access instant cash when you need it.
Low-interest rates.
Astonishing service delivery.
Interest-free up to 57 days.
Safe and secure online application.
NCR accredited.
You can use your Virgin Money card globally.
The Flexi Core card features and benefits
Digital banking: Use your banking app to stop and replace your card, report fraud, manage your daily card limits and more.
Free card protection: If your card is lost or stolen.
Absa Rewards: You will receive cashback when you pay with your card locally and internationally.
Visa benefits like Visa Global Merchant offers.
Contactless payments: Tap to make payments with your cards.
Notify Me: SMS notifications when there is an activity in your account.

Virgin Money is a trusted & reliable provider of credit cards
In our review, Virgin Money adheres to the compliance criteria in accordance with the National Credit Act, where the granting the loan will not cause financial distress to the consumer.
✅ Virgin Money is a registered credit provider in South Africa: FSP31730
Customer Reviews & Testimonials
"
November 2018
Virgin has always been a leading name in finance which is why I started my search for a credit card on their doorstep. Their credit cards promise no monthly fees or annual service fees as well as...
Daniel M
— Kuruman —
February 2019
Virgin Money's custom card design option is really cute and makes finance fun for the whole family. I was able to get a custom card made for my hubby and myself. It feels good to be able to have ...
Barbara S
— Bellville —
March 2019
Virgin's credit cards offer up to 55 days of interest-free credit. This is wonderful because it gives me a time frame to plan my repayments and budget in order to maximize my savings on interest.
Daniel B
— Stellenbosch —
October 2021
Virgin has always been a leading name in finance which is why I applied for a credit card with them. Their staff was friendly, and their service was fast and efficient.
Akpan V
— Stellenbosch —
October 2021
Virgin Money's card option makes finance affordable for the whole family. I would recommend them to anyone.
Ching B
— Bellville —
November 2021
Thank you, Virgin Money, for your amazing service and dedication. I am a very satisfied and happy customer.
Boden T
— George —
Virgin Money Contact
Contact Number
E-Mail
Website
Opening Hours
Monday

08:30 – 17:30

Tuesday

08:30 – 17:30

Wednesday

08:30 – 17:30

Thursday

08:30 – 17:30

Friday

09:00 – 17:30

Saturday

09:30 – 13:00

Sunday

– Closed