Affordable credit cards
Interest rate options
Apply online
In-page navigation
---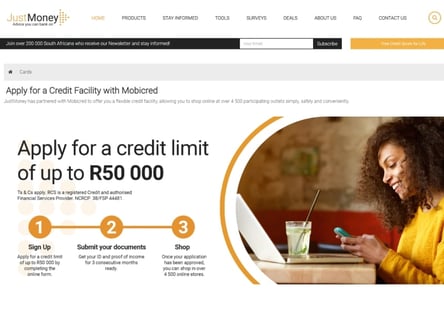 Author Justmoney. Screenshot of Justmoney website.


[Accessed January 31, 2023]
Just Money - expert loan finding services
If you are looking for the most competitive credit card in SA, give Just Money a try.
They are the leaders in online loan-finding services in South Africa and are fully dedicated to their customers' financial needs.
The difference with them is that they take time to understand their client's financial needs and present them with a credit card solution that fits their budget.
Free service
The best part of asking Just Money for help is the fact that their finding service is free of charge and due to the online credit card application processes being secure it is available to you day or night.
They will go through hundreds of lenders to find the most suitable deal for you. All you need to do is to visit their website and fill out a short application form.
Simple and efficient
Not only do they have ample credit options for you to choose from but they also have banking and other financial solutions you can compare on their site. You can tell them what you are looking for and they will find it and do all of the hard work for you.
They have helped countless South Africans to get a loan or a Mobicred credit card in order to reach their financial goals. Whatever you need the funds for they are sure that they can find an affordable option for you.
They provide information that is relevant and up-to-date. The best benefit of their services is their free service where they look through many lenders in order to find the best loan to suit your budget and financial circumstances.
Their financial tools will help you manage your money better
Just money will help you manage your money better by giving you the best advice concerning your finances.
They are an independent online financial guide with value-added guidance and value-added benefits.
Free financial tools
On their website, they have the most innovative tools to help you manage your finances. You will also find helpful articles and calculators to make things easier.
These financial tools are among the best that you can find in the online financial market. You can use their online calculator to determine your credit amount with added interest. Alongside their financial tools, you can also get personal assistance through email or by visiting one of their branches.
Advice and support
When you apply for a loan you will get full support from their consultants. With their passion for finance, they are always ready to help you with anything you need during the application process.
Receive important information, support, and advice where you need it. Their instant loan calculator can be used to determine a cost-benefit analysis. With all this, they aim to save you time and money.
Your perfect credit product match
They specialise in getting you the correct credit product, be it a bad credit loan, a short-term loan, or a credit card. If you become a client, you can enjoy a free loan-finding service as well as free financial advice.
Benefits of Justmoney
Flexible loan terms
Credit life insurance
Choose between interest rates
---
Just Money – They have credit cards for anyone
Their card services are designed to fit any lifestyle and they have affordable credit for any type of shopper.
Credit cards are a tool that can help you balance your monthly budget more efficiently without incurring additional costs.
Loan and Credit card requirements
Choose your loan amount and repayment term.
You must be a South African of at least 18 years to apply.
Must have a minimum income of R3 500 and proof thereof.
Here's how easy it is:
Fill in a short online form to give them an idea of what you are looking for
They will do the search and present you with a list of suitable options
You can then choose the best credit card option for you and apply
Get what you need fast and for free
Use their service at Just Money and you will enter into a world of benefits. Their service is free and their credit cards are designed to meet anyone's needs. No matter the financial circumstances, they have the right credit product for you. Visit their website and apply now online.
The benefits of joining Just Money
Superior financial advice.
Ample credit card
A free loan-finding service
A large range of loan products.
They only use reputable South African online loan
You will be able to compare loan options and save money
Interest-free period of up to 60 days.
Super low-interest rates.
Free travel insurance
Customer Reviews & Testimonials
"
September 2018
As an online lender, their services are free. So if you are looking for a good quality lender that knows their products I would highly recommend Just Money. They are everything that I was looking...
Bianca T
— Rustenburg —
December 2018
With the help of Just Money, I was able to get the credit card that helped me reach my financial goals. Their rates are low making their credit cards a very affordable option. Highly recommend!
Sally P
— Kimberley —
March 2019
Just Money consultants are definitely passionate and driven. They will go the extra mile to ensure that you are satisfied with the product and deal you are receiving. When dealing with them you a...
Sisipho M
— Port Nolloth —
September 2021
With Just Money, everything is always so easy, straightforward and fast. Love the service they offer.
Seymore J
— Durban —
October 2021
A very helpful site with great features and benefits. I always go to them first as I know that they will find me what I need fast.
Prinsloo M
— Krugersdorp —
November 2021
They've definitely saved me a lot of time, effort, and money. Will certainly make use of their service again.
Kuhle G
— Rooiwal —
Justmoney Contact
Contact Number
E-Mail
Website
Physical Address
186 Loop St, Cape Town City Centre

Cape Town

Western Cape

8001

South Africa
Opening Hours
Monday

08:00 – 17:30

Tuesday

08:00 – 17:30

Wednesday

08:00 – 17:30

Thursday

08:00 – 17:30

Friday

09:00 – 17:30

Saturday

– Closed

Sunday

– Closed