Personal & Business Use
Quick Online Application
Affordable Rates & Fees
In-page navigation
---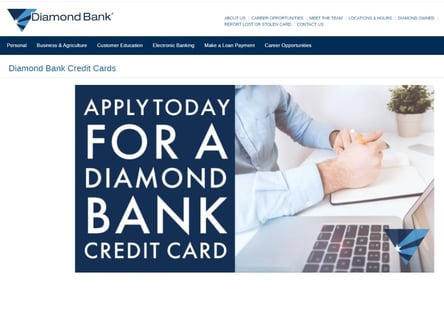 Author Diamond Bank. Screenshot of Diamond Bank website.


[Accessed January 31, 2023]
Diamond Bank - They challenge the banking market
Get the most competitive credit card from a company that challenges the banking market.
Diamond Bank is known for being one of Nigeria's quickest-growing retail banks and thanks to the many technological advancements, they've been able to enhance the way they approach customer service.
With their team going above and beyond to surpass client expectations, they've been able to challenge the banking market regularly.
Business financing solutions
Founded over two decades ago, they're known for their unyielding commitment to delivering customer-centric business solutions. To develop a high-quality culture and inspire collaboration with other businesses and institutions, they continue to set the standard for excellence.
At present, they have over 250 branches located in and around Nigeria offering everything from bank accounts to credit cards, so there's no reason why you shouldn't be able to discuss your financial needs with them.
They have a broad focus on their retail-led strategy, enabling them to assist small to large businesses with their banking and business loan needs.
Diamond bank values
At Diamond Bank, they take their values seriously. Integrity, competence, accountability, passion, and leadership are just five values they believe in. Being honest and truthful is such a crucial factor for them, as people across South Africa and Nigeria trust them with dealing with sensitive information.
All employees are trained to ensure they have the necessary skills and abilities to service clients in a professional manner. Thanks to the high levels of passion and accountability within Diamond Bank, there's no doubt your financial needs will be addressed in an appropriate manner. The team is devoted to going above and beyond what's expected of them to deliver for their clients.
They provide solutions when your financial situation change
As the bank's focus is to provide for consumers' ever-changing needs, Diamond Bank has the ability to offer assistance in a host of different areas.
This makes it convenient for consumers as they can go to one service provider for almost everything from personal loans to credit cards.
Open up a bank account
If you're looking for a bank that can assist you with both your personal finances and business financial needs, you've come to the right place. Diamond Bank has spent a number of years building up its service offering, and you can choose from the following services in your personal capacity:
Open a Diamond Current Account
Open a Community Current Account
Open an Exclusive Bank Account.
Get your value-added Credit card
There's also the option of opening a banking account with Diamond Bank and obtaining a credit card.
Providing customers convenience from the get-go, there are different types of credit cards you can apply for. Each of the cards is dependent on your needs. Card types available include:
Diamond Credit Cards (The classic, gold and platinum cards)
DiamondXtra Credit Card
Park n Shop Credit Card
Diamond Dollar Credit Card
Diamond Bank – Credit card
Benefits of Diamond Bank
Credit cards for personal and business use
Fast and simple credit card applications
---
Diamond Bank - Get your value added credit card
For most consumers, there's nothing more frustrating than having to stand in a bank queue to first find out what you'll need before you can complete your transaction.
Diamond Bank has gone above and beyond any banking service and offers you an online portal within the website where you can access all application forms you may need. This allows you the option of completing all your paperwork in the comfort of your own home.
Diamond Banks reward program
Diamond Bank has recently developed and implemented a rewards system for all its loyal customers. You don't need to have a specific account type with them in order to benefit from it.
You're able to earn points just by making transactions on your accounts daily. The more you make use of your Diamond Bank mobile application, for example, the more points you'll earn.
Accessible through your online profile, you've got the flexibility of choosing a price you wish from the following categories: The shopping category, vouchers, travelling, cinemas, paying your bills, or airtime. This is only one of the ways in which they are thanking all their loyal customers.
Stuck in a tight spot and need some money
If you've experienced an emergency and are in need of extra money, need to pay school fees, or merely need a little more for your budget to work out or need a credit card, you're in luck.
Diamond Bank offers a wide variety of lending options. Tailoring their service offering to meet the needs of consumers throughout the country, they've come up with the following options you can choose from if you're needing to borrow money.
Diamond Banks contact centre
Another reason you should be considering Diamond Bank is its interactive contact centre that is open seven days a week, 24 hours a day. They're able to service clients in the following languages: English, Hausa, Igbo, Yoruba, and Pidgin. Customers also have the option of making use of other communication means to contact them.
These include email, their live chat function, SMS, or even any of their approved social media platforms. The team has been trained to deal with any type of query customers may have, and if they aren't able to assist you immediately, their escalation process allows for a quick turnaround time in resolving customer queries.
Options available to you to open a bank account for your children:
Diamond Future Account
Diamond School Banking
Diamond Cool Teens Account
Diamond S.W.A.G Account
Save money and invest
Saving money has no limits at Diamond Bank. Their consultants can assist you in putting together a savings and investment plan for yourself in order to meet your financial goals.
Whether you're saving for a business venture or your future, or just want to grow your financial portfolio, Diamond Bank is the place to go.
Customer Reviews & Testimonials
"
September 2018
Thanks to modern technology banking with Diamond Bank has gotten even better than it was before. Their processes are now streamlined making them more efficient and cheaper for the customer. They ...
Stephanie S
— East London —
April 2019
I was unhappy at my previous bank; they were treating me like a number and not catering for my individual needs and preferences as a customer. I then discovered Diamond Bank and have never regret...
Samantha M
— Grahamstown —
October 2018
I found myself stuck in a tight spot and needed some additional cash badly. The rates on the short-term loans that I had viewed were not up to cut which is when I found a credit card deal at Diam...
John S
— Mthatha —
August 2021
I am very happy with this bank as they are always on point and super helpful.
Dondi J
— Sunnyside —
September 2021
They always deliver out-of-the-ordinary service and I can use my card wherever I travel.
Ntjali M
— Johannesburg —
October 2021
They gave me a great deal on a credit card that I am using very frequently for my business.
Shushu D
— Pretoria —
Diamond Bank Contact
Contact Number
E-Mail
Website
Physical Address
PGD's Place, Plot 4, Block 5, BIS Way,off Lekki-Epe Expressway, Maroko

Lekki

Nigeria

105102

South Africa
Opening Hours
Monday

08:00 – 16:00

Tuesday

08:00 – 16:00

Wednesday

08:00 – 16:00

Thursday

08:00 – 16:00

Friday

08:00 – 16:00

Saturday

– Closed

Sunday

– Closed