Asset protection
Low rate loans
Apply online today
In-page navigation
---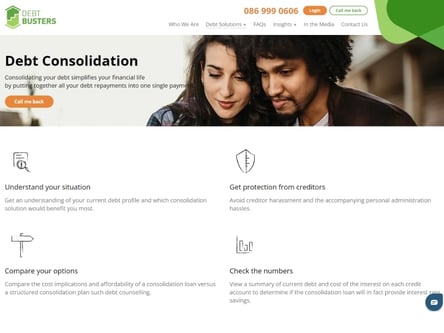 Author DebtBusters. Screenshot of DebtBusters website.


[Accessed January 31, 2023]
Debt Busters - We believe in life after debt
Finding yourself in a situation where you feel financially trapped due to overwhelming debt is never a good thing.
With the ever-changing financial situation in South Africa, more people are finding it difficult to keep up.
DebtBusters was created to assist people with regaining their financial freedom and giving them the advice they need to maintain healthy credit. They have a debt consolidation loan that will not only help you to settle your debt but also give you advice for managing your money better.
They can get you on the road to financial health in no time.
A little history on DebtBusters
DebtBusters was founded in April of 2004. They are a part of the IDM Group and have been established as South Africa's largest and leading debt management company.
They are in the business of offering people who are financially stressed and overwhelmed, a responsible way of getting financial freedom. With trusted advice and the most suitable and affordable financial solutions, they set out to better the lives of many people for more than 18 years.
Success is what drives them
The ultimate goal of DebtBusters is to assist people in saving money. They want to equip people with the necessary knowledge to make better financial decisions in the future.
The reward of being able to help people to regain their financial freedom is what has been driving them since the start. DebtBusters has a central office in Cape Town and more than 400 highly trained and passionate employees. They help people all over South Africa to break their financial chains for good.
We wil help you choose the best solution
They are in the business of making the financial lives of South Africans lighter. This has been their main goal since they were established.
They have been doing this successfully for many years and are proud to be making an active change daily in many people's lives. So, there is no need to feel like you don't have a way out. The financial assistance you deserve is out there and DebtBusters wants the chance to help you change your life for the better.
A debt consolidation loan can change your life
A debt consolidation loan is the type of financial aid that helps you manage your debt more effectively.
Combining all your debt into one monthly payment makes it easier for you to become debt-free. DebtBusters arranges for better repayment options by combining all of your debt into a single payment per month.
With this option, you get to enjoy the surety that you are protected from creditors. Your assets are safe and you are not harassed by endless phone calls.
Your all-in-one financial solution shop
There is a growing need for financial assistance of all forms in South Africa and there is no time to search for different providers for each of your needs.
That's why DebtBusters has put together a range of solutions in one place. This not only saves you time but money as well. You can use a single provider to manage all your financial issues.
You can be sure that DebtBusters will only do what is in your best financial interest. With a track record speaking of years of success, they are a great choice.
DebtBusters – Consolidation loan
Loan Type

Debt consolidation
Benefits of DebtBusters
Get a loan with a bad credit history
Become debt-free with our service
---
Debt Busters will help you become debt free
Many lending companies offer you an online debt consolidation loan. At DebtBusters they believe in undivided individual attention.
They have a comprehensive and easy-to-navigate website that will guide you through everything you can expect when applying for this type of financial aid.
As can be expected, some documents are necessary when taking out a loan with them. Some things need to be verified and additional documents may be needed to establish a clear picture of the situation at hand.
These documents may include:
Apart from three months' bank statements, you will also have to supply any additional information on any debt that you currently have.
To verify your current address you will need to provide any posted proof thereof.
They will need your ID number for the standard credit check so have your ID document on hand too.
On their website you are welcome to begin the process of getting a debt consolidation loan by simply entering the following details into the space provided:
Your name and surname.
Your contact number.
Your email address.
You can click on the call me back button and a friendly, professional consultant will be in touch with you soon to walk you through the entire process.
Why DebtBusters is a great choice
They have assisted more than 150,000 South Africans.
They have more than 500 qualified personnel.
You can enjoy protection from creditors.
They have been in business since 2004.
Customer Reviews & Testimonials
"
December 2018
Debt Busters has the best loan offers. I would recommend this credit provider to anybody that is looking for a loan bargain.
Gift M
— Pietersburg —
March 2019
Without the help of Debt Busters, I would still be stuck in debt. Thank you so much for helping me out.
Nadine N
— Durban —
May 2021
Just when I thought that all hope was lost, a friend told me about DebtBusters. I went online and left my details and they phoned me back soon afterwards. They helped me with a debt consolidation...
Morake A
— Bultfontein —
September 2021
I would just like to thank DebtBusters for assisting me with a debt consolidation loan when I needed it most. The friendly consultant guided me through the whole process in no time.
Wait S
— Boksburg —
June 2021
I am glad that I took my mother's advice and applied for debt consolidation from DebtBusters. They were able to assist me with the funds and the best advice on improving my finances responsibly.
Brown G
— Germiston —
DebtBusters Contact
Contact Number
E-Mail
Website
Physical Address
22 Leeuwen St

Cape Town

Western Cape

8001

South Africa
Opening Hours
Monday

07:00 – 21:00

Tuesday

07:00 – 21:00

Wednesday

07:00 – 21:00

Thursday

07:00 – 21:00

Friday

07:00 – 21:00

Saturday

09:00 – 14:30

Sunday

– Closed