Protect your assets
Save on interest
Expert debt review
In-page navigation
---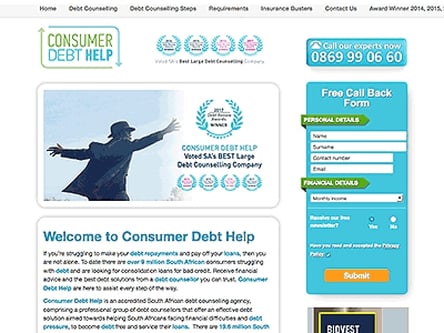 Author Consumer Debt Help. Screenshot of Consumer Debt Help website.


[Accessed January 31, 2023]
Consumer Debt Help - Let them help you become debt free
Consumer Debt Help is a South African-based company that is accredited by the debt counselling agency and comprises a professional group of counsellors. With them, you can access the right help.
Let them assist you to manage your money better
When it comes to the management of your finances as well as your debt, they are the best counsellor to turn to.
They will provide you with a restructured budget that you can stick to, as well as negotiate better payment terms with your creditors. Your new budget and the smaller monthly payment will result in you having a little bit of extra expendable income at the end of the month.
Debt review makes life easier
If you're feeling overwhelmed and intimidated by creditors with their threatening calls, Consumer Debt Help can assist. If you have reached a point where you feel like you are drowning in debt, then their debt counselling process is your ideal solution.
You can enjoy the relief you deserve and enjoy one affordable monthly payment that will be divided among your creditors.
Something that truly works
They do not offer personal loans, rather they will offer you a solution to get out of debt. Their reliable staff will design a proposal to suit your debt requirements, and each client is individually assessed. Their debt service option is always on offer to help you afford your monthly debt repayments at a lesser pay rate.
Apply with them at Consumer Debt Help and let them start changing your life today by assisting you with your debt problems. They are here to build a long-lasting and fruitful relationship with you, but most importantly help you pay off your debt in order for you to become financially independent once again.
Expert advice for debt problems
They offer effective debt solutions geared towards assisting South Africans who face financial difficulties and debt pressure each and every month. They also work in line with the rules and regulations that are set by the National Credit Act.
The benefits of signing up with them
They can assist you in settling your debt by means of a debt consolidation loan. This loan option allows you to have just one affordable monthly payment as opposed to many which might be your current situation.
Your monthly instalment is reduced, and with this option, you can pay your loan over a longer period, all the while they handle your creditors on your behalf.
You will be protected by the National Credit Act against becoming blacklisted and they can even offer you an effective solution to maintaining your debt-free life once all is settled.
Affordable repayment structures
If you're struggling with debt, have business problems, starting to feel the financial noose squeeze a little tighter, they are here for you and can offer you debt counselling.
They cover it all and will help you take the next step in your journey to sorting your business out by simply evaluating your situation through a quick assessment. Thereafter, a debt counsellor will promptly contact you to discuss possible solutions and supply you with a new budget as well as a repayment plan.
Expert advice when you need it
When you apply with them, you will have peace of mind knowing that you have a level of expertise from the professionalism their staff exudes.
They will guide you through the process and negotiate the most affordable payment for you, fully understanding the particular status of your finances. Consumer Debt Help is proud of the reputation that they have built over the years, and will guide and assist you with any legal issues should this be required.
Consumer Debt Help – Debt counsellor
Benefits of Consumer Debt Help
Lower interest rates
Reduced monthly payments
Free financial assessment
---
Consumer Debt Help – they can help you through your debt crisis
At Consumer Debt Help, they will assist you in a professional and caring way with your debt problems as well as protect you from becoming blacklisted.
Their online loan application process is a simple one and it can be done from anywhere in South Africa.
The application process
You can complete the application form by visiting one of their branches, going online, or simply emailing them.
After applying, they will determine whether or not you are eligible for debt consolidation. Their assessment is free of charge and if you have more debt than you earn, you will qualify for debt review.
They will be the mediator between you and your creditors and will negotiate a reduced repayment for you to pay off your accounts and enjoy an improved credit score and quality of life.
Get through your debt crisis
You will receive a number of benefits when using Consumer Debt Help, one of the largest and most trusted debt counselling companies.
Another promise is that they will take your debt stress away with their long-term debt solutions.
Debt Review benefits for you
You'll have the freedom of extra money available each month.
A chance to rebuild your credit record and clear your name.
Support from an expert team.
Legal assistance if and when needed.
The prevention of repossession.
Customer Reviews & Testimonials
"
March 2019
Consumer Debt Help will never leave you to struggle with your finances on your own. They will assist where they can.
Sbonelo N
— Sandton —
March 2019
The fact that Consumer Debt Help took only a few hours shows how committed they are towards attending to the needs of the client.
Peter C
— Randburg —
January 2019
Give Consumer Debt Help a call today and you will be surprised at the amount of money you could be saving on your interests!
Ernest Y
— Bryanston —
April 2019
Thanks to Consumer Debt Help, I finally found a loan I can actually afford to pay on a monthly basis.
Christopher L
— Port Edward —
August 2021
The bank was about to repossess my car and then Consumer Debt Help stepped in and changed my whole life for the better.
Ngumani P
— Newcastle —
September 2021
They are such a reputable and transparent company and I am so happy with their service and what they've made possible for me and my family.
Neethling M
— Paarl —
September 2021
They are without a doubt the best debt review company in South Africa, wouldn't go to anyone else.
Du Toit M
— Welkom —
Consumer Debt Help Contact
Contact Number
E-Mail
Website
Physical Address
142 Bree St, Cape Town City Centre

Cape Town

Western Cape

8000

South Africa
Opening Hours
Monday

08:30 – 17:00

Tuesday

08:30 – 17:00

Wednesday

08:30 – 17:00

Thursday

08:30 – 17:00

Friday

08:30 – 17:00

Saturday

– Closed

Sunday

– Closed