Free debt assesment
Apply online
Lower repayments
In-page navigation
---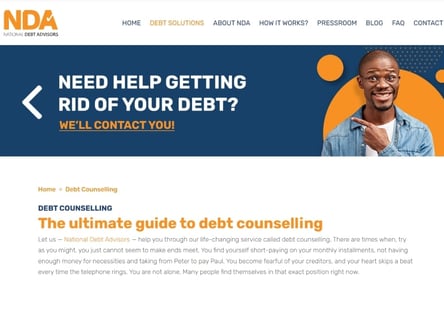 Author National Debt Advisors. Screenshot of National Debt Advisors website.


[Accessed January 31, 2023]
National Debt Advisors - Top rated debt solutions
If you are looking to get rid of your debt the right way, NDA is your top-rated debt solutions company.
They are proud of the fact that they have been rated as one of the top 5 best debt review companies in the country.
At NDA, they realise the importance of the concept of putting the well-being of your finances into someone else's hands. They understand that you need as much information as possible about the company assisting you, so you can be absolutely certain that they are trustworthy, responsible and have your best interests at heart.
A company that will go the extra mile
Their promise to you is to go beyond the call of duty, run that extra mile and assist you in becoming debt-free in the shortest time possible. All without having to endure any major hurdles along the way. You can see them as your support system for this transformative process of reducing debt and that they can and will change your life for the better.
National Credit Act
At NDA, they like to introduce themselves and illustrate all that they stand for, who they are, what they can do for you, and exactly how they plan to do it.
You can rest assured that they follow the regulations under the National Credit Act, and are a registered debt counselling firm. You can also read up about their company mission on their website, highlighting their culture and values.
They have the solutions to your debt problems
If you are tired of struggling financially and constantly explaining to creditors why you cannot pay them, it is time for you to make a change and partner with NDA as they have the right solution for you.
Through a restructured budget plan, you will be able to manage your finances better.
The solutions to your debt problems
With them, you can enjoy a simple application process with easy-to-follow steps. You must commit to becoming debt-free as that is half the battle won, then let them handle the rest.
They will calculate all of your debt and restructure your payments into one affordable monthly instalment. Through their experience, they will help you become financially independent again.
You can expect excellent service
Their qualified and professional debt counsellors will work tirelessly between you and your creditors to negotiate better payment terms on your behalf.
When you sign up with them you will benefit from their passion to help and guide their clients and can expect them to achieve highly reduced interest rates in the process. They strive to help you become free of your debt through their successful debt consolidation and debt review services.
Guaranteed confidentiality
All of their transactions will be handled with the highest level of discretion. Your personal information and documents will be safeguarded and they will never allow anyone outside of their company to access their database. However, they will let your creditors know that you are under debt review.
National Debt Advisors – Debt counsellor
Benefits of National Debt Advisors
Reliable debt counsellors
Easily manage your debt
---
National Debt Advisors, first they assess, then they assist!
They will assess your current financial situation to see if you qualify for debt consolidation.
If you are over-indebted, they will offer you their debt review solution.
Step-by-step application process
Fill in the online loan application form on their website. A consultant will promptly contact you to give you more information about the process.
They will do a quick assessment to establish if you qualify for a debt consolidation loan or debt review.
They will contact your creditors and negotiate better payment terms and protect you against any legal action as a result of your debt.
A certificate of balance for your accounts will then be requested from your creditors by NDA so that they can structure a smaller payment amount and restructure your budget to better manage your money.
Once they have tailored a payment plan for you, you will have one consolidated payment each month that will be divided among your creditors.
During your debt review contract, they will appear on your behalf in the magistrate's court to apply for court orders for your creditors to protect you from harassment.
Debt consolidation
They work in line with the stipulations set by the National Credit Act and will calculate all of your debt. This includes short-term loans, credit cards, and all of your accounts and consolidates them into one loan.
NDA provides a long-term solution, which will ensure that you remain out of debt as well as offer you an affordable single monthly instalment on your consolidated debt.
Debt review
Their debt review option is tailor-made for over-indebted clients. With this option, they will protect you from losing your assets to settle your debt. You will have assistance with any legal issues you have as a result of your debt and will be kept from becoming blacklisted.
The amount you will pay each month is less than the amount you are paying at the moment, leaving you a little extra cash at the end of the month.
Regain your financial freedom
At the end of your contract, you will receive a certificate of clearance that you can forward to your creditors. At this point, your name will be cleared on the credit listing. Contact them today for them to show you how they can provide you with an effective solution to your debt problems.
Benefits of debt review with NDA
A better financial situation
Manageable monthly repayments
Less stress
Doable solutions
Affordable assistance
Proper guidance
Customer Reviews & Testimonials
"
October 2018
I would like to commend the agents of National Debt Advisors for explaining all my terms and conditions in further detail.
Richard D
— Durban —
December 2018
National Debt Advisors offers some of the lowest interests I have ever come across to in the whole of South Africa.
Daniel P
— Cape Town —
August 2021
A great service that assisted me to see the light in what was a very dark tunnel of debt. I am forever grateful.
Mtjali U
— Soweto —
November 2021
What an amazing company they helped me every step of the way and respected my information.
Van Wyk J
— Nylstroom —
December 2021
I will certainly recommend this company for their excellent service. They really went the extra mile for me and my finances.
Kuils T
— Cape Town —
National Debt Advisors Contact
Contact Number
E-Mail
Website
Physical Address
9 Long St, Cape Town City Centre

Cape Town

Western Cape

8000

South Africa
Opening Hours
Monday

08:00 – 17:00

Tuesday

08:00 – 17:00

Wednesday

08:00 – 17:00

Thursday

08:00 – 17:00

Friday

08:00 – 17:00

Saturday

– Closed

Sunday

– Closed