Expert Debt Advisors
Protect Your Assets
Affordable Monthly Repayment
In-page navigation
---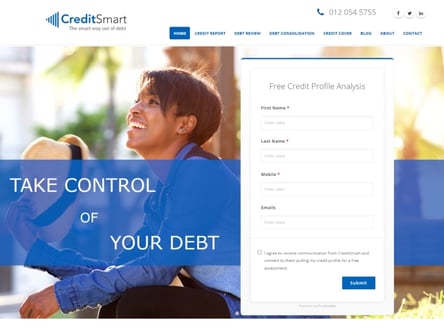 Author Credit Smart. Screenshot of Credit Smart website.


[Accessed April 11, 2023]
About Credit Smart
Based in Monument Park, Pretoria, Gauteng, Credit Smart was established in 2018 by founder and Managing Director, Wikus Olivier.
They're an award-winning group of dedicated financial advisors who want to help you with all your credit, debt, and financial issues. They're registered with the National Credit Regulator.
Credit Smart will work to:
Help you become more knowledgeable about your finances.
Help you leave bad debt behind and get into good credit or become debt-free.
Bring financial relief by teaching you to develop good financial habits and improve your credit score and cash flow.
Make all products and solutions available to assist you.
End the stigma around debt and credit use.
Guided by their beliefs
It's their mission to help customers out of debt.
They have a duty to bring relief and ease stressful situations brought on by bad financial habits.
Keeping families together by helping them.
That their dealings with you should be guided by integrity, honesty, loyalty, and sincerity.
Credit Smart has partnered with people and companies who share in their purpose, and in whom you can also trust to provide only the best possible service. Some of these partners are Wesbank, First National Bank, Nedbank, Capitec, Absa and African Bank.
Founder and Managing Director, Wikus Olivier
He's an entrepreneur with vast experience in debt management, business development, and consulting. He's also a director of City Square Holdings which has shares in numerous companies in different industries. He's married, a devoted father, and a keen mountain biker.
Credit Smart is the result of a decade in the industry and combines all the aspects of debt management and financial wellness. You can get a quote, without any obligation and take a step to take back control of your finances.
Credit Smart Services
The National Credit Act brought in debt review to help consumers who were overly indebted and struggling to service their debts.
This process combines all your debts into one and you'll immediately have relief as Credit Smart will negotiate with your creditors to lower your payments.
Benefits of debt review with Credit Smart
Your cash flow will improve immediately.
You'll only have to make one, affordable payment per month.
There'll be a considerable reduction in your debt repayments and any interest charged, which can save you thousands of Rands.
You get to keep your assets, like your home and car, while you pay off your debt.
You'll have relief from being hounded by your credit providers.
Credit smart will communicate with your creditors instead of you, sparing you stress and embarrassment.
Your payments will be affordable.
They'll budget for you and ensure you have enough money to live reasonably.
You're protected from legal action by your credit providers.
A committed, personal debt advisor will guide you all the way.
Added benefits you can expect:
Retrenchment Cover. They'll cover you and pay your instalments for up to a year.
Death Cover. They'll settle the debt if you pass away.
Maternity Cover. If you unexpectedly become pregnant, they'll pay your instalments during maternity leave- up to 90 days.
Identity Theft Cover. If someone steals your identity, Credit Smart will help you with a lump sum.
Critical Illness and Permanent Disability Cover. If you become permanently disabled or critically ill, they'll pay off your debts.
Temporary Disability Cover. They'll cover your instalments for up to a year.
Credit Smart – Debt counsellor
Benefits of Credit Smart
Become debt-free
Protections against creditors
Protection against assets
Get a free call back
No obligation quotes
---
The debt review process at Credit Smart - how it works
You'll submit your details and an experienced debt advisor will contact you to begin the application process.
The debt advisor will work through your budget (or draw one up), to see if you're over-indebted and if a debt review is appropriate.
Assuming you're over-indebted, they'll work out an initial combined payment and inform the credit bureaus and all your creditors that you've applied for debt review, and they're going to get a court order.
They'll request that your creditors provide them with their most recent outstanding balances.
You'll immediately pay the lower, combined instalment
After all the balances are received, they'll restructure all your bills and work out a repayment plan that suits you.
Their attorneys will present this plan in court, where it'll be made a court order. Usually, you don't have to attend. You continue to pay instalments until the debt is cleared, according to the court order.
Once you've settled your debt, they'll issue a clearance certificate that lets all the bureaus and creditors know that you've completed the debt review process and are allowed to apply for credit.
Applying to Credit Smart - debt review options
Fill in the online form and an experienced debt advisor will call you back
Call them, there's no obligation
Send them an email
Visit their offices in Pretoria if you live nearby
You'll get a free call back and a credit report and debt assessment, also for free
How long will it take
The majority of Credit Smart clients achieve freedom from debt in 5 years or less. On average, it can take about 3 years.
Customer Reviews & Testimonials
"
October 2022
I'm so glad I found Credit Smart. They called me back after I filled in the form and they drew up a budget I could live with and did all the rest. I've been out of debt for four months now, bless...
Ian F
— Krugersdorp —
December 2022
I got into debt and one day realised I had a problem. A friend recommended Credit Smart. Soon I had a budget and lower payments to make and I'll be out of debt in 6 months, Thanks to Credit Smart...
Thuli R
— East Rand —
August 2022
I was getting calls from the accounts departments where I owed money. I went online and found Credit Smart. Such great service. Thanks to them we get to keep our home and I'm so thankful.
Leonie F
— Fish Hoek —
Credit Smart Contact
Contact Number
E-Mail
Website
Physical Address
78 Kalkoen St, Monument Park

Pretoria

0181

South Africa
Opening Hours
Monday

08:00 – 17:00

Tuesday

08:00 – 18:00

Wednesday

08:00 – 17:00

Thursday

08:00 – 18:00

Friday

08:00 – 16:00

Saturday

– Closed

Sunday

– Closed