Free online Assessment
One Reduced Repayment
Repayment up to 5 years
In-page navigation
---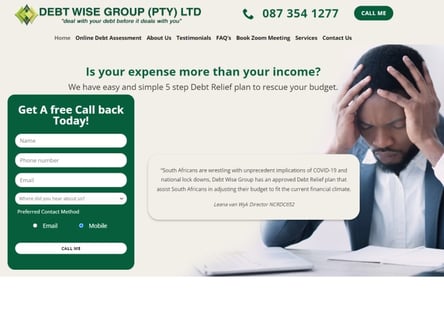 Author Debt Wise. Screenshot of Debt Wise website.


[Accessed April 11, 2023]
About Debt Wise
There are few things more anxiety-inducing than realising you're up to your eyeballs in debt and have no way of escaping it on your own.
At this point, administration, sequestration, and bankruptcy are options, but they aren't exactly pleasant or uncomplicated ones.
Why turn to debt counselling
Debt review was brought into play by the National Credit Regulator to give overindebted South Africans a way to cope with their debt. This can help you avoid having your assets seized and being blacklisted for years.
Debt counsellors are given the task of reviewing your financial situation and finding the best way for you to pay off your debt without damaging your credit profile.
Debtwise Group pairs you with a counsellor whose goal is to treat you with the understanding and respect you deserve. The company is motivated by a passion for helping you become debt free and teaching you the skills you need to improve how you manage your debt in future.
The driving force behind this company
At the heart of the Debtwise Group, you'll find Director Leana van Wyk. While working for a debt collection agency, she found her talent for helping people escape the sticky web of overindebtedness.
She received her NCR accreditation in 2008 and has dedicated her career to improving the quality of life of each individual she counsels.
Debtwise Group comprises a compassionate team of experts who'll guide you through the process step-by-step. They're ready to listen to you and address all your concerns throughout the process. Best of all, you'll be in the hands of people eager to make a difference in your life.
Get your obligation-free assessment
Debtwise Group must assess your financial situation to see if you're eligible for debt review. If they find that your monthly expenses overshadow your income, they'll let you know that you qualify as overindebted and that you can start the debt review process.
This service is available nationwide through their secure online platform where you can get a free assessment. Their site provides everything from a call-back request to the application forms you'll need to complete. With the Debtwise Group, you're only five simple steps away from financial relief.
Debt Wise Services
Debt counselling was introduced in 2006 for two purposes—the first is to ensure that financial service providers receive outstanding payments.
The second is to protect you from legal action and give you a viable way to repay debt while maintaining your standard of living.
What Debtwise Group can do for you
After an assessment, they'll draw up a payment plan. Your day-to-day cost of living and financial obligations will determine what you can afford as a monthly instalment. They'll negotiate lower interest rates, the cancellation of service fees, and even the extension of loan terms with your credit providers.
As a multiple award-winning firm, Debtwise Group draws on their sterling reputation to provide you with a service that'll have you debt-free within 5 years. While under debt review, you can't be blacklisted, your assets remain untouched, and even existing legal action can be dealt with.
Debts covered by this process
Debt counselling takes care of all unsecured loans, store credit, clothing accounts, and pawn shop transactions. Secured loans from banks are also included. This means your credit cards, overdrafts, vehicle finance, and home loans can be adjusted to suit your new payment plan.
Once Debtwise Group takes you on, they'll notify your creditors and begin negotiations. You won't be eligible for debt review if you've already been sequestered or have declared bankruptcy. So researching your options the moment you realise your finances have gotten out of hand may save you from making costly mistakes.
The best alternative to debt review
Debtwise Group can also help you apply for voluntary sequestration if you don't qualify for debt counselling.
They have a legal team who'll guide you through the process and help you make the best of the situation. This judgement will be visible on your credit profile until you've resolved the debt at the end of the agreed period.
This process involves selling off your assets and securities to cover a legal fee of R10,000 and the outstanding debt.
You can opt to pay creditors off in monthly instalments over a maximum of 18 months. Applying for this voluntarily gives you more room to negotiate than you would have if they placed you under compulsory sequestration.
Debt Wise – Debt counsellor
Loan Type

Debt review

Repayment

5 years
Benefits of Debt Wise
Online debt assessment
Reduced monthly debt repayments
Legal help
Protection against asset repossession
---
Debtwise Group put the keys to financial freedom in your hand
By filling in a call-back request, sending an email, or booking a Zoom meeting, you can start your journey with Debtwise Group.
They offer simple solutions to the debt you're struggling with and stay with you from start to finish.
7 Benefits of debt counselling
Go from overindebted to debt-free in as little as 5 years
Only pay one monthly instalment you can afford
Debtwise Group distributes the payments to your creditors via a PDA
They'll negotiate reduced fees and rates on all outstanding debts
You'll get a break from frustrating debt-collection calls
Avoid blacklisting and legal action
In the end, you'll receive a debt clearance certificate and a squeaky-clean credit profile
Get your obligation-free online quote
Click on the 'online debt assessment' tab on Debtwise Group's home page and follow the instructions. You'll need to fill out an 8-part application form that requires your personal information, a breakdown of your credit obligations, and a detailed budget.
If you're married in the Community of Property, your spouse must also enter their information and consent to a credit check.
If married out of the Community of Property, only your partner's employment status and a note concerning their financial contribution to the household are necessary.
Documents and qualification criteria
You must be over 18 and permanently employed to qualify for debt review. Before submitting the application form, you'll need to upload a copy of your South African barcoded ID and your latest payslip.
Debtwise Group will send you a quote laying out their proposed payment plan and explaining their fees. As soon as you accept it, they'll get to work contacting the relevant credit providers to inform them that you're under debt review.

Debt Wise is a trusted & reliable provider of debt review
In our review, Debt Wise adheres to the compliance criteria in accordance with the National Credit Act, where the granting the loan will not cause financial distress to the consumer.
✅ Debt Wise is a registered credit provider in South Africa: NCRDC652
Customer Reviews & Testimonials
"
August 2022
My wife and I were on the brink of divorce over our financial issues before we found Debt Wise Group. On a whim, we asked for an online assessment. They showed us a better way to manage our debt,...
James M
— Tableview —
July 2022
A friend told me about debt counselling when I was having a terrible time and couldn't keep up with the bills. I found Debtwise Group online, and they probably saved my life. If you need debt cou...
Rebecka S
— Randburg —
June 2022
The level of service I got from Debtwise was out of this world. They chopped my debt into manageable chunks that I could afford and helped me understand where I went wrong. I recommend them to an...
Fredrik V
— Postmasburg —
Debt Wise Contact
Contact Number
E-Mail
Website
Physical Address
41 Chapel St, Maitland

Cape Town

7405

South Africa