Safegaurd your assets
Affordable repayments
Lower interest rates
In-page navigation
---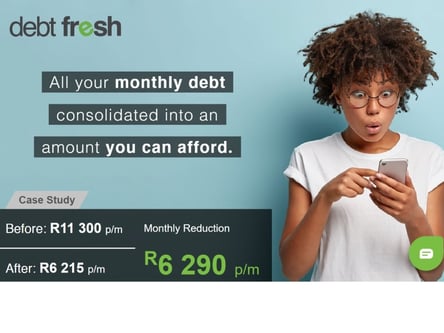 Author Debt Fresh. Screenshot of Debt Fresh website.


[Accessed January 31, 2023]
Debt Fresh - They are the leaders in debt counseling
Reduce your debt with a company that will ensure that your creditors are paid every month and that you are protected from harassment.
They are a leading debt counselling firm in South Africa that is dedicated to helping you regain your financial stability. Their team of esteemed and registered debt counsellors is ready to help you, from expert debt advice to dealing with your creditors.
By restructuring your debt repayments through debt review they can put together something that will specifically suit your budget, buy you some much-needed time to get back on your feet, and lastly, get you out of debt in no time! They'll help you from start to end.
Get out of the debt trap
Not too long ago, obtaining credit was easy in this country. South Africa's business and financial institutions were more than happy to offer South Africans the finance to live beyond their means.
So many people fell into this debt trap and the economic recession, arguably one of the toughest to date, resulted in over 9 million South Africans struggling with serious financial trouble.
To date they have assisted endless South Africans, from all walks of life, being doctors and lawyers to business owners and the general public.
When you feel that you are overwhelmed by your debt and that you cannot afford your monthly payments, it means you are in a position where you need help, and they're there to offer it to you through debt consolidation and debt review.
Consolidate your debt today
At Debt Fresh, they do not lend money, nor do they provide an instant fix that will clear your debt.
They provide a long-term solution, which will ensure that you stay out of debt as well as offer you an affordable single monthly instalment on your consolidated debt.
Your pathway to financial freedom
With them, you can enjoy a step-by-step process to help relieve you of all your debt as they know debt better than anyone available in the industry.
That is why they will help you in achieving a scenario where you have just one affordable monthly instalment, as well as protection from any legal issues arising due to your debt.
Become debt-free
When you sign up with them, they will help you to calculate all of your debt and restructure your payments into one affordable monthly instalment. All South Africans who have a monthly salary and more debt than they can afford can qualify for their services.
They care about their customers and they strive to offer you a product of quality and complete transparency. Their employees are passionate about helping you become debt-free, so you can rest assured that your priorities are always in front of their minds.
Debt Fresh – Debt counsellor
Benefits of Debt Fresh
Lower interest rates
Safeguard your assets
Get one affordable monthly repayment
---
Debt Fresh – your pathway to financial freedom!
Once you submit your application, they will process it within 2 days.
Furthermore, they will restructure your payments with your creditors within just 60 days, depending on how quickly your creditors respond to correspondence.
Debt review requirements
In order for them to process your debt counselling request, they will need you to furnish them with your particulars.
This includes:
A clear copy of your South African ID
A recent payslip
Your marriage certificate (spouse details and income details if you share expenses)
All of your creditor details and all legal documents you have received from creditors.
How to apply for Debt review
Contact them for your first assessment. You can do this by either calling them or by sending them an email. Make sure that you include all of your supporting documentation. The information you send them will help them to calculate whether or not they qualify for a debt review. Thereafter, they will contact you to discuss your payment plan and the terms regarding being under debt review.
They will verify and assess all of your personal information and create a proposal for you. The proposal will include a repayment amount that covers all of your outstanding debt, at a reduced fee, which they will negotiate with your creditors.
All of your creditors will be contacted by them to be informed that you are under debt review. They will be issued with a legal document, and this will keep you clear of harassment from creditors every month. Debt Fresh will also negotiate lower repayment terms with each creditor before they finalise your contract.
They will then supply you with a new budget and payment plan. Each payment will be distributed amongst all of your creditors at a reduced payment rate. Debt Fresh will use a debit order to collect the money every month on the same day until your debt has been paid in full.
Debt review – a solution with results
At Debt Fresh, they will help you eradicate all the debt you have accrued by setting up a detailed plan of how you can pay it back within your means. This will assist you in freeing yourself from that helpless feeling whenever you think about your finances.
With a team of professionals, they will restructure your debt so that you can afford to live the life you have always dreamt of. Apply today and they will set you on the path to financial freedom.
Confidentiality guaranteed
Your financial situation is something that you require to be handled discreetly, they understand that. They also understand that you wouldn't be comfortable with anyone knowing that you are seeking debt assistance.
At Debt Fresh, they guarantee that none of your information will be disclosed to any third party or person, as they will protect your personal information at all times.
Customer Reviews & Testimonials
"
May 2019
If you looking for a quick and convenient way of applying for credit, Debt Fresh has a favourable loan application system for consumers.
Bradley P
— Westonaria —
October 2018
Within one day of applying for credit, I was notified of the status of my loan application on the very same day.
Esther G
— Lenasia —
December 2018
There is always an opportunity to get an affordable loan when you apply at Debt Fresh.
Thato M
— Parys —
June 2021
A realistic company that delivers on its promises.
Jantjies J
— Paarl —
September 2021
They are well-organised and innovative. They also have good relations with most creditors in the country and negotiated such a great plan for me and my family.
Randabu M
— Mabopane —
November 2021
What an amazing team of experts that went the extra mile to make my hopeless situation a bearable one. Love this company.
Steenkamp J
— Upington —
Debt Fresh Contact
Contact Number
E-Mail
Website
Physical Address
91 Mangold St, Newton Park

Port Elizabeth

Eastern Cape

6055

South Africa
Opening Hours
Monday

08:00 – 16:30

Tuesday

08:00 – 16:30

Wednesday

08:00 – 16:30

Thursday

08:00 – 16:30

Friday

08:00 – 16:30

Saturday

08:00 – 13:00

Sunday

– Closed