Protection from creditors
Tailored debt management
Restructured payment
In-page navigation
---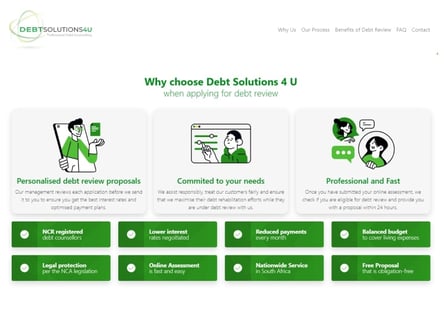 Author Debt Solutions 4 U. Screenshot of Debt Solutions 4 U website.


[Accessed January 31, 2023]
Debt Solutions 4 U - Let us help you manage your money better
The best way to manage your money better.
Debt Solutions 4 U is a company of accredited counsellors and will assist you in becoming debt-free by providing you with a qualified debt counsellor who will contact you to explain the best way to resolve your financial problems.
All their counsellors are NCR accredited and you can rely on strict confidentiality as all your information supplied is kept securely on their side. They do not disclose information to any other institute or third party.
Long-lasting relationships with creditors
They have built up solid and long-lasting relationships with credit providers over many years in the industry. To start your journey towards freedom, a qualified debt counsellor will analyse your financial situation and further negotiate on your behalf with your creditors, resulting in reasonable repayments for you.
When you register with Debt Solutions 4 U, it's important to note that it's obligation-free. After the assessment, you are still free to decide whether you will go through the counselling process to become debt-free or whether it is not an option for you.
Sign up with them and become debt-free
Upon signing up with Debt Solutions 4 U, they will take all of your current debt and design a restructured payment plan, into one affordable monthly instalment.
They care about their customers and strive to offer you a quality product. With employees that are passionate about helping you, you can be sure that you will become debt-free if you follow their debt review process.
Long-term debt solutions
Many different things have contributed to today's economic climate, and it can seem overwhelming to deal with your debt, but not impossible. Though it might seem as though you're on your own, partnering with Debt Solutions 4 U can make it easier for you.
They offer a number of solutions and they can assist with making your monthly instalments much smaller than what you are paying now.
The best debt review specialist in SA
At Debt Solutions 4 U, they do not lend money, nor do they provide an instant fix that will clear your debt. They provide a long-term solution, which will ensure that you stay out of debt as well as offer you an affordable single monthly instalment on your consolidated debt.
A passionate and experienced team
You will get a personal debt counsellor to guide and assist you through the debt review agreement. So, you can contact them if you need any advice or information throughout the term of your process.
They will also cover you with legal protection against any unnecessary harassment from creditors, and your debt counsellor will deal directly with your creditors.
Effective debt solutions for you
They will contact your creditors and propose an agreement that includes a reduced payment amount in order to consolidate your debt into one affordable monthly instalment.
You will enjoy their ongoing support until all your debt is settled and you're cleared from the credit listing. Your new monthly instalments will be paid by you to the Payment Distribution Agency (known as a PDA – an NCR-approved agency) who is then responsible for paying your creditors.
Debt Solutions 4 U – Debt counsellor
Benefits of Debt Solutions 4 U
Protection from creditor harassment
Personalised debt management
Restructured debt repayments
---
Debt Solutions 4 U – effective debt solutions
Overwhelming debt can make you feel helpless. However, they are here to alleviate your stress through debt solutions like debt review.
You just need to make the choice to change your financial situation and then they will do the rest.
Application requirements
In order for them to process your request, they will require some personal documents.
A copy of your South African ID
A recent payslip
Your marriage certificate if married (spouse details and income details if you share expenses)
All of your creditor details and any legal documents you have received from creditors.
You are not alone in your situation
Your debt counsellor is always at your disposal for any advice you require, and he or she will also ensure your monthly repayments to the PDA are being met.
Once your debt is completely settled, they will provide you with your achieved clearance certificates. The debt counsellor then informs all credit bureaus to remove you from the debt review database, enabling you to freely apply for credit again.
A simple application process
Step 1
Start by completing the online loan application form for them to assess your debt situation. Once you have submitted your application one of their debt counsellors will promptly contact you.
Step 2
Supply them a list of all your creditors, as well as the outstanding amounts. They will do a thorough assessment of your debt, and see if you qualify for debt review.
Step 3
They will establish if you are over-indebted. In this case, you will need to make use of their debt review service.
Step 4
They will contact your creditors and negotiate a lower payment rate on your behalf. Your debt will be consolidated into one affordable monthly payment which will be divided across your creditors.
Step 5
If you have legal troubles, they will represent you in court in order to obtain a letter from your creditors. In this way, they protect you against creditor harassment.
Customer Reviews & Testimonials
"
February 2019
Thanks to Debt Solutions 4 U, I am paying a reasonable loan together with the interest rates.
Nokubunga M
— Durban —
April 2019
Convenience is key when you are applying for credit at Debt Solutions 4 U.
Palesa D
— Parys —
August 2021
I never knew that I could be free of my debilitating debt, Debt Solutions 4 U made it possible for me.
Janice N
— Durban —
September 2021
I was so hopeless until they rescued me. A great team of caring consultants who went the extra mile.
Bobby A
— Ysterfontein —
October 2021
I almost lost my car due to my inability to afford the repayments. This company helped me to see the light at the end of a very dark tunnel.
Nonke K
— Soweto —
Debt Solutions 4 U Contact
Contact Number
E-Mail
Website
Physical Address
Unit 13, Cradock Centre, Cradock Ave, Lyttleton Manor

Centurion

Gauteng

0157

South Africa