Reduced Debt Repayments
Tailored Payment Plan
One Affordable Instalment
In-page navigation
---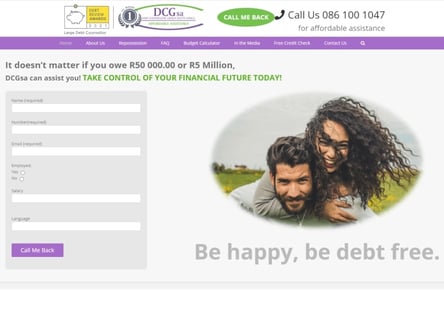 Author DCGsa. Screenshot of DCGsa website.


[Accessed March 2, 2023]
About DCGsa
Are you drowning in all the debt you're trying to manage? Allow DCGsa to help you take control and assist you in getting back on track.
Why you should use the DCGsa
At DCGsa, you can access tailor-made solutions for your specific needs. They go out of their way to ensure that you receive the best end of the deal; therefore, they do everything within their power to ensure that your struggles are turned into joy.
When making use of their services, you receive protection against your creditors, thus allowing you some time to work out the best possible way to solve your financial burden.
Once DCGsa has successfully assisted you, you'll receive a clearance certificate, which indicates that your debt has been repaid in full.
There's no easier way to get rid of the red flag than to consider debt review.
Reasons for needing financial assistance
When taking out a loan, it's important to consider all relevant aspects. Once you've signed the agreement, there's no way of turning back.
One of the best things you can do is start working on your financial management skills with the help of the Debt Counselling Group.
The moment you realise that your debts are becoming too much for you, you need to consider going under debt review. This will allow you to pay off your debts while learning to manage your finances and receiving guidance regarding everyday financial management.
DCGsa Services
You might be about to get blacklisted, which will put a definite red flag on your credit report; therefore, don't wait a minute longer. Get your finances sorted with debt counselling and become debt-free in no time.
You can benefit from debt counselling
Some individuals might see debt review as a negative thing, but to most individuals who depend on loans, debt review can be a lifesaver. With debt review, your monthly payments are decreased to ensure that you can make the minimum payment each month.
You also receive the benefit of an unaffected credit report, which means that there won't be a permanent mark regarding your debt review status. It'll also create a path toward becoming debt-free in the near future.
Fees and charges involved with debt review
DCGsa knows how difficult it is to keep up with your monthly payments; therefore, they work towards making your load lighter. They're fully aware that your end goal is to be debt-free, so they add their cost to your new repayment plan. Once their cost has been added, they make the calculations to ensure you can make your minimum monthly repayment after they've added the cost.
DCGsa budget calculator
Being under debt review is not easy, therefore they've made the process much easier and more convenient for you. On their website, you'll find that they have an online budget calculator. This calculator will allow them to have a deeper look at your finances, thus allowing them the opportunity of getting you the best possible solution.
Benefits of DCGsa
Reduced debt instalments
Get a clearance certificate
Better manage your debt
Protection against creditors
---
Start your journey towards becoming debt-free
Start your debt review application now. Remember it's better to be under debt review than to miss some important payments.
Once you receive a clearance certificate, you'll be able to buy on credit again.
Applying for debt review
Applying for debt review is just as easy as applying for a normal loan, as long as you follow all the steps and meet the minimum requirements.
DCGsa has made it so easy for you, therefore you only need to download the assessment pack document and fill in all the details and submit the necessary documents with it.
The assessment pack includes all the information you might need when filling in the form. Should you need further assistance you can make contact with one of their consultants and they'll be happy to assist.
The process towards becoming debt free
Letting go of something might be difficult, but with DCGsa letting go of your debt is easy. Here are 7 steps towards becoming free from all your worries.
Step 1: You need to go through an assessment, which will indicate whether you're over-indebted or not.
Step 2: Should you be over-indebted, you'll need to complete Form 16 which is an official application for debt review
Step 3: Once you've completed Form 16, the debt counsellor will have 5 days to deliver a completed form 17.1 to all credit providers
Step 4: When the credit providers receive your application, they'll have an additional five days to submit a certificate of balance.
Step 5: A formal proposal will be sent to your credit providers, who will either accept or decline it.
Step 6: When all the numbers have been calculated and your expenses have been subtracted, they'll pay out the rest to all your creditors.
Step 7: Finally, you'll be given a court date for when your repayment plan will be made an order of court.
Note that most of the steps are completed by DCGsa; you only need to complete Steps 1–3.
Receiving your clearance certificate
As a debt review client, receiving the clearance certificate is a dream come true. As a result, DCGsa has made it its mission to assist you as quickly and efficiently as possible.
Once you've completed your repayment plan and all your debt has been paid, you'll receive your clearance certificate. After your clearance certificate has been issued, the credit bureaus will be informed of your new credit status. Now you're ready to take on debt and achieve all your dreams.
Customer Reviews & Testimonials
"
August 2022
I was between a rock and a hard place when I consulted DCGSA, but once they viewed my situation, they jumped right in to assist. Their kindness and wise words have motivated me through the whole ...
Candice L
— East London —
June 2022
DCGsa has proven to be helpful and goes the extra mile with its clients. Today I am debt-free and it's the best experience ever.
Michaela F
— Port Elizabeth —
November 2022
I received my clearance certificate, and with the help of their attorneys, my name was cleared by the credit providers in no time.
Zoey M
— Buffalo City —
DCGsa Contact
Contact Number
E-Mail
Website
Physical Address
21 Pearce St, Berea

East London

5241

South Africa
Opening Hours
Monday

08:00 – 17:00

Tuesday

08:00 – 17:00

Wednesday

08:00 – 17:00

Thursday

08:00 – 17:00

Friday

07:30 – 16:30

Saturday

08:30 – 13:00

Sunday

– Closed