Reduce financial stress
Expert advice
Debt management
In-page navigation
---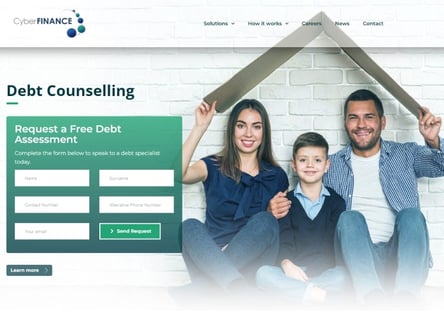 Author Cyber Finance. Screenshot of Cyber Finance website.


[Accessed January 31, 2023]
Cyber Finance - We will relief you debt strain
If you are experiencing debt strain, Well, you can get the relief you need today.
Cyber Finance is a company based in Cape Town that to date has helped many South Africans through debt review.
Today, Cyber Finance has highly qualified and experienced staff members and has, through expertise and positive relationships with credit providers, changed the lives of more than ten thousand South Africans. They have over a decade of experience and their team are experts in their fields.
Reduced repayments for you
They work with clients that are over-indebted and unable to pay their accounts and have assisted thousands of clients through the hard years at work in resolving their debt problems.
They aim to build lasting relationships with their clients and strive to keep them out of debt. Their team has the knowledge and experience to negotiate better deals on your behalf and guarantee this effort if you register with them.
Only one monthly instalment
They have the mandate and relationship to negotiate with your creditors on your behalf in order to obtain a lower payment structure which in turn will help consolidate your debt.
By calculating your debt and converting it into one lump sum, your monthly instalments will be divided across all of your creditors in separate agreements.
Effective debt solutions
Their assistance extends to those individuals who are struggling with debt as well as businesses with financial problems.
Effective debt solutions
Through constant communication they will walk the journey with you, every step of the way, keeping you on track with your debt solution.
They do not offer personal loans, instead, they offer you a solution to get out of debt. With the, you can access debt review, loan consolidation, administration, sequestration, and voluntary debt restructuring.
Voluntary debt review
This is where you don't qualify as over-indebted, but are still unable to settle your personal debts. They will then work with you to tailor a realistic budget. Each client is individually assessed to establish these plans for moving forward with their debt.
Debt counsellor
Taking the time to talk with one of their trained debt counsellors will help you find an effective solution e.g. debt review.
As soon as a debt counsellor has established that you're over-indebted and require debt review, they will negotiate lower monthly instalments with your creditors on your behalf.
This will allow you to retain your assets while settling your debts, all at an affordable fixed monthly payment. By undergoing this process before your creditors take legal action against you, you will avoid being blacklisted or receiving any judgments against your name.
Cyber Finance – Debt counsellor
Benefits of Cyber Finance
Expert financial advice and guidance
Debt management advice
Reduce your monthly payments
---
Cyber Finance – your number one debt solution
They will be the mediator between you and your creditors and will negotiate with them on your behalf, as well as protect you against judgments and harassment.
They aim to professionally facilitate you in becoming debt-free. If you are overwhelmed by debt, then now is the time to act and your first step is to apply with them.
Your number one debt solution
They believe in the financial wellness of all South African citizens and continually strive to provide excellent service. Applying with them today will enable you to get the help you need and take the next step to become financially independent again as they are the ultimate solution to your debt problem.
They will need:
a copy of your South African ID
payslips and bank statements.
a list of all of your creditors and the amounts owed to them.
How it works:
Complete their online loan application and a debt counsellor will promptly get back to you with a plan to help you get rid of your debt.
Your dedicated debt counsellor will contact your creditors and negotiate a better payment structure on your behalf. They will also present a court order to your creditors that will protect you from harassment. After negotiating with your creditors, they will offer you an agreement that includes a reduced monthly repayment amount in order to consolidate your debt.
Immediate relief and protection.
Access a better financial life today
The weight of accumulated debt can make you feel helpless when you are unable to pay your accounts. At Cyber Finance, they will help you lift the weight of your debt through debt review and debt consolidation.
Customer Reviews & Testimonials
"
February 2019
I would like to commend the great service I got at Cyber Finance when I was applying for credit. Keep up the good work guys!
Richard B
— Pretoria —
November 2018
I am happy I chose Cyber Finance; I am introduced to a number of benefits I have got since I've become a member of their brand.
Ernest C
— Sasolburg —
May 2021
Everything was done so quickly and hassle-free. I recommend them to anyone in financial difficulty.
Steenkamp N
— Mooirivier —
May 2021
They gave me proper advice and guidance and I can face the day again, knowing that I'm going to be okay and won't be losing my assets anymore.
Morodi M
— Bisho —
June 2021
They deliver great service to the people of South Africa and they truly care about your financial well-being not just in the short-term but in the long run.
Nel G
— Coffee Bay —
Cyber Finance Contact
Contact Number
E-Mail
Website
Physical Address
13 Heerengracht St, Cape Town City Centre

Cape Town

Western Cape

8001

South Africa
Opening Hours
Monday

08:00 – 17:00

Tuesday

08:00 – 17:00

Wednesday

08:00 – 17:00

Thursday

08:00 – 17:00

Friday

08:00 – 17:00

Saturday

– Closed

Sunday

– Closed