Achieve Financial Freedom
Personalised Debt Solutions
Reduced Monthly Payments
In-page navigation
---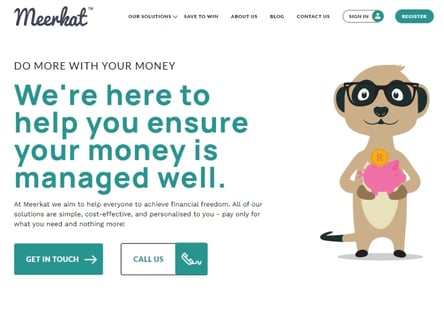 Author Meerkat. Screenshot of Meerkat website.


[Accessed March 2, 2023]
About Meerkat
Meerkat was founded by a qualified actuary, David O'Brien in 2016.
With more than 20 years spent on product development, David wanted to use his experience to offer South Africans financial solutions to improve their financial well-being.
Why Meerkat was founded
David O'Brien realized that he could change the lives of countless people by offering services that would educate them on how to better manage their finances. This brought about the establishment of Meerkat.
Meerkat cares about your financial well-being
Meerkat boasts a dedicated and passionate team that is dedicated to helping you manage your debt. Their solutions are simple, affordable, and tailored to suit your individual needs.
When it comes to debt, there is no one-size-fits-all answer. Meerkat understands this and has therefore set out to provide individual-specific debt management solutions.
Meerkat empowers you to save
The service provided by Meerkat is not only to assist you with debt management but to look at life after debt. You're more likely to incur debt when you don't have good money management skills. Meerkat assists you to settle your current debt and empowers you to save. Savings give you a sense of financial security for the future.
Meerkat is your friend in times of need
The meerkat is indigenous to South Africa and a group is called a mob. In every mob, there's a sentinel. This is usually the group member that watches for danger when the others are looking for food.
At Meerkat there's a sentinel too. He's known as Moku, the chief meerkat. He understands finances and his job is to look out for the best financial options and advice to help you prosper. He's constantly looking for up-to-date and innovative ways for you to manage your money better.
Meerkat Services
Meerkat is dedicated to providing market-leading and innovative debt solutions.
They pride themselves on outstanding customer service and strive to treat you as part of their family. Their main goal is to assist you to become debt free and ultimately prosper financially.
Debt review explained in simple terms
Debt review is a concept that was brought about by the National Credit Act. It enables companies like Meerkat to offer you debt review services to manage your debt legally and at reduced instalments.
Your combined debt is tallied, and your dedicated debt counsellor negotiates better interest rates and terms on your behalf. The debt review process will afford you protection from legal action while settling your debt.
Is debt review the right option?
Many South Africans struggle with debt. However, when your debt becomes overbearing and getting by each month becomes harder, you might benefit from debt review.
There's no need to suffer because of debt. Seeking help when you need it is the first step to taking responsibility for your finances.
What you can expect to pay for debt review
The debt review service costs and fees are regulated by the National Credit Regulator. The fees are included in your monthly debt repayments.
The cost of acquiring the services of a debt counsellor is equivalent to the monthly instalment that is negotiated and payable to your debt counsellor on the first month.
They offer you more than debt review
Apart from the debt review service that Meerkat provides, they can also assist you with setting up a savings plan, debt consolidation services, life insurance policies, and funeral cover. All of the services offered by Meerkat can help you to secure your financial future.
Meerkat – Debt counsellor
Benefits of Meerkat
Cost-effective Debt Solutions
Debt Consolidation
Debt Review Plans
---
Become debt free with Meerkat
With the simple, tailored, and crystal-clear debt management solutions offered by Meerkat, you can start your journey to a debt-free future.
Your 8-step guide to the debt review process
The first step in filing for debt review is to have your debt counsellor take a look at your debt profile. They'll thoroughly assess your income and expenses to establish if you qualify for debt review. If you qualify, the process of debt review is initiated.
Your entire financial situation is laid out and what you can afford to pay monthly on your current combined debt is established.
Your debt counsellor will contact your creditors to acquire confirmation of the totals owed to them.
You're listed on the Debt Help database of the National Credit Bureau.
Your creditors are notified that you've filed for debt review and that your application is underway.
Once your creditors receive the notice, your debt counsellor will negotiate a new monthly instalment and lower interest rates with them. These negotiations are based on the plan that your debt counsellor put together with you.
When your creditors agree to the new payment plan, your new monthly instalment is made an order of the court. This protects you from harassment and threats and also prevents your creditors from repossessing your belongings.
Once your debt is settled, you'll receive a certificate of clearance and your status is updated at the various credit bureaus.
Filing for debt review requires you to supply your debt counsellor with all the relevant documentation to complete your application.
The documents needed for a debt review application
Proof of your current address, not older than three months
Your payslips for the last three months
South African ID document/Smartcard
A complete breakdown of all your current expenses
A list of your dependents
A breakdown of daily living expenses
Why you should partner with Meerkat
Your financial well-being is their top priority
Affordable and trustworthy
A dedicated team
Experienced and knowledgeable debt counsellors
Meerkat always stays true to its core values
Let Meerkat guide you to financial freedom
Being over-indebted is nothing to be ashamed of. The help you need is available and Meerkat is dedicated to helping you become debt-free. Their innovative and technologically advanced financial solutions can offer you the chance to build a solid financial future.
With a promise to always treat you with dignity and respect, Meerkat provides top-class customer service and guides you on the way forward.
Customer Reviews & Testimonials
"
September 2022
I was in so much debt and was unsure of where to find help. A friend suggested that I apply for debt review with Meerkat. They are an outstanding team and have helped me every step of the way.
Bongani B
— Standerton —
May 2022
I would like to take this opportunity to thank the helpful and friendly team from Meerkat. They assisted me with the debt review process and I'm now only two payments away from being debt free.
Chante P
— Germiston —
July 2022
Meerkat has helped me and my family to become debt free in record time. They also assisted us in setting up savings and we are finally financially free. We recommend them to anyone.
Sandra F
— Sasolburg —
Meerkat Contact
Contact Number
E-Mail
Website
Physical Address
203, Pine Park, 1 Logan Way

Pinelands

Cape Town

7450

South Africa
Opening Hours
Monday

08:00 – 17:00

Tuesday

08:00 – 17:00

Wednesday

08:00 – 17:00

Thursday

08:00 – 17:00

Friday

08:00 – 17:00

Saturday

– Closed

Sunday

– Closed