Avoid bankruptcy
Reduce bad debt
Protect your assets
In-page navigation
---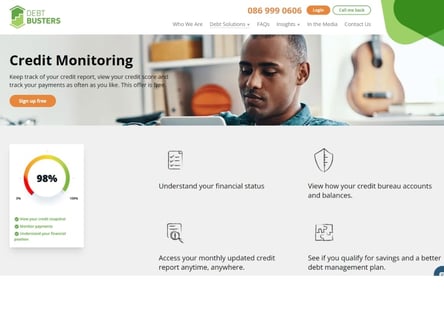 Author Debt Busters. Screenshot of Debt Busters website.


[Accessed January 31, 2023]
Debt Busters – Let their experience help you become debt free
Debt Busters can help you to become financially independent.
Debt Busters is currently South Africa's largest and most trusted multi-award-winning debt management company. They were founded in January 2008 and its head office is situated in Cape Town.
They are an important part of the IDM Group and offer a new method to deal with financial problems and assist clients with solving their debt situations. Debt Busters have already helped over 150,000 clients to manage their debt through consolidation loans, and debt review.
Why choose Debt Busters
They believe that South Africa and its consumers are in a debt crisis and that they cannot solve their debt problems on their own. Families are kept together, and they ensure that clients' homes and cars remain their own and that they are prepared for when the unexpected happens.
Debt Busters do not just provide life-changing knowledge and solutions to their clients, they help them to transform their lives and build a brighter financial future to make their dreams come true.
Experienced team
Their professional team have years of experience and they aim to give every customer superior service delivery and tailor-made debt solutions. Debt Busters understand that their clients have different financial needs, which is why they design your debt solution around how much debt you have.
Tailor-made debt solutions
Let their experience help you become debt-free.
What happens when you are over-in-debted
If you are over-indebted, Debt Busters will introduce you to the process called debt counselling.
A debt counsellor will consider your income and expenses and will work out a new debt repayment plan comprising smaller instalments and extended terms. The debt counsellor will do credit checks to make sure you can afford to repay your debt.
The budget plan
A budget plan will be set in place for you to help you improve your credit record. They aim to help you settle your debt quickly so that you would not have to declare insolvency. If you are a business, they will assist and educate your employees on the importance of money management.
Once your debt is fully paid
When you sign up for debt counselling, an expert debt counsellor will ensure that all credit bureaus and credit providers are informed that you are under debt review. The credit bureaus will then update your profile on their system as 'under debt review'.
When your debt has been paid, they will send a clearance certificate to their creditors and notify the National Credit Regulator as well as the credit bureaus. They will remove the 'under debt review' flag from your profile, and you will be able to gain credit again.
Debt Busters – Debt counsellor
Benefits of Debt Busters
Expert debt counsellors
Become debt-free in 60 months
---
Debt Buster – they'll help you become financially independent
You don't need to go to a Debt Busters office to apply as it can be done completely online, saving you time and effort.
Follow these quick and effortless steps to apply:
Fill in the simple loan application form or the contact form and attach your personal documents.
Grant Debt Busters access to the list of creditors and the amounts that you owe, as well as your credit card information.
They will then negotiate better payment terms with your creditors.
A debt review plan will be set in place.
Become financially stable
Debt has become a common problem in South Africa, and it is rapidly increasing throughout the country. Most consumers need debt counselling. To determine whether you are in debt and in need of debt counselling can be done by asking yourself the following questions:
Are you being hassled by credit providers?
Do you struggle to pay your debt and make payments on time?
Is your credit card used to pay for household items?
Struggling to pay off your loans?
Would you like to avoid being bankrupt?
Do you want to be debt-free?
If you answer yes to the above questions, The Debt Busters debt counselling service is the perfect option for you and they will help you to reach financial stability.
Debt review benefits
Prevent bankruptcy.
Find your way to financial freedom.
Friendly and reliable experts are ready to assist you with amazing solutions to your debt.
A budget will be set in place.
Customer Reviews & Testimonials
"
February 2019
At Debt Busters, I was treated with such humility and professionalism. My loan application was attended to on the very same day.
Rebecca X
— Vereeniging —
February 2019
After applying for a loan at Debt Busters, I only had to wait for a few hours to have my loan approved and the money deposited on my bank account.
François V
— Sasolburg —
May 2021
After applying for a loan at Debt Busters, it only took a few hours to have my loan approved and the money deposited into my bank account. Thank you for your amazing service.
Botha A
— Nelspruit —
June 2021
At Debt Busters, I was treated with humility and professionalism. My loan application was attended to on the very same day.
Akpan A
— Pretoria —
August 2021
I would recommend Debt Busters to anyone. Thank you for helping me.
Chin L
— Johannesburg —
Debt Busters Contact
Contact Number
E-Mail
Website
Physical Address
22 Leeuwen St

Cape Town

Cape Town City Centre

8001

South Africa
Opening Hours
Monday

07:00 – 21:00

Tuesday

07:00 – 21:00

Wednesday

07:00 – 21:00

Thursday

07:00 – 21:00

Friday

07:00 – 18:00

Saturday

09:00 – 14:30

Sunday

– Closed