Reliable debt review
Free credit reports
Live debt free
In-page navigation
---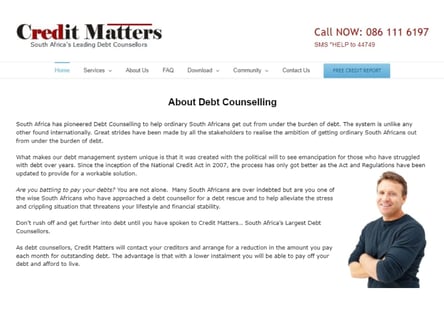 Author Credit Matters. Screenshot of Credit Matters website.


[Accessed January 31, 2023]
Credit Matters - They have effective debt solutions
Credit Matters can offer you instant relief when it comes to debt review.
Credit Matters is one of South Africa's largest debt review companies. They have been helping South Africans cope with their debt since 2007 after the National Credit Act became law. Since then, they have helped many South African citizens with their unfavourable financial statuses.
Credit Matters has a skilled team of experts
Many South Africans struggle with over-indebtedness, and they understand how frustrating it can be when you are no longer able to pay your accounts.
Their employees have years of experience, which has enabled them to bring you the most amazing service. One of the greatest benefits you can expect to experience is their negotiating skills with various South African creditors that will help to get you a lower instalment rate.
Building long-lasting relationships
Credit Matters aims to build long-term relationships with its customers that are built on trust and transparency. The debt counsellor assigned to you will assist you throughout your term with them and will strive to deliver positive results.
They pride themselves on being trustworthy and reliable and will process your application with discretion. You can be sure that your personal information is always secure with them.
They want a positive outcome for every client
When you find yourself over-indebted, Credit Matters can offer you a solution that will make your debt something of the past.
Large amounts of debt can be in the form of personal loans or credit cards and the first step toward a better financial future is to get help. Credit Matters will negotiate for a better payment structure with your creditors, and they will encourage you to manage your finances better.
Debt review
Their debt review option is tailored to your needs. You will be protected from losing your assets and they will also help you with any legal issues you have because of your debt and keep you from becoming blacklisted. With smaller repayments each month you will have a little extra cash at the end of the month.
Get a credit report done
All South Africans can have a credit report done each year, and the great part is it's free. Credit Matters can give you a credit report and assessment on how you can become debt-free.
The clearance certificates
After your debt is paid back in full, you will receive a clearance certificate confirming that you are free of debt. The clearance certificate will clear your name at the credit bureaus, and you will qualify for credit again.
Credit Matters – Debt counsellor
Benefits of Credit Matters
Consolidate your debt
Become debt-free with expert advice
---
Credit Matters – they will help you become debt free
Credit Matters has a simple online application process that can be done in minutes.
Their office is based in Cape Town, but they can assist you from anywhere in South Africa as the application can be done via fax, email, or telephone. You don't need to visit their offices to make the process much more convenient for you.
When will you be able to exit the Debt review process
If you want to exit the debt review process, you will have to make sure that all your debt is paid and up to date. You are also allowed to exit a debt review, if you can prove to the court that you can continue repaying your creditors, without a debt counsellor.
Documents and fees required for application
A recent payslip.
Bank statements of the previous 3 months.
A copy of your ID.
Statements from all your credit providers.
A marriage certificate will be needed if you are married in community of property.
Spouse's most recent payslip (if you are married in community of property)
Get your finances in order
Today is a good time to start considering getting out of debt. Contact Credit Matters today and watch as your finances start to improve.
Credit Matters benefits
Expert and friendly advice from their amazing team.
You will receive a free credit check.
Credit Matters will help you with your monthly budget.
They will negotiate for lower interest rates and monthly instalments.
They will take over all communication with Credit Providers.
They will help you to get a court order to provide you with legal protection.
Customer Reviews & Testimonials
"
March 2019
Interest rates have always been a priority for me and when I realized how affordable the ones at Credit Matters were, I had to accept their loan offer.
Roderick C
— Marburg —
January 2019
Credit Matters went out of their way to give me a loan offer that wouldn't prove to be difficult to maintain.
Gareth F
— Randburg —
October 2018
Credit Matters the most affordable credit deals if you looking for a fresh new financial start.
Kedibone M
— Sebokeng —
September 2018
Applying for a loan at Credit Matters was fast, easy and convenient.
Rachel G
— Cape Town —
August 2018
Credit Matters was the only credit provider that was willing to help me during my time of need.
Penelope K
— Lenasia —
October 2021
Credit Matters went out of their way to give me a consolidation offer that was not difficult to maintain. I would recommend them to anyone.
Fourie P
— Bloemfontein —
October 2021
Applying for debt review at Credit Matters was fast, easy, and convenient. Thank you for assisting me in my time of need.
Zoli T
— Johannesburg —
November 2021
Credit Matters were extremely helpful, and they have lifted an enormous weight from my shoulders. Thank you for the work that you guys are doing to rescue 'drowning' debtors like me!
Salaam A
— Cape Town —
Credit Matters Contact
Contact Number
E-Mail
Website
Physical Address
14th Floor, Pinnacle Building cnr Strand and, Burg St

Cape Town City Centre

Cape Town

8001

South Africa
---
Postal Address
PO Box 7142, Roggebaai, 8012, South Africa
Opening Hours
Monday

08:00 – 17:00

Tuesday

08:00 – 17:00

Wednesday

08:00 – 17:00

Thursday

08:00 – 17:00

Friday

08:00 – 17:00

Saturday

– Closed

Sunday

– Closed