Home loans up to R5,000,000
Low-interest starting from 9.25%
Repayment up to 20 years
In-page navigation
---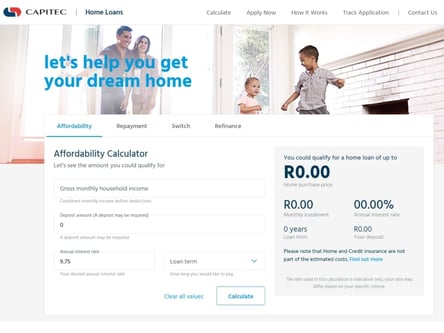 Author Capitec Home Loan. Screenshot of Capitec Home Loan website.


[Accessed January 31, 2023]
Capitec - we make your dream home a reality
Capitec home loans are turning dreams into reality with their easy-to-apply home loan offers that are changing the lives of South Africans.
This authorised financial services provider (FSP) not only provides home loans of up to R5 million for successful applicants but also guides them throughout the process once they are successful.
Apply for a Home loan from Capitec
The bank knows that people are fussy about their time – time is money after all.
So Capitec has simplified the online home loan procedure on its website. This means that clients, after filling out all the details on the website, can spend the rest of their day paying attention to their daily responsibilities.
When clients apply online for a home loan they can qualify for a 100% home loan. If applicants decide to walk into a branch to fill out an application they are eligible for a 90% home loan.
There are special incentives for government employees who apply for a home loan.
Capitec prides itself on high levels of service excellence. Once any client has filled out a home loan application, a financial consultant will analyse their credit profile.
Capitec's consultants are experts in their field and will only authorise applications if a client can afford it. They will always make sure clients receive the best deal possible based on their profile and budget.
Transparent reliable home loans
Capitec's quick turnaround time once a home loan application has been submitted by an applicant, is a huge drawcard for prospective clients.
They know clients do not want anxiety-filled moments having to wait days on end before they have been approved for a home loan. The bank has made the process less painful by guaranteeing initial contact with the applicant within 2 working days after a loan inquiry has been made.
Once Capitec has received all the relevant documentation it will let customers know within 5 working days whether they have been approved or not.
Easy to determine affordability with an online application
Capitec makes it easy for clients to assess whether they can afford the cost of the loan with its helpful online calculator.
The online calculator makes it easy for the applicant to see interest rates charged and what the monthly payments for their loan may be so they can determine whether he or she can afford the home loan.
This handy online tool allows clients to determine which loan will best suit their needs. Once an applicant has indicated the amount of the loan they are applying for the calculator will assess the total cost of the loan, including interest.
Capitec Home Loan – Home loan
Loan Type

Home loans

Interest Rate

9.25 – 10.25% p/a

Loan Amount

up to R5,000,000

Repayment

5 years to 20 years
Benefits of Capitec Home Loan
Interest rates from 9.25%
Home loans up to R5,000,000
Loan repayment term up to 20 years
---
Capitec - we take the guess work out of home loans
The advantage of a Capitec home loan is that clients do not have to be existing clients to apply for a home loan.
The bank allows clients to convert their existing home loan to an SA Home Loan for added convenience.
What percentage of salary goes towards a Capitec home loan? No worries, because Capitec's financial consultants will help clients figure it out by calculating a deal for them that suits their pockets.
Normally any applicant should contribute 30% of his or her gross salary to a home loan.
Clients will need the following when applying for a Home loan:
Clients must be 18 – 60 years old.
Applicants cannot be under debt review or debt counselling.
ID documents and copy of marriage certificate in case of joint purchase.
Clients must give verbal confirmation of a signed offer to purchase.
Three months' payslips and a copy of 3 months' bank statements.
What clients get with a Capitec Home loan
Loan amounts up to R5 million
Interest rates pegged at 9.25 – 10.25%
Repayment plans from 5 to 20 years
Expert guidance through the payment period of the loan
Joint applications accepted
Couples can apply online through a joint application
Depending on circumstances Capitec is aware that some spouses want to apply for a home loan together. The gross incomes of both spouses will be added together when they apply for a home loan through Capitec.
Couples married in the community of property must apply jointly for the home loan, this also applies to those married under traditional rites. If one member needs assistance from their spouse to pay back the home loan their details must appear on the application form. The same applies to any help received from any family member or anyone living with the applicant.
The applicants must not be under debt counselling and there must be a signed offer to purchase.
To apply for a loan online or walk into any branch today to find out more details about Capitec's easy home loan application process. They will make any prospective homeowner's dreams come true.
Customer Reviews & Testimonials
"
January 2019
With the ease of an online application, I could apply for my home loan over a cup of coffee with a friend. We discussed the amazing deals that Capitec was offering him and the deal was too tempti...
Gerrie E
— Hermanus —
April 2021
At Capitec they do not just evaluate your application eligibility based on your credit score but rather look at your affordability. I have had a few run-ins in the past which is why I am so grate...
Nicole M
— Johannesburg —
October 2021
Good day all at Capitec A very big thank you to Micaela Norris at Cape Town branch 4185. Wow, that woman was amazing, fantastic, and helpful with good customer service. They made my day.
Masiza M
— Pretoria —
Capitec Home Loan Contact
Contact Number
E-Mail
Website
Physical Address
212, Zevenwacht Mall, Polkadraai Rd & Van Riebeeck Road, Cape Town, Kuils River, 7579, South Africa

South Africa
Opening Hours
Monday

09:00 – 18:00

Tuesday

09:00 – 18:00

Wednesday

09:00 – 18:00

Thursday

09:00 – 18:00

Friday

09:00 – 18:00

Saturday

08:00 – 14:00

Sunday

09:00 – 13:00