Fixed interest rates
Low-interest starting from 9.75%
Repayment up to 240 months
In-page navigation
---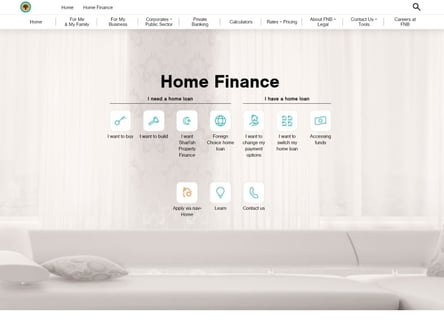 Author FNB. Screenshot of FNB website.


[Accessed January 31, 2023]
FNB - Reliable and affordable home loans
First National Bank is one of the oldest banking institutions in South Africa and was formed in the year 1838. They are a division of First Rank bank limited and have helped countless South Africans towards financial freedom.
The symbol in their brand logo is the Acacia tree. This represents their strong history and deep roots in South Africa. By continuously growing, they will continue their commitment to serving the needs of their unique community and the needs of their diverse clients. FNB offers everything from everyday bank accounts to personal loans and credit cards.
Environmentally-friendly policies
Their home policies impact daily operations and are governed by the Environmental Health and Safety policy.
Their environmental Risk policy refers to the bank's indirect impact that they have on the environment and encourages responsible lending based on your level of affordability.
Compliance officers
FNB's compliance officers are tasked to report any non-compliance issues and any other problems that do arise. The officer will ensure that they are compliant when it comes to environmental legislation requirements, sustainability reporting, and reporting on internal audits.
Who is the First Rand group is
The First Rand group is listed on the JSE and the Namibian Stock Exchange. They are one of the largest financial institutions in South Africa that offer investment products and banking services. These services include retail and commercial banking as well as property finance and a range of business banking solutions.
Home loans with lower monthly instalments
As a flexible South African Bank, they have made a variety of options available for you to choose from.
Options include:
Purchasing a new home
Building your own home
Home loan combined with a personal cheque account
Shari'ah property finance
A foreign choice home loan
Converting to one account
Switching of home loan
Moving homes and not home loans
Individual home loans
To apply as an individual for a home loan you will need to earn a monthly income of at least R35 000 to R125 000 before deductions. You will then be given the option to combine your home loan and your cheque account.
How to combine a home loan to your cheque account
By using this option FNB will combine your home loan with your cheque account. Instead of having a cheque account with a home loan separately, they will combine both into one easy-to-manage account. This will be the account that your salary is paid into monthly. By having one account, you will be able to save on the monthly interest and fees.
As an FNB client, you can earn ebucks from the very first transaction. The more the money is in your account, the lower your interest rate will be, therefore with the given 20 years to repay your loan, you will be lowering your monthly instalments.
FNB – Home loan
Loan Type

Home loans

Interest Rate

from 9.75%

Repayment

240 months
Benefits of FNB
Fixed interest rate
Repayment up to 240 months
---
FNB - They have the home loan options to suit your needs
Have you decided to build your dream home instead of purchasing it? FNB can assist you with a building loan.
Getting financed
After contacting FNB, they will give you a list of all the documentation that you will need when applying. Your online loan application will be assessed and your level of affordability determined.
Repayment structure
You will be given 240 months to pay back your loan amount. These repayments will have to be made upon the capital amount as well as the interest during the time when you are building your home.
Requirements for a building loan
You must be 18 years or older
Your individual income must be at least R25 000 per month or a joint application where at least one applicant must earn at least R25 000 per month.
You must have a clear credit record and not be under debt review
The loan can only be used to build and not for any other purpose
Contact FNB today
Contact First National Bank by using their online form, visit their nearest branch, email or simply give them a call. You are welcome to ask questions as well as give complaints or compliments. FNB would love to hear from you.
Customer Reviews & Testimonials
"
January 2021
If you are looking for variety in home loans then FNB is definitely the stop that you need to make. They offer loans for purchases, construction and even foreign home loans. Whatever your home lo...
Dave K
— Butterworth —
April 2021
By being able to combine my home loan with my cheque account I am able to save a lot of money on interest and charges. Thank you so much for opening me up to this fantastic savings option FNB!
Thabo M
— Port Elizabeth —
FNB Contact
Contact Number
E-Mail
Website
Physical Address
13, Thebe Hoskins House, 4 Breda St & MILL Street, Cape Town, Gardens, 8001, South Africa

South Africa
Opening Hours
Monday

09:00 – 16:00

Tuesday

09:00 – 16:00

Wednesday

09:00 – 16:00

Thursday

09:00 – 16:00

Friday

09:00 – 16:00

Saturday

09:00 – 17:00

Sunday

09:00 – 14:00