Leading home loans
Low-interest starting from 9.25%
Repayment up to 30 years
In-page navigation
---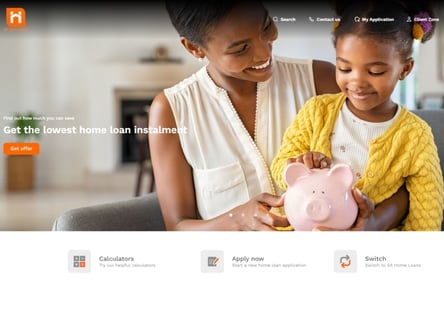 Author SA Home Loans. Screenshot of SA Home Loans website.


[Accessed January 31, 2023]
SA Home Loans - Lets them help you finance your dream home
SA Home Loans is a specialist mortgage finance provider that is helping many South Africans to purchase the home of their dreams.
Since its humble beginnings in 1999, the credit provider has assisted over 100,000 clients to buy the home of their choice.
They offer home financing, credit approval assistance, registration assistance, and ongoing loan servicing.
Putting the customer first
SA Home Loans is on a mission to provide clients with the best home loan products in South Africa. They are perfectly positioned to fulfil this promise with their wide range of competitively priced products when it comes to home loans.
SA Home Loans is a registered credit services provider with great integrity and excellent customer service. Top of the company's list is to ensure that investors and shareholders feel secure and get consistent returns.
Home loan clients in South Africa receive priority
SA Home Loans as an established home loan provider has built up its reputation by putting customers first.
SA Home Loan believes that its clients are its partners and its key focus is on the following:
Taking care and ensuring to take each client's individual needs into account
They are passionate about service excellence and integrity
SA Home Loans prides itself on following up and after-sales service
They ensure that the client's home loan is working out and meets lifestyle needs.
All deals are dealt with transparency in mind
They guarantee no hidden fees or charges.
Flexible home loan options
SA Home Loan has many different home loan options, including the standard version of home loans.
In South Africa most home loans have a 20-year term, however, there is now also a 30-year bond term available that makes it even easier for anyone to find the home of their dreams. Longer repayment terms help the client to manage cash flow better while a 30-year payment term will carry a lower interest rate.
Variable home loans offers an interest rate that is designed to suit a specific risk profile and flexible payment terms of 20 years.
If the client switches their home loans to SA Home Loans he or she can benefit from a quick loan option and get up to R75 000 in cash within 72 hours.
Once a client's home loan is finalised, he or she will have access to a few other credit offers.
SA HOME Loans has the edge
Edge is a unique product that is offered exclusively to SA Home loan clients – which is a 30-year term loan.
With this product, clients only pay the interest rate for the first 3 years. This provides buyers with smaller repayment for the first few years before it reverts to the standard home loan where interest is included for the remaining 20 years
It's perfect for clients that want to buy bigger homes – they know their income will increase to match their repayments. Or someone who is buying an investment property to fix it up and sell it again. Only the interest amount is paid while the house is being improved.
SA Home Loans – Home loan
Loan Type

Home loans

Interest Rate

9.25 – 10.25% p/a

Repayment

5 years to 30 years
Benefits of SA Home Loans
---
SA Home Loans - Their specialist products with help you get the money you need
SA Home Loans' quick cash option allows clients to switch an existing home loan to a home loan from them.
Once the switch is made, the client could get cold hard cash in as little as 72 hours after an online loan application has been approved.
The other benefits that clients could unlock include:
Get a personal loan of up to R75 000 in cash within 72 hours
Get up to R150 000 as soon as the bond is signed
Immediate access to some of your additional equity
Clients can use the cash however they please
Instant bridging finance at a competitive interest rate
The benefits of using edge are as follows:
You only pay interest for the first 3 years
After 3 years you will begin to pay the standard loan repayments for the remainder of the term
There are no capital payments at the end of the payment term and the home loan will be paid off in full
You can still pay off interest plus capital in the first 3 years should you choose to thus saving you money.
They also offer bond protection and homeowners' cover.
Customer Reviews & Testimonials
"
January 2021
Thanks to the nifty online calculator on SA Homeloans website I was able to calculate the exact amount of funding I required to purchase my new home while maximizing my repayments to save as much...
Thabo D
— Mthatha —
December 2021
The game is definitely in the name with SA Home Loans. They focus primarily on providing fellow South Africans with home loans meaning that other financial options cannot be a distraction to them...
Priyanka K
— Durban —
November 2021
At SA Home Loans their customer is definitely the center of their operations. They always take the customer's needs into account and provide the best possible service. I feel well taken care of a...
Tarang P
— Vereeniging —
April 2021
Their home loan options are definitely flexible and versatile. No matter what your needs and preferences are they will do their best to accommodate your needs.
Jodi M
— Johannesburg —
SA Home Loans Contact
Contact Number
E-Mail
Website
Physical Address
2nd floor Pam Golding on Main, 325 Main street

Kenilworth

Cape Town

7700

South Africa
Opening Hours
Monday

08:00 – 17:30

Tuesday

08:00 – 17:30

Wednesday

08:00 – 17:30

Thursday

08:00 – 17:30

Friday

09:00 – 17:30

Saturday

– Closed

Sunday

– Closed