Pension bridging loans up to R9,000
Low-interest starting from 124%
Repayment up to 65 days
In-page navigation
---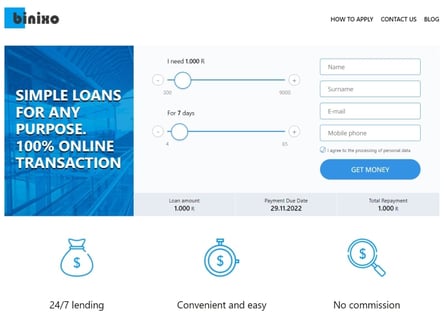 Author Binixo. Screenshot of Binixo website.


[Accessed January 31, 2023]
About Binixo
Binixo offers online loan application services to allow pensioners to apply from the comfort of their homes.
Their online platform will enable customers to find loan offers from many reputable NRC licensed companies easily. They believe in providing all pensioners, even if they are blacklisted, with suggestions that they can afford and that have the best terms.
The convenient online application process
Binixo clients don't need to go to a financial institution and wait in queues to have a payday loan approved. They can now apply online by filling out a simple form that only requires basic information. Clients will then receive various loan options to choose from, each with its unique benefits. The only thing Pensioners need to apply for is a computer with an internet connection, basic banking details, and a valid cell phone number or email where they can contact you to finalise the deal.
Financial assistance when you need it
Pensioners sometimes struggle to meet their financial obligations because of a delayed payment of their pension funds. Late funds have become a recurring problem in South Africa, especially in government funding. Binixo offers pensioner loans with simple conditions and no payment delays to help clients bridge the gap between their pension payments.
Binixo Services
A Pension Bridging loan is essentially a short-term loan secured against income from a pension fund paid out in the future.
The funds provided from the lender support the pensioner until they receive funds again, whereafter they need to repay their loan. It is essentially the same concept as a payday loan but specifically designed for pensioners.
Binixo Pension Bridging loans
Binixo offers payday loans for pensioners for up to R9,000 and will ensure that the client has enough money to repay their loan and still pay for monthly expenses. They offer flexible terms that range from 4 days to 65 days. Pensioners will receive loan offers that provide terms that they want for the amount they need. Clients can apply for their loan any time of the day or night on the Binixo website without any extra hidden charges.
Get Pension Bridging blacklisted
Some pensioners are black-listed because of debt that they might have gotten during their working years. It is challenging to pay off debt and pay living expenses using money from pension funds alone. Binixo won't turn any pensioner away because of bad credit. They help them find lenders that are willing to provide bad credit loans for blacklisted pensioners. Many previous clients in the same position found help thanks to Binixo using the same procedure as the non-blacklisted applicants. Binixo makes sure that they are informed about hidden rules or penalties when applying and provides clients with the best possible solutions. They only work with loan providers that are reputable and trustworthy and will never give the clients loans that might negatively affect their finances.
Binixo – Pension bridging loan
Loan Type

Pension bridging loans

Interest Rate

124 – 212% p/a

Loan Amount

up to R9,000

Repayment

4 days to 65 days
Benefits of Binixo
They are available 24/7 for lending
No charges or fees
Easy and simple loan application
Pension bridging loan calculator
Binixo is a reliable pension bridging loans lender
They only work with loan providers that are reputable and trustworthy and will never give the clients loans that might negatively affect their finances.
Provider of Fast, reliable online loans
Binixo curated an application process that only takes five steps to complete. After the easy online loan is approved, clients receive their money within the same day.
Step 1: Using Binixo's online loan calculator, firstly decide what amount you need and when you need it.
Step 2: Fill out only basic details on the online application form.
Step 3: Binixo provides the client with a list of creditors, from which they must choose the one they prefer.
Step 4: Application approval happens within 24 hours once clients submit.
Step 5: As soon as the application is approved, funds are transferred into the clients' account.
Safe and secure online application platform
People have a general distrust of online loan providers because of the number of scams on the internet. These concerns are valid, which is why Binixo takes all the necessary precautions and security measures to keep client information safe.
Clients have in the past showed signs of concern when they see how easy the online application is. It is purposefully made easy to cater to some pensioners who might struggle with using online services. Binixo understands that pensioners are incredibly anxious about letting people work with their money, which is why they want clients to ask them any questions about any step of the way if they start feeling concerned.
Advantages of loans for pensioners
Being a Pensioner in South Africa is not a stress-free process. Binixo understands that Retirees need help with pension loans as much as anyone, and thanks to their online service, they don't need to leave the house to get the help they need. Feel free to read about Binixo terms and conditions which can be found on the official website. All terms are laid out in a simple understandable way.
During the application process, they do not require any additional data or unnecessary verification. The Binixo online system guarantees approval for up to 99.9% of requests, which is one of the highest rates in South Africa.
Customer Reviews & Testimonials
"
September 2019
I usually struggle using websites because I am new to the online application processes that people have been using. I did not struggle at all to apply at Binixo and found the whole process very e...
M Linde
— Cape Town —
July 2020
Thank you Binixo for helping me get my loan approved and money into my account in just a few hours. I did not expect it to be this easy, and will definitely use them again.
C Claassen
— Polokwane —
June 2020
I cannot thank Binixo enough for helping me during a very stressful time. I could not get help with a loan from anyone because I'm a pensioner in debt. Binixo helped me and gave me many options w...
J Kirke
— Gauteng —
Binixo Contact
Contact Number
E-Mail
Website