Pension bridging loans starting from R2,000
Settle debts
Low-interest starting from 27.5%
In-page navigation
---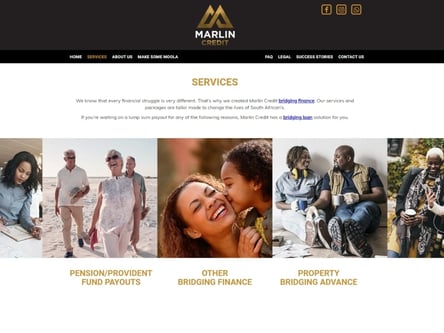 Author Marlin Credit. Screenshot of Marlin Credit website.


[Accessed January 31, 2023]
About Marlin Credit
Are you waiting for a lump sum to pay out? Well, what if I told you that you don't have to.
You can avoid frustration and financial difficulty by applying for a bridging loan. If you have resigned, been retrenched, disabled, divorced, in the process of buying or selling a property, switching bonds, awaiting a death claim to payout, etc.
Finding the best Pension Bridge Loan
Marlin Credit provides quick and easy pension bridging loans just for you and each client matters to them on both a personal and professional level. They have been priding themselves in their work for more than 60 years now, so if you are looking for safe and trustworthy loan solutions, you've come to the right place.
Get the support you deserve with Marlin Credit
They value their client relationships by treating all their clients like priority clients and you can expect nothing less from them. Marlin Credit is a national bridging finance company that specializes in providing bridging loans for people awaiting their lump sum pay-outs. They have an expert support team that will help you to get back on your feet in just a few easy steps. They will also reward you with extra cash if you refer a friend to them.
Marlin Credit Services
Life can be unpredictable and Marlin Credit has a variety of bridging loans that can help you with the following problems
Divorced, Death Claims, Disability, Retirement Annuities, Investments, Policy Pay-outs, assistance to help you out with multiple costs when buying or selling a property, switching bonds, or purchasing a second property, agent commission, etc. Bridging finance is a personal loan you get while you're waiting for a lump sum payout from another source
Same-day application process
Fill in a quick application form online
They will call you back in no time
Submit the required documents and all relevant information
A quick credit check and verification process will then take place
Once they approved and provided you with the outcome you can then sign if you are happy to proceed
You will then receive the money in your account directly after that.
TIP: Getting a pension bridge loan will help you go about your daily life without the financial complications of waiting for a pension pay-out. The best part is that you only have to pay it back when your lump sum is due to you.
Marlin Credit – Pension bridging loan
Loan Type

Pension bridging loans

Interest Rate

from 27.5%

Loan Amount

from R2,000
Benefits of Marlin Credit
Settle outstanding debts
Improve cash flow
Cash to use while waiting for your lump-sum payout
Pension bridging loan calculator
Get affordable loans with Marlin Credit
Did you just get fired, retrenched or did you resign?
Well, you don't have to stressfully wait for your pension fund to payout! This can sometimes take longer and can cause severe financial difficulty in a time of no income. Marlin Credit can help you to get money in your hands sooner.
They charge interest and fees as prescribed by the National Credit Act and regulated by the National Credit Regulator.
They offer a variety of bridging loans to applicants awaiting a minimum benefit of R20 000, depending on affordability. The loan amount is based on 10% of the lump sum and they offer bridging loans from R2 000, depending on affordability.
Benefits of taking a pension bridge loan
Peace of mind by allowing you to maintain your standard of living (maybe you lost your job due to a disability)
Improve your cash flow to take care of your needs while you await your lump sum pay-out after resigning.
You can prevent repossession of your assets with this loan.
They can advance up to 85% of the net proceeds
A simple, online loan application process
Efficient and speedy same-day processing and approval
Assessment done and outcome given within 1 hour of receipt of the supporting documents and information.
Their packages are tailor-made to your needs
You can also get paid for referring your friends
Customer Reviews & Testimonials
"
June 2020
Getting retrenched unsuspectedly and then having to wait for your pension to payout, having to get another job and feed three hungry children can be terrifying. Marlin came to my rescue and I can...
Christelle S
— Sandton —
August 2020
Earlier this year I lost both my arms in a freak accident and this eventually cost me my job. It has been a huge adjustment in and around the house and I was still awaiting my payout leaving me w...
John M
— Grahamstown —
November 2019
The plan was to resign and then immediately start my own business with my pension money and this wouldn't have been a reality without Marlin credit providing me with a Pension Bridge loan so I co...
Sophie J
— Mitchells Plain —
Marlin Credit Contact
Contact Number
E-Mail
Website
Physical Address
17 Victoria Rd, Oakdale

Cape Town

7530

South Africa