Pension bridging loans up to R50,000
Quick approval
Low-interest up to 27%
In-page navigation
---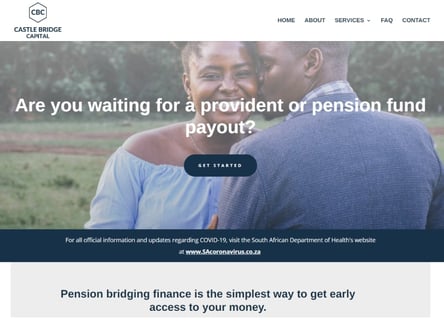 Author Castle Bridge Capital. Screenshot of Castle Bridge Capital website.


[Accessed January 31, 2023]
About Castle Bridge Capital
Castle Bridge Capital is a bridging finance company that has more than 40 years of history in the finance industry.
The experience and skills they've gathered over the years allow them to offer a unique approach that's client-focused and creates a customised solution tailored to your exact needs.
Reasons to choose Castle Bridge Capital
They're one of the few companies that offer unique services. At Castle Bridge Capital, they can help you receive upfront access to funds while awaiting the payout of your policy. Some of the reasons you should choose them:
At Castle Bridge Capital they've helped numerous people who came to them to seek advance funds while awaiting their pension or provident fund payout.
They only approve bridging finance based on the payout due to you, and not on your credit rating. They don't operate like lenders and the process they use allows them to process your pension bridging loan quickly.
While you're still waiting for a provident fund, visiting Castle Bridge Capital isn't a bad idea. They can get you affordable bridging finance while waiting for your provident fund if one of these has happened:

You've resigned
You've been retrenched or dismissed
You've retired
You're getting divorced
Apply today at Castle Bridge Capital
There's no reason to stay broke while waiting for a provident or pension fund. They've got your back. You can either visit their offices or call them. You can even send a WhatsApp to Castle Bridge and they'll quickly respond.
Castle Bridge Capital Services
They can assist you with cash in hand while you're still waiting for a lump sum payout from pensions and provident funds.
Castle Bridge Capital staff is trained to assist you in creating a solution that fits your needs and gets cash in your hands as quickly as possible. There's no need to wait to receive money. They have an easy and simple system that will have you on your way to financial freedom within days.
Qualifying to apply for bridging gap finance
Castle Bridge Capital only deals with people who are waiting for a pension or provident fund regardless of the reason they need money.
You can only apply for bridging finance if you have:
Resigned - when you decide to move on to the next chapter of your life it could be both exciting and stressful. At Castle Bridging Capital, they try to put a smile on your face by giving you access to a portion of the funds due to you. They're fully aware that your provident or pension fund is the only thing that might support your plans.
Divorced - divorce is not a walk in the park and adding a financial strain to the equation can make it unbearable. Castle Bridging Capital helps the financial strain by giving you bridging finance based on your divorce settlement. You'll be holding cash in your hands within a few days!
Retrenchment - The economy is fluctuating daily. There're retrenchments everywhere and no one is safe. They can help you with a quick loan while waiting for your pension or provident fund to start a new career or simply make ends meet.
Retirement - everyone will reach a point where their careers will end. And when that point comes, cash flow is very important. Castle Bridging Capital can help you realise your dreams through a cost-effective way to access your hard-earned cash. All their bridging finance services are tailored to suit your situation.
Castle Bridge Capital – Pension bridging loan
Loan Type

Pension bridging loans

Interest Rate

27%

Loan Amount

up to R50,000
Benefits of Castle Bridge Capital
Speedy loan payout
Offers lower charges
Excellent customer service
Pension bridging loan calculator
Get financial freedom in the form of cash flow
Experience how it feels to be treated like royalty while your financial stresses are being taken care of.
Having access to your provident or pension fund is always a hard process, but Castle Bridge will give you an amount that will let you live your desired lifestyle while waiting for your money.
They put your specific needs first
At Castle Bridge Capital, they've worked with people enough to know that everyone has specific needs that require attention. The term 'one size fits all' does not apply in real life. Clients are important to them and it shows. They ensure that each of their client's needs and requirements is analysed by their highly trained staff and a unique solution is presented.
Transparent bridging finance services
They're very transparent with all their services. They ensure that when you ask for our help, you don't get any surprises in the long run. They make everything clear from the beginning. They're efficient and trustworthy. They offer pension bridging finance services that have no upfront fees, no hidden costs, and a quick and easy application.
Fast approval rate
With them, there are no long waiting periods. Once everything is in order and they've received all the required documents, your payout will be processed within 24 hours.
They're a registered credit provider
At Castle Bridge Capital, they don't provide financial assistance to people so they can take a huge portion of their money. They're fully accredited and comply with the NCR.
Customer Reviews & Testimonials
"
May 2020
Castle bridge capital was there for us at the time we desperately needed funds to keep our business running, We are very grateful.
Themba N
— Cape Town —
July 2019
The rates are really affordable and the cash payout is fast.
Mike M
— Johannesburg —
June 2020
Really needed cash for day-to-day expenses since l left my job and castle bridge capital was the right move to make.
Jane C
— KZN —
Castle Bridge Capital Contact
Contact Number
E-Mail
Website
Physical Address
Bellville Park

Cape Town

7550

South Africa
Opening Hours
Monday

08:00 – 17:00

Tuesday

08:00 – 17:00

Wednesday

08:00 – 17:00

Thursday

08:00 – 17:00

Friday

08:00 – 17:00

Saturday

08:00 – 17:00

Sunday

– Closed