Pension bridging loans up to R7,100
Online application
Repayment up to 6 months
In-page navigation
---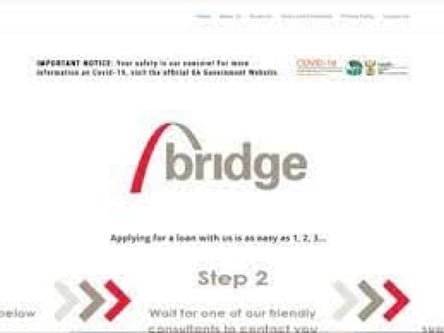 Author Bridge. Screenshot of Bridge website.


[Accessed January 31, 2023]
About Bridge
Are you needing to bridge the gap between now and the end of the month when you receive your pension?
Do you need a quick cash top-up to bridge a gap in your finances? The reality is that many South Africans who are on pension find themselves facing these difficulties every day and time again upon the month. This needn't necessarily be a problem anymore. Bridge Loans are here to help you with a short-term loan to help with a pension bridge to help you with your finances.
Whether it means bridging the gap in your finances to make it through the month or bridging the gap between you and your financial dreams. Bridge Loans can make the gap bridging in your financial situation a reality with a great personalized short-term loan, which will act as a pension bridge for you.
About Bridge Loans
Bridge Loans is a registered Credit Provider, providing short-term cash loans. Bridge Loans are situated in Pretoria, South Africa. Bridge Loans are here to help you bridge the gap with regards to your pension and whatever your financial needs require. Bridge Loans is proud to have its very own credit risk and scoring methodology that has been scientifically developed, just to help you with your loan and bridging that pension.
Bridge Services
Short-term loans to bridge your pension are the ideal solution for your financial needs.
These are often smaller amounts of money that are borrowed in a short period, with a structured short term repayment schedule to suit your needs. In the case of Bridge Loans, you are offered loans for a 1-6 month period, which you pay back according to the amount you applied for in your short term loan and what you can afford to pay every month whilst being able to stay on track with your current monthly payments.
How much you can borrow
During a 1-6 months period, you can get a short-term loan to act as a pension bridge anywhere from R300 to R7,100 to help you in your financial situation. The loan amount that you will be able to apply for will be decided on during your loan application, during the step of being in contact with one of Bridge Loans' great consultants.
The amount you will be able to qualify for will be dependent on how much your pension is every month and what you will be able to afford to repay, whilst being able to maintain your monthly expenses without hassle.
Bridge – Pension bridging loan
Loan Type

Pension bridging loans

Loan Amount

up to R7,100

Repayment

1 month to 6 months
Benefits of Bridge
Easy loan application process
Affordable rates
Reliable lender
Pension bridging loan calculator
Low interest rate loans being offered
Bridge Loans provide a helping hand to all customers who make use of Bridge Loans services more than once.
Bridge Loans helps returning customers, time and time to bridge their pensions, they are here to help you too. It is a simple 4 step process that is quick and easy to follow.
Simple steps to getting your loan
The steps are listed below for you to follow and all it will take for you to receive your bridge loan. Take a look at these 4 simple and quick steps.
Step 1: You can start the simple process by visiting the Bridge Loans website and going ahead and filling in the loan application form which is easily accessible on the website. The easy online loan application form is straight to the point and the information required is just your basic details.
Step 2: Once you have completed and submitted your application form, the next step is just to simply wait for one of the great friendly Bridge Loans consultants to get in contact with you, using the details that you filled in on the application form on the website. This should not take too long and before you know it, you will be on the road to receiving the pension bridge in no time at all.
Step 3: The last and final easy step to follow would be once you have been in contact with one of Bridge Loans' friendly consultants, all you would need to do is submit your supporting documents that are required to complete your short-term loan application process.
Step 4: Once all your documentation has been submitted and processed, all that is left is for you to receive your bridge loan funds, directly into your bank account.
These simple and easy steps that you follow are all it takes to complete your loan application.
Valued customers
Bridge Loans makes sure to make it known to all customers that you are and always will be valued and looked after. When it comes to helping you with a loan to act as a pension bridge, it's important to know that you will be taken care of and that you can pick up the phone with any issues or questions at any time.
This is why Bridge Loans has a call centre that is dedicated to Customer Care. This is important to know and experience when you are going through the process of finding the ideal loan to be that pension bridge that you need.

Bridge is a trusted & reliable provider of pension bridging loans
In our review, Bridge adheres to the compliance criteria in accordance with the National Credit Act, where the granting the loan will not cause financial distress to the consumer.
✅ Bridge is a registered credit provider in South Africa: NCRCP6317
Customer Reviews & Testimonials
"
May 2020
Great service and customer care from Bridge Loans, I was happy with their quick responses.
Fred G
— Centurion —
April 2020
Bridge Loans helped me with a loan to bridge my pension, they were responsive and helpful
Chad C
— Roodeplat —
November 2019
I received a nice amount as my loan and I was happy to pay it back in the 6 months I was given
Gloria J
— Rayton —
Bridge Contact
Contact Number
E-Mail
Website
Physical Address
Agri-Hub Office Park, Block C, 1st Floor, 477 Witherite Road, The Willows Ext 82

Pretoria

0041

South Africa
Opening Hours
Monday

07:00 – 17:00

Tuesday

07:00 – 17:00

Wednesday

07:00 – 17:00

Thursday

07:00 – 17:00

Friday

07:00 – 17:00

Saturday

– Closed

Sunday

– Closed