Affordable loans
Low loan interest
Flexible loan repayment terms
In-page navigation
---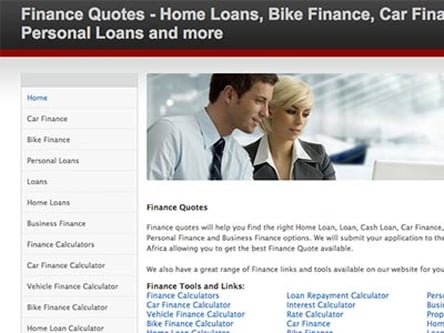 Author Finance Quotes. Screenshot of Finance Quotes website.


[Accessed January 30, 2023]
Finance Quotes - We will work hard for you
Finance quotes should be your first stop, whether you need a home loan, cash loan, vehicle finance, bike finance, or a personal loan.
They'll send your application to all the major banking outlets to get you the best finance quote to suit your individual needs.
Quick and easy online application
Although they're not a financial service provider, they partner with all the leading banks to get you the best personal loan deal to suit your individual needs and budget.
They'll help you every step of the way. To make it even easier to apply their online website has finance tools and calculators that take the guesswork out of the terms of your repayment.
Apply for a cash loan
Do you need to apply for a fast loan or home loan? They'll help you by getting you the quotes you need from the leading financial lending institutions.
By simply filling out their simple online application form, they'll do the hard work for you – they'll submit your application form to the majority of banks in South Africa and get you a range of quotes. You can then easily compare the quotes and make your decision.
Information needed to process your application
Full name and surname
Contact telephone numbers/ e-mail address / residential address – and proof of residence
ID number and copy of your ID
The banking details of who you currently bank with
Your net salary
Finance Quotes helps you access tailor-made loan options
Finance Quotes can help you find a financial quote to suit your individual needs. They run around so you don't have to.
Once they've collected different quotes based on your request, they'll send you the different quotes on various personal loans so that you can make a choice.
Applying for a loan
Getting a long or short-term loan is easier than you think. The bank has certain requirements and documents that you 'll need to upload online, but once all of that is sorted out, you can start the process to financial freedom and get approved for the loan that you need.
Finance Quotes will assist you
Finance Quotes is not a financial service provider, they're available to assist you in the process of getting approved. Their goal is to get you the best quotes available to suit your individual needs.
Online calculators
To make your life even simpler they've added convenient online calculators to help take the guesswork out of the process and improve budgeting accuracy.
Home loans
If you apply for a home loan they'll get you quotes from; Nedbank, FNB, Absa Bank and SA Home Loans.
Car finance
Should you be looking for vehicle financing, they'll source your quotes from; ABSA, Wesbank Financial Services and FNB.
Finance Quotes – Personal loan
Benefits of Finance Quotes
PERSONAL Loans
ASSET Financing
HOME Loans
BUSINESS Loans
QUICK Loans
PERSONAL Finance
CAR Loans
Finance Quotes - offering a range of affordable loans
Not only can they assist you with personal loans, but they're now able to assist you with business finance as well.
Simply fill out the online business loan application form. They'll then source the quotes you need to suit your requirements.
Using their rate calculator
Their unique online calculators are simple to use. They'll assist you by sourcing competitive quotes from the leading financial institutions.
They have accurate and east to use rate calculators. These will help you take the guesswork out of calculating bank rates, mortgage rates, bond rates, and personal loan rates.
By submitting your application online, you agree that Finance Quotes can contact the credit bureaus and run a credit check on you.
What qualifies as a quote?
By definition, a quote or quotation is a document that gives you the estimated cost for a particular job or service. Most companies have different terms and conditions associated with their individual quotes and are subject to certain criteria in each case.
Finance Quotes contact the relevant lender on your behalf and source you a quote, for the particular service or bad credit loan you require.
Their aim is to provide you with a choice, they do this by contacting a number of different financial institutions so that you're able to compare and chose the quote that suits your unique needs.
Contact Finance Quotes
You can complete their easy online loan application form and one of their friendly consultants will give you a call and find out exactly how they can help you.
Once they have your personal details and have performed a standard credit check, they'll offer you expert professional advice and help you choose the quote that best suits your pocket.
Customer Reviews & Testimonials
"
December 2018
Finance Quotes gave me a loan deal that seemed too good to be true! I am a happy customer.
Theresa P
— Port Shepstone —
October 2018
Within one business day of applying for my loan, I got my money.
Mellissa N
— Carolina —
Finance Quotes Contact
Contact Number
E-Mail
Website
Opening Hours
Monday

08:30 – 17:30

Tuesday

08:30 – 17:30

Wednesday

08:30 – 17:30

Thursday

08:30 – 17:30

Friday

09:00 – 17:30

Saturday

09:30 – 13:00

Sunday

– Closed