Personal loans up to R3,000
Low-interest starting from 60%
Repayment up to 37 days
In-page navigation
---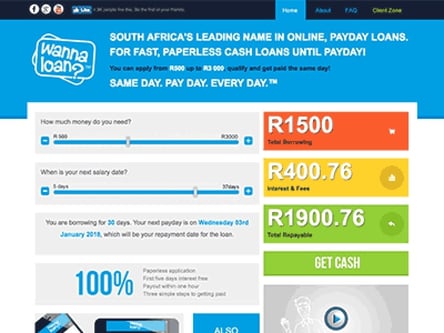 Author Wanna Loan. Screenshot of Wanna Loan website.


[Accessed January 30, 2023]
Wanna Loan - They have a unique approach
They've noticed the increased demand for loans from South Africans, unfortunately, most of them struggle to obtain help and get access to short-term credit.
Wanna loan is there specifically for that purpose and to help the average person that has previously been denied credit. They'll help you, by giving you a little bit of cash to see you through until the end of the month, when payday seems just a little bit too far away.
They have a unique approach
Their unique service is completely automated and all their communication to you is instant. Their CEO and founder Nathan January understands the plight of the people and guarantees that you are always put first and that customer service, is never compromised.
They understand you
They were founded in South Africa in 2011, making them a uniquely South African company that understands the diverse problems that people face. They're a responsible lender and want to give you a hand up, not get you deeper into the vicious debt cycle. Their personal loans should only be used as a short-term solution and were not designed to meet your long-term financial obligations.
They are transparent
They'll lend you as much as you would like to borrow, and will never force you to take more than you need. Their entire fast loan process is completely transparent, all costs and late fees will be explained to you in a clear, easy-to-understand manner.
They are transparent and reliable
Their uniquely South African company is there to help you get a loan when you need it most, to cover those little expenses until your next payday arrives.
They do credit checks and look at your previous credit history to make sure that you can afford a loan and give you an answer as soon as possible.
Why your application was declined
If your application for a personal loan is declined, they'll do everything they can to explain why this has happened and help you rectify the issue.
They believe in the fair treatment of all their clients and strive as far as possible to treat you with respect and fairness. If you're unhappy with the way you've been treated or feel unsatisfied please contact their customer care department. They aim to respond to all queries within a 48-hour time period.
They're there for you
They're there for you and will do their best to help you out with a payday loan. If you've never used their service before then they'll start off by loaning you R3 000. If it goes well and you're happy with the level of service given to you, and you repay the loan in a timely fashion then they can increase the amount the next time you apply.
If you have any questions regarding your instant loan or need to speak to someone please contact them on 0861 189 200 or e-mail them at talkous@wannaloan.co.za
Wanna Loan – Personal loan
Loan Type

Personal loans

Interest Rate

from 60%

Loan Amount

up to R3,000

Repayment

5 days to 37 days
Benefits of Wanna Loan
Fast, paperless cash loans
Personal loans up to R3 000
A fair and transparent service
Wanna Loan - They guarantee excellent services
Their high level of service is guaranteed, they constantly strive to improve and believe in reinvesting in their company to ensure that their company grows and that you get the best returns available to you.
The online loan application process couldn't be more effortless, just go to their website www.wannaloan.co.za use their sliders to determine how much you would like to borrow and then indicate when your next payday will be.
Remember to only borrow as much as you are able to pay back without going into further debt. Once you've completed your selection, click on the 'GET CASH' button.
How to apply
Complete the generated application form with your personal details. They'll then do a credit check and use this to determine your creditworthiness and your ability to make repayment of the desired loan amount.
Your application form will then be checked while you wait for the outcome. Once all the checks have been done and your application is successful, they aim to have the money paid into your bank account within an hour. Since they check your credit as well as assess affordability they won't offer you a bad credit loan if you're blacklisted.
The cash is then yours to do with as you please. Once you've repaid the loan, the next time you need to apply will be made even easier and the amount you're able to borrow will be increased.
Choose them
As a uniquely proudly South African company, they understand the difficulty in obtaining a personal cash loan over short time periods. Their company was specifically created to address this need and is fast becoming the go-to lender for South Africans struggling with credit denial over a short time period.
Their payday loan system allows you to choose the amount you need to borrow and specify when your next payday is. Use the convenient sliders to determine how much you need and how much you'll need to pay back.
What happens if you can't repay the loan
Sometimes your financial situation may change and they understand that that isn't always completely under your control. If you have problems paying back your payday cash loan, please contact them immediately so that they can try and help you.
Together with the National Credit Regulator, they'll help you set out a payment plan that you're able to stick to. If you do not stick to the agreed-upon terms thereafter, they will, unfortunately, need to charge you additional fees and any administration or collection costs.
If you have short-term cash flow problems and need a simple solution and a bit of extra cash until your next payday, contact them today. So don't delay, apply today.
Customer Reviews & Testimonials
"
September 2018
Wanna Loan is the best! They gave me a credit deal that seemed too good to be true. I have no difficulties paying for my loan.
Lucy V
— Springs —
January 2019
It is good to see that there is still a credit provider that goes out of its way to help customers whenever they are looking for a loan.
Emily A
— Brits —
February 2019
I am so happy that Wanna Loan has such an easy loan application process. The entire application process was a breeze.
Luther F
— Limpopo —
Wanna Loan Contact
Contact Number
E-Mail
Website
Physical Address
1 Willie van Schoor Drive

Cape Town

Bellville

7530

South Africa
---
Postal Address
PO Box 378, Cape Gate, 7562, South Africa
Opening Hours
Monday

08:00 – 18:00

Tuesday

08:00 – 18:00

Wednesday

08:00 – 18:00

Thursday

08:00 – 18:00

Friday

08:00 – 18:00

Saturday

– Closed

Sunday

– Closed