Personal loans up to R150,000
Low-interest starting from 38%
Repayment up to 72 months
In-page navigation
---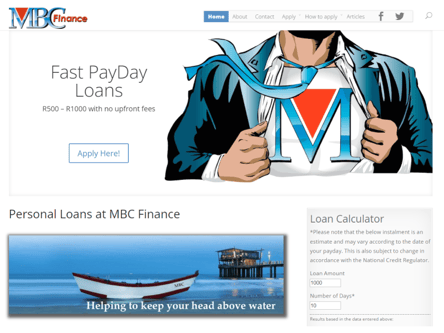 Author MBC Finance. Screenshot of MBC Finance website.


[Accessed February 2, 2023]
MBC Finance - Get approved for a loan fast
MBC finance has been in business for over 14 years.
They offer personal loans and are compliant with the National Credit Act. They've assisted thousands of South Africans with loans and continue to grow each year.
When you need some quick cash in a hurry MBC finance can lend you up to R2000 and you'll have 30 days to pay back the loan.
All their terms are fixed so that you have complete control over your finances and encounter no nasty hidden costs.
Fast approval rate
The fact that you need a loan means you need some money in a hurry, waiting for that phone call to see if you have been approved or declined can be agonizing. MBC Finance wants to put your mind at ease as quickly as possible.
They'll review your application and give you an outcome as soon as possible.
If you've been approved, you'll get your personal loan paid directly into your bank account on the very same day.
If you've been declined then they'll let you know why and put you in touch with a debt counselor to help you take control of your finances.
MB
MBC Finance offer speedy payday loans with a great interest rate and a fast approval.
They offer short-term loans, and long-term loans. If you've been blacklisted, contact them so that they can see if you still qualify for a loan. If you have a bad credit record, they might still be able to assist you.
Payday loans to make it through the month
A payday loan is a loan agreement that needs to be paid back in one payment on your next payday.
These loans are very convenient when you need some extra cash to make it through the month or when an unexpected expense pops up. Simply apply online and if you're approved, you'll be paid the money on the same day.
Application requirements:
A copy of your South African ID
Your latest payslip
A copy of your last 3 months' bank statements
Proof of residence not older than 3 months
These supporting documents can be uploaded easily and this method eliminates paperwork. They'll give you an answer online so there is no need for irritating phone calls, making the personal cash loan application process simple and convenient.
MBC Finance – Personal loan
Loan Type

Personal loans

Interest Rate

from 38%

Loan Amount

up to R150,000

Repayment

2 months to 72 months
Benefits of MBC Finance
No endless paperwork
Quick and easy online applications
Affordable personal loans
MBC finance - Affordable loans
MBC Finance's short-term loans are offered for when you need a little more cash than a payday loan offers. You'll also be given a longer period of time to pay back the money.
Use their simple-to-understand online calculator to choose the amount you would like to borrow and how long you need before you can pay it back. Choose your amount and your repayment terms. Their short-term loans are very affordable.
Repayment terms
To repay your instant loan is very simple as there's no need to come into the office to make payments. They've set up a debit order for you so the loan repayment is withdrawn every month without you needing to worry about it. This ensures you don't miss a payment and will keep a clean credit record.
You'll be charged a once-off initiation fee, a service fee and be given a favourable interest rate. Their fees have added VAT and your repayment terms will depend on your loan agreement. The longer you take to pay back the loan the more interest you'll pay overall.
Failure to make payment
Sometimes life gets complicated and you have no option but to miss a payment on your loan. If your debit order bounces let MBC Finance know that you have a problem and they'll try to assist you however they can.
If you don't let them know they'll add late fees and other penalties. Your credit record could also be adversely affected if you continue to miss payments.
Quick cash now
The approval process is done completely online, you'll be informed via e-mail if your bad credit loan application has been approved or declined.
If you're approved, they'll send you a contract which you must sign. Once you've signed the contract and returned it via e-mail the money will be paid directly into your bank account.
Credit check to ensure affordability
To ensure that you'll be able to afford to pay back your loan, they perform a credit check. Their system can easily discern if you'll be a high-risk client or if you have a good credit score.
If you don't miss any payments and stick to your loan agreement, this will reflect positively on your credit record for the future.
The entire process can be completed online from start to finish unless you would like to speak to a consultant. All correspondence is done via email for your added convenience.
How to apply
MBC Finance's application process can be completed online. Simply log onto their website, fill out the online loan application form and upload your supporting documents and one of their knowledgeable consultants will give you a call.
If you prefer the old school approach you can visit one of our offices from Monday to Friday 8 am – 4 pm or on Saturdays from 8 am – 11 am. They'll then give you advice and help you fill in the relevant documentation.
Personal loans as easy as 1, 2, 3
They offer personal loans of up to R 10 000 that you'll have up to 48 months to repay, depending on your loan agreement.
Fill out their online application form to see if you qualify. You'll need to follow to apply:
You must be a South African citizen and be employed
Copy of your valid South African ID
3 months bank statements
Proof of residence
Copy of your latest payslip
Simply upload your supporting documents online. If you've been approved a consultant will send you a pre-approval email.
Return the contract once you've signed it and once they received it, the fast loan will be paid directly into your bank account.
Customer Reviews & Testimonials
"
September 2018
The interest rates that I am paying at MBC Finance are worth my credit deal.
Maxine P
— Boksburg —
February 2019
I was assisted from the beginning of my loan to the end. It is rewarding to find that there are still credit providers that go out of their way to ensure that a client gets ahead.
Nthabiseng S
— Krugersdorp —
MBC Finance Contact
Contact Number
E-Mail
Website
Physical Address
40 Prospecton Rd, Prospecton,

Kwazulu Natal

4133

South Africa
Opening Hours
Monday

08:30 – 17:30

Tuesday

08:30 – 17:30

Wednesday

08:30 – 17:30

Thursday

08:30 – 17:30

Friday

09:00 – 17:30

Saturday

09:30 – 13:00

Sunday

– Closed