Personal loans up to R500,000
Low-interest starting from 36%
Repayment up to 90 days
In-page navigation
---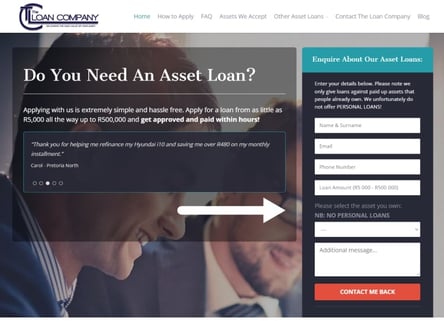 Author The Loan Company. Screenshot of The Loan Company website.


[Accessed January 30, 2023]
About The Loan Company
The Loan Company is a privately held, licensed lender. They allow you to put your assets up as security for credit.
They don't:
lease equipment
offer hire purchase activities
Asset loans are ideal for people and enterprises who require quick cash. By borrowing money and using your assets as collateral, you can get cash without applying to a traditional financial institution. This enables you to avoid strict lending requirements and restrictions.
The loan might be backed by several valuables and other items. Your assets are kept in a secured location. Once your loan has been paid off, your assets will be returned to you.
The Loan Company will assess the loan's worth in relation to the assets. The process is completely safe and discreet.
Use your assets to get a loan
You can use your fixed or movable assets as surety to access a short-term loan. If you need any clarity about whether your particular assets can be used, they will gladly advise you.
If you want to use a vehicle as collateral the vehicle must be paid up in order for it to be used.
Their goal is to help people and businesses who need an immediate and flexible short-term loan solution or bridging funding and are looking for quick turnaround solutions. Their stockholders provide all of the money for their independent business.
This has a benefit for you in that the only qualification factor that matters is the asset's worth that will be used as collateral for the loan. The Loan Company will assist you if you wish to obtain a loan using an asset as collateral.
Access money quickly
They're a privately held and licensed credit company with a straightforward and problem-free application procedure. Your loan could be in your bank account within hours.
They guarantee to better a written quote and protect your privacy and they treat every client with complete discretion.
The Loan Company Services
They provide loans against assets to individuals and businesses. So, if you need quick cash and have an asset or assets you can use as collateral you could get access to instant cash.
Their services include unsecured loans, debt consolidation loans, and bridging finance loans.
They provide flexible repayment terms, with loan amounts up to R150,000. The Loan Company also offers competitive interest rates, and their application process is simple and straightforward, with quick loan approval and disbursement times.
How much credit you'll be able to access
Their loans start from as little as R5000 however, this is dependent on the value of the asset(s) you provide as collateral. The greater the value of your asset the hight the loan that you can access.
Your assets will be kept in a safe and secure location, and they'll insure it while it's in their possession. They do however recommend that you maintain the insurance on your vehicle if you're using it as collateral.
Loan repayment
Loans must be repaid within the agreed period. All loans are interest bearing and the loan plus the accumulated interest must be repaid in full within the 61–90-day period you've agreed to.
Possible credit uses
Consolidating debt: If you have multiple debts, such as credit card debts, store accounts, or other loans, you can use a debt consolidation loan from The Loan Company to consolidate all your debts into one easy-to-manage loan.
Home improvements: If you need to renovate or improve your home, a personal loan from The Loan Company can provide you with the funds you need to make the necessary upgrades.
Emergency expenses: If you have an unexpected expense, such as a medical emergency or a car repair, a personal loan from The Loan Company can help cover the cost.
Education expenses: If you need to pay for tuition fees or other education-related expenses, you can use a personal loan from The Loan Company to finance your studies.
Wedding expenses: If you are planning a wedding and need extra funds to cover the costs, a personal loan from The Loan Company can help you pay for everything you need to make your big day perfect.
The Loan Company – Personal loan
Loan Type

Personal loans

Interest Rate

36 – 60% p/a

Loan Amount

up to R500,000

Repayment

61 days to 90 days
Benefits of The Loan Company
Will beat any written quote
A simple application process
Loans are approved within hours
Asset based loans from the Loan Company
They want to support people and businesses that can't get funding from traditional lending institutions. You'll need to have a consistent source of income before they can approve your loan.
You'll need to be able to make the monthly loan payments. They recognize that many people have lost their jobs and find themselves in extremely difficult situations.
Feel free to discuss your present financial position, and they may well be able to lend you money based on your assets to help.
Multiple convenient options for applying for asset-based loans online
All asset-based loan applications can be done online. They have an easy-to-complete online form that you can submit, and they'll contact you to discuss your loan requirements.
Should you wish to speak to an agent you can call them on their office lines both are available on their website.
You can also send them an email or speak directly to the owner via the live chat app. If you prefer you can also send them an sms and they'll respond to your online questions. You're also free to visit their offices for an in-person consultation.
What you need to apply
You'll need to provide valid South African identification and proof of address to apply for a loan. Should you be using a vehicle as collateral you'll also need to provide the original registration documents of the vehicle, the service book, and the keys to the vehicle.
How much you'll qualify for
They'll determine the value of the vehicle you are ceding and will tell you what the value of the loan is that you qualify for based on this valuation.
You also have the right to settle the loan amount before the contract end date and you will not incur penalties for doing this.
Loans against property also require the property to be fully paid off and must be registered in the name of the person or company applying for the loan.
Loans against property may not exceed 6 months and you'll need to provide the original title deed of the property as part of your loan application.

The Loan Company is a trusted & reliable provider of personal loans
In our review, The Loan Company adheres to the compliance criteria in accordance with the National Credit Act, where the granting the loan will not cause financial distress to the consumer.
✅ The Loan Company is a registered credit provider in South Africa: NCRCP 9054
Customer Reviews & Testimonials
"
August 2020
The Loan Company has a fast online application, I got my loan quickly.
Cindy R
— Pretoria —
July 2020
I got an affordable and flexible loan from The Loan Company
Leon F
— George —
The Loan Company Contact
Contact Number
E-Mail
Website
Physical Address
Office 2, DGE Building ,90 Sovereign Drive, Route 21 Corporate Park

Pretoria

Gauteng

0157

South Africa
Opening Hours
Monday

08:00 – 17:00

Tuesday

08:00 – 17:00

Wednesday

08:00 – 17:00

Thursday

08:00 – 17:00

Friday

08:00 – 17:00

Saturday

08:00 – 13:00

Sunday

– Closed