Insurance
Investments
Financial planning
In-page navigation
---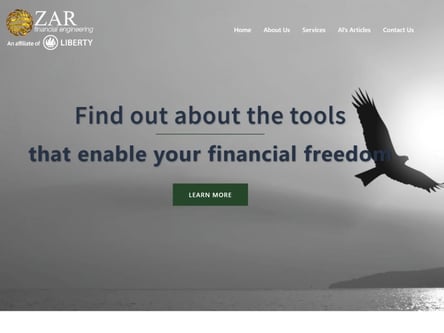 Author Zarfin. Screenshot of Zarfin website.


[Accessed January 30, 2023]
ZARfin - For your insurance and financial needs
ZARfin wants you to have a better relationship with your money and help you grow your bank balance.
They offer assistance regarding financial and retirement planning, advice on investments and savings as well as risk management and life insurance. They can also assist you, should you require short-term insurance for your vehicles or household or health insurance as well as a range of personal loans.
Personal service
To ZARfin you are not just a number; they believe that every client should be treated with dignity and respect and that you and your questions are important.
For this reason, they don't have a call centre and all their dealings are one-on-one interactions either via phone or face-to-face. ZARfin want to help you achieve financial freedom so give them a call today so that they can start you on the path to financial independence.
Contact ZARfin for credit approval today
Simply fill in their online loan application or use their chat page and they'll contact you. Provide your personal details, e-mail address, cell phone number, and an idea of what service you'll need assistance with.
ZARfin strive to build long-lasting relationships
ZARfin strives to enable you to have a better relationship with your money.
They offer expert advice on short-term insurance for your vehicles and household items, and health insurance. They can also assist you when setting up your last will and testament and offer advice on banking and mortgage services.
No call centres, no problem!
Most companies treat you like you're just another number, using call centres and online bots to sort through their clients. They don't treat you as a person, listen to your individual needs or try to build a relationship with you.
ZARfin is different. They believe in the old-school approach of face-to-face contact and getting to know you as a person, tailoring their advice and personal loan options to suit your individual needs and hopes for the future.
Online contact form
ZARfin believe in face-to-face contact but know that it isn't always possible to start the journey in this way. For that reason they have an online contact form. Simply provide the following details:
Your full name and surname
Your e-mail address
Your contact number
Subject: what you would like to chat about
And a short message including your lending needs
Benefits of Zarfin
PAYDAY Loans
BAD CREDIT Loans
QUICK Loans
ZARfin's personal loans in just minutes
Although it is a horrible topic to speak about, everyone is going to die at some stage of their lives, unfortunately, no one is able to escape death. Everyone hopes that they die of old age, peacefully sleeping in their beds but unfortunately accidents happen.
If you're involved in an accident and the unthinkable happens. Will your family and loved ones be protected by insurance? Will they be able to survive if you have moved on?
Who will be responsible for the bills and paying your children's school fees? These are horrible questions to ask, but you need to ask yourself and make provisions so that your death isn't made even more difficult by adding added financial strain to an already terrible situation.
Save for the future
ZARfin's goal is to remove you from the vicious debt cycle trap and help you manage your money correctly so that you'll have enough to start saving for the future.
Most South Africans have no insurance in place
Research shows that 63% of South African citizens have not asked themselves this question and have made no provisions to financially provide for their loved ones or surviving spouses.
Dreaded diseases such as cancer and aids also claim many lives. Research suggests that the average person will now have at least 2 severe illnesses during their lifetime. ZARfin can help you secure:
Legacy cover
Debt cover for personal loans and mortgages
Estate duty
Living lifestyle cover
Investing in retirement
In South Africa, it has been proven that your pension fund will not be enough to support you in your old age. With a pension of R1, 000 000 and an income of under R5000 per month, you won't even be able to cover your daily needs. You'll need to rely on your family or children and have no independence to pursue the things you want to do.
This will also drive your children further into debt as they have you as an added expense. Should you get sick or be involved in an accident, you won't be able to afford private healthcare and will be subjected to state hospitals.
You would have to kiss your holidays and travel goodbye. Our twilight year should be spent enjoying ourselves and not worrying about where our next meal will come from or if we'll be able to afford a good retirement home.
Chat with ZARfin about the following:
Agile pension and provident preserver
Agile Retirement Annuity
Evolve Pension and Provident preserver
Evolve a retirement annuity plan
Pension and provident fund preserver
Retirement annuity builder
Retirement annuity plan
Let ZARfin guide you to a better relationship with your money. They can also assist you with a loan via their online loan application.
Customer Reviews & Testimonials
"
February 2019
Zarfin has the best interest rates I have ever seen. I would recommend their services to anybody who's looking for a good deal.
Zandile M
— Alberton —
April 2019
I was given a loan on the very same day I applied for it. Thanks for such a speedy response Zarfin.
Robert P
— Rustenburg —
Zarfin Contact
Contact Number
E-Mail
Website
Physical Address
5 Greyville Cl, Milnerton Ridge

Cape Town

Western Cape

7441

South Africa