Flexible loan amount
Affordable interest rates
Easy repayment terms
In-page navigation
---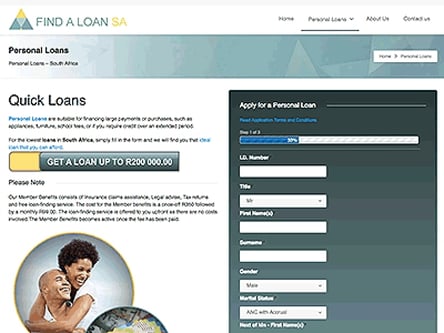 Author Find a Loan. Screenshot of Find a Loan website.


[Accessed January 30, 2023]
Find a Loan will help you manage your money better
Find a Loan is a unique broker servicing the entire South Africa that specialises in personal loans.
What's even better is that they'll provide you with a loan no matter what your credit history.
Quick and efficient loans
Find a Loan assists individuals quickly and efficiently with personal loans regardless of their purpose or financial situation.
No matter what the purpose of the loan is or whether you have defaults or judgments against your name, they can help.
Convenient loan applications
They'll aim to go out of their way to assist you.
They also go beyond the ordinary loan provider by allowing clients to apply for online loans in the comfort of their own home.
This may sound too good to be true, but their trustworthy service does all the work for you without any hidden costs.
In fact, the quick and easy application takes only a few minutes and they'll contact you within an hour to confirm your short-term loan application.
Get a loan up to R150 000
To date, Find a Loan has helped many South Africans out of financial difficulties.
Their loan options range from personal loans of R500 to R150 000 to payday loans in order to bridge unforeseen cash-flow problems or combat bad debt. They also offer debt consolidation loans to consolidate various debts into one payment.
Personal loans from Find a Loan
These are the simplest of loans that allow you easy access to money for purchases such as appliances, furniture, school fees, etc. You can easily apply for a personal loan on their website and they'll advise you on the payment options.
Payday loans
We all know that life can sometimes cast us unexpected expenses and without credit or over-drafts were sometimes completely at a loss. Payday loans can solve these problems by providing instant cash to cover emergencies.
These are particularly useful during times of cash-flow problems and can be granted regardless of your credit history or financial situation.
Simply apply online and within an hour a loan of up to R2500 will be paid directly into your bank account.
Find a Loan – Personal loan
Benefits of Find a Loan
DEBT Consolidation Loans
PERSONAL Loans
BAD CREDIT Loans
Find a Loan - access the right personal loan for your needs
For a once-off fee of R350, you can register on our site and receive insurance claims assistance, legal advice, tax returns, and free loan-finding services.
This involves a monthly payment of R99.00 and the benefits are active immediately. This service is independent of the loan-finding services which are free regardless of whether you are a member or not.
Bad credit loans
A credit rating is often a difficult and daunting experience. Minor mishaps can cause serious impacts on your credit rating, making it extremely difficult to obtain personal cash loans from most financial institutions.
At Find a Loan they go out of their way to accommodate bad credit by providing loans regardless of your credit status.
Consolidation loans
Do you have a number of small loans and debts? A consolidation loan may just be your answer. It allows you to consolidate the value of your small loans or debt into one premium to one loan installment.
This ensures that you do not pay more than necessary in interest rates and prevents you from obtaining bad credit records or going under debt review.
By granting you this loan, they'll also reduce the overall fees payable and assist you to make all necessary payments. All admin fees and expenses are consolidated into one, saving you money and hassle.
Applying for a consolidation loan takes 60 seconds with their online loan application and involves 3 easy steps.
Online applications
So what is the advantage of an online application? Well, firstly it's much faster and more efficient. The usual process for applying for a loan at a financial institution involves verifying various forms of documentation which can take up to a week.
This can be a serious problem when you need a quick loan and that's where Find a Loan's online process becomes a lifesaver.
The advantages of their online applications are numerous and allow you to apply at any time of day without having to leave your home or stand in queues. Furthermore, they provide a live chat popup function enabling you to speak directly to a consultant.
Now is the time to become debt-free
Research has shown that 11% of the population has begun making use of these services, enabling them to emerge from a blanket of debt without the usual constraints espoused by financial institutions.
The simplicity and efficiency of their services have broken all boundaries of lending processes and a debt-free life is just one click away.
Customer Reviews & Testimonials
"
November 2018
Applying for a loan with Find a Loan was easy, convenient and straight forward.
David H
— Soweto —
April 2019
There was no need for me to take time off work, I applied for a loan right on the Find a Loan website and was approved.
Vanessa P
— Polokwane —
Find a Loan Contact
Contact Number
E-Mail
Website
Physical Address
5 Tiptol Street, Hermanus

Cape Town

Western Cape

7200

South Africa
Opening Hours
Monday

08:30 – 16:30

Tuesday

08:30 – 16:30

Wednesday

08:30 – 16:30

Thursday

08:30 – 16:30

Friday

08:30 – 16:30

Saturday

– Closed

Sunday

– Closed