Personal loans up to R200,000
Low-interest starting from 16%
Repayment up to 60 months
In-page navigation
---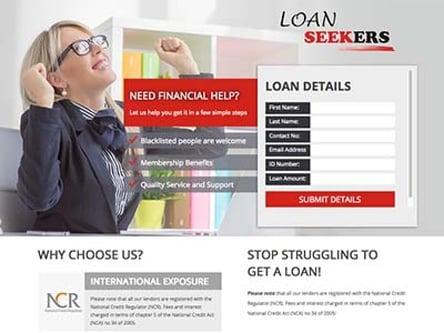 Author Loan Seekers. Screenshot of Loan Seekers website.


[Accessed January 30, 2023]
Loan Seeker - Your trusted name in loan comparisons
Loan seekers will find you a loan when you need it most. They'll send your loan application to a number of different lenders, giving you a higher chance of a successful application.
They do the running around so you don't have to. All you have to do is sit back and relax while Loan Seekers find the personal loan solution to help you get back on track financially.
Easy to apply
To apply is very easy all you have to do is fill in the online loan application form with the following details:
First name
Last name
Contact number
Email address
ID number
Loan amount
Supporting documentation
Be 18 years old or older
You must be a South African citizen to apply
How much can you borrow
Loan Seekers have a panel of different lenders that offer online cash loans for as little as R1 000 to as much as R200 000 with very easy repayment options.
How much interest you'll pay
Interest is charged at 5% per month and 16-60% per annum.
Apply even if you're blacklisted
Even if you're blacklisted Loan Seekers may still be able to grant you a loan for bad credit. Apply for a no-obligation loan to see if you qualify.
Repayment terms
Choose between Loan Seekers' easy loan repayment schedules of 6 to 60 months, depending on the loan agreement.
Financial Turtle Member benefits
To add value to your short term loan you'll be added as a Financial Turtle Member and have access to a host of different membership benefits. These include:
Loan-seeking service
Debt review assessment
Assistance with your Last Will and Testaments
R3000 Family funeral cover
Funeral support assistance
Body repatriation services
Legal services
Emergency medical assistance
Trauma and assault counselling
Personal health advice
HIV treatment service for protection and counselling
How much is the membership fee
To gain access to all these amazing benefits you need to pay a once-off registration fee of R199. The membership fee is only R99 per month, which is great value for the money you'll pay and it would be difficult to get all these benefits for such a small fee.
Loan Seekers offer membership benefits and quality service as well as help through the application process. They'll do everything in their power to help your application get approved for the loan you need when you need it.
Loan seeking and serving
They'll seek a personal loan for you that best suits what you're looking for while saving you effort and money. They'll seek and find you loans including personal loans and vehicle financing.
Other fees
Other fees that apply include:
The initiation fee – you will be charged 15% of the total loan amount of up to R1 000, after that 10% plus VAT
Service fees – of R50 per month plus VAT
Loan Seekers – Personal loan
Loan Type

Personal loans

Interest Rate

16 – 60% p/a

Loan Amount

up to R200,000

Repayment

6 months to 60 months
Loan Seekers will find you the best loan
Loa Seekers will negotiate the best interest rate and repayment terms for you. They'll assist you with your loan application so that it has a better chance of being approved.
If there is something that would cause your payday loan application to be declined, they'll let you know and try and help you by finding a solution so that your application can be approved.
Debt counselling
You'll have access to their debt counselling service for free, you'll not need to pay an application fee and Loan Seekers help to offer you debt relief if you've been approved.
Funeral cover for your family
As an added benefit you'll have access to the family funeral cover policy. This policy will pay out R3 000 should anything happen to anyone in your immediate family. This policy covers your spouse or partner and up to 7 children.
You'll need to notify Loan Seekers of the death and apply for the benefit. You'll need to supply a death certificate and proof that the person who died is part of your immediate family.
A repatriation benefit
This benefit will pay for your deceased member's body to be moved from the place where they died and relocated to where the person would need to be buried.
Emergency medical assistance
Should you need emergency medical assistance Loan Seekers are on call 24 hours a day this covers you for the following:
Heart attacks
Snake bites
Drowning
Gunshot wound
Other wounds
Motor vehicle accident
Legal advice service
This legal services package includes:
24-hour telephonic legal assistance
Assistance with legal documents and contracts
A thorough consultation with a legal professional for half-an-hour
Personal health and advisory services
This service grants you a 24-hour, 7 days a week to a professional healthcare provider. You'll receive unlimited access to free telephonic advice from professional care providers and nurses.
Other assistance includes:
Emergency medical advice and information on your health
Pregnancy questions – ask experts any pregnancy question 24 hours a day
Trauma and healthcare advice
HIV assistance, education and information
HIV protection treatment services and counselling include the following:
24 hours of advice and trauma counselling
Post-traumatic stress counselling
3 psychiatric consolations with a professional for every incident where the member may have been in danger of getting the HIV infection
HIV tests
If you're HIV-negative then you'll have access to the following:
Antiretroviral medication
STI prevention treatment
The "morning after" pill
Last will and testament
The last will and testament benefit will assist you in making your last will and testament.
If you do not have the last will and testament the state will be able to divide your assets after taking a large chunk and then settling any outstanding debt like personal loans and a mortgage.
This can often leave your family with very little this is known as dying intestate and is very traumatic for your family at an already difficult time.
Customer Reviews & Testimonials
"
November 2018
Loan Seekers surely know how to treat their customers. I got a response from my loan application on the same day.
Bethany F
— Kimberly —
December 2018
With the interest rates I am paying at Loan Seekers, I am still able to pay my other financial obligations.
Michael C
— Brits —
October 2018
The consultants at Loan Seekers ensured that I understand all the terms and conditions after my loan application was approved.
Samkelisiwe B
— Port Edward —
February 2019
Loan Seekers will never allow you to take a loan that will prove to be difficult for you to pay in the long run and that is why I recommend their services.
Bennet N
— Margate —
Loan Seekers Contact
Contact Number
E-Mail
Website
Physical Address
Hopefield

Hartebeesfontein

7355

South Africa