Short-term loans up to R4,000
Low-interest starting from 10%
Repayment up to 32 days
In-page navigation
---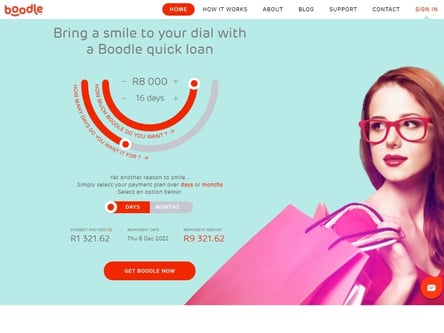 Author Boodle Loans. Screenshot of Boodle Loans website.


[Accessed January 30, 2023]
Boodle Loans Online – Quick short-term loans
Boodle's short-term loans are convenient and affordable.
Life can bring financial challenges and emergency expenses always appear at the worst times. Boodle Loans can offer a quick solution for these situations.
They are always looking for ways to make loans more affordable for their clients.
Their success stories
For many years Boodle has been helping clients obtain loans easily while saving on interest. They are growing due to their excellent customer service and flexible products.
They fully support responsible lending as set by the National Credit Act. You can achieve your goals and it starts with applying for a Boodle short-term loan.
Straightforward and simple
They are completely transparent in their dealings with you and there are no hidden fees. When you reach out to them, a consultant will explain all the processes and deal with any questions you may have. You can easily cover your unexpected expenses with a low-cost short-term loan from them.
Responsible lenders
Boodle will not approve your loan if they can see that it will harm you in the long run. They are a responsible lender and are registered with the FSCA Financial Sector Conduct Authority of South Africa. So, they abide by the rules of lending to ensure fairness and safety for everyone.
Get your loan from Boodle within 24 hours
You can borrow up to R6,000 over 24 months without providing any collateral.
With their loans, you also have the added benefit of lower interest rates as they strive to help you get control over your finances. With some extra cash, you can cover medical expenses or any other expenses that might arise during the month.
Boodle takes the stress out of getting a loan
For an easy, hassle-free short-term loan, contact Boodle as they are always on standby to process your loan as fast as possible. As a company going from strength to strength, they are able to help more clients get an instant loan in a faster turnaround time.
Payday loans
At Boodle you can also apply for a payday loan. How this works is that they will give you an advance on your salary and you can then pay them back as soon as you have received your paycheck. The interest on these loans is lower due to the shorter repayment schedule.
Smiles and repayments
They have a unique smile ranking system in place for their clients where you will be rewarded with a smile every time you make a repayment on your loan. This will increase your rating and will allow you to borrow more from them. You can borrow up to R8,000 for every 5 smiles you receive.
Boodle Loans – Short-term loan
Loan Type

Short-term loans

Interest Rate

10 – 60% p/a

Loan Amount

up to R4,000

Repayment

2 days to 32 days
Benefits of Boodle Loans
Loans paid out in 10 minutes
Use the SmileDial to choose the required amount
Loan applications are fast
Short-term loan calculator
Boodle takes the stress out of getting a loan
With them, you can enjoy a quick and easy application process.
Visit their website and apply via their online loan application for maximum convenience. Their loans are structured to meet your individual and financial needs.
Their process is so efficient that you can apply, be accepted, and have the money in your account within 24 hours. A convenience that is hard to beat. In fact, if you have been approved you can have your money within only 2 hours!
Here's how easy it is to apply:
You'll need to tell them a bit about yourself and your finances. The application only takes about 10 minutes.
They will then have a quick look at your profile and confirm if and how much they can approve you for.
If you are happy with their offer, you can sign the agreement and receive your money within 2 hours.
Get the extra cash you need
Regardless of the loan option or repayment that you choose they assure you that it is the most affordable option available. You will benefit greatly from signing up with them.
What are you waiting for? Contact Boodle today if you need a loan that is convenient, fast, and more affordable!
Benefits
Speedy approval process and payouts within 2 hours.
World-class service.
Unsecured short-term loans that are easily accessible.
Staff that are well-trained and passionate about helping people to achieve their goals.
Lenient criteria and affordable prices.

Boodle Loans is a trusted & reliable provider of short-term loans
In our review, Boodle Loans adheres to the compliance criteria in accordance with the National Credit Act, where the granting the loan will not cause financial distress to the consumer.
✅ Boodle Loans is a registered credit provider in South Africa: NCRCP 5361
Customer Reviews & Testimonials
"
March 2019
With the ease of applying online I was able to get the my loan within 24 hours of applying. Now that's what I call efficient, good service. I know who to go to for fast lending in the future!
Wickus H
— Klerksdorp —
March 2019
Boodle is a lender that cares about its customers that is for sure. From the start of the loan process right up to the end they ensured that I am aware of each and every implication, cost and fee...
Anelisa S
— Anelisa Sithelo —
February 2019
With the assistance of a Boodle payday loan, I was able to get the cash to help see me through the month and repay it by my next payday. Their rates are competitive, fair and affordable and I wou...
Seth G
— Potchefstroom —
August 2021
With Boodle, I got everything I wanted and more at a very good price.
Bosch M
— Newcastle —
November 2021
I love their rewards system; it works great and it also helps me to manage my money better.
Pienaar S
— Brits —
November 2021
I received great service from this team. They are reliable and well organised.
Inkwe K
— Thornhill —
Boodle Loans Contact
Contact Number
E-Mail
Website
Physical Address
---
Postal Address
Suite 86, Private Bag x1, Melrose Arch, 2076, South Africa
Opening Hours
Monday

08:30 – 17:30

Tuesday

08:30 – 17:30

Wednesday

08:30 – 17:30

Thursday

08:30 – 17:30

Friday

09:00 – 17:30

Saturday

09:30 – 13:00

Sunday

– Closed