Short-term loans up to R250,000
Low-interest starting from 15%
Repayment up to 60 months
In-page navigation
---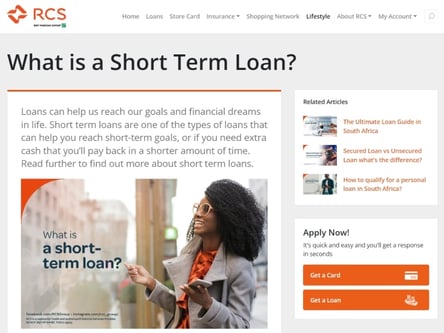 Author RCS Loans. Screenshot of RCS Loans website.


[Accessed January 30, 2023]
About RCS Loans
RCS is based in Goodwood, Cape Town, and was founded in 1999.
They belong to BNP Paribas, one of the leading banks in Europe, with international holdings. They became the RCS Group in 2010. RCS' purpose is to improve your lifestyle by pioneering easily accessible credit. They want you to enjoy their creative solutions with ease, confidence, and convenience.
Who is RCS and who are their partners?
They're the biggest provider of retail credit in South Africa, and over 30 000 stores accept their store card. Some of the stores where the card can be used include Game, Makro, Mr Price Home, Shoprite, Checkers, Pick 'n Pay, Clicks, Superbalist, @home, and Builders.
They're the most prominent independent shopper network with over a million cardholders with R1 billion credit available.
The culture at RCS
They're enthusiastic about improving your lifestyle by practising responsible lending while offering a variety of inventive, accessible solutions. They have more than 1500 employees and 1.2 million clients, with over 4000 partners.
They encourage their teams to be willing to learn and open. They're curious and passionate about meeting their objectives and serving you.
A top employer
They've been voted a top employer and their lucky teams enjoy a range of benefits, including the Wellness program, which provides gyms and exercise classes, and fully equipped clinics. Their extensive benefits reach beyond the workplace and they make sure that every employee and their family is taken care of.
The company also promotes the development of its workers' professional skills and provides excellent learning programmes to help them reach their goals. They truly believe in giving all employees continuous feedback and support, which sets them up for success.
They take their social responsibilities seriously and support the causes that inspire them the most. This includes healthy living, education, and providing opportunities for community upliftment, e.g. the recent Gugs Race in the thriving community of Gugulethu.
They openly encourage inclusion and diversity because they believe we should be learning from one another.
RCS Loans Services
They're a financial services company that offers you a variety of financial solutions under their name and in association with numerous well-known retail stores, in Botswana, Namibia, and South Africa.
RCS offers a selection of lifestyle financial solutions including insurance products, cards, and online loans. These can give you an easy and simple way to pay for goods and services and reach your goals while meeting your needs.
RCS loans include cash loans and retail loans up to R250 000
RCS store card gives you convenient credit
Their insurance products come with Income Protection Plan, Critical Illness Plan, Funeral Plan, and a Customer Protection Plan
A loan from RCS can help make your dream a reality, or give you cash when you need it. You can use the money to finance your studies, for that unexpected, expensive car repair, or maybe a holiday.
You'll get access to the following
Cash loans from R2000 to R250 000
Quick and paperless application
Instant decision - it takes just seconds
You'll get the money in less than a day
Payment options are flexible, from 1-5 year options
They'll send you free statements every month, by SMS or email
Each loan comes with Customer Protection Insurance
Interest rates can be as low as 15%
For example, if you borrowed R10 000 at 28% interest over 2 years, there would be an initiation fee of R1207, a monthly fee of R69 and the total amount payable would be R17 116.24. Your instalments would be R 713 per month. Importantly, RCS' interest rates will never be more than 28% per year, as laid out by the NCA.
Customer Protection Insurance
This is insurance that covers RCS for your outstanding balance in case you die, become critically ill, permanently or temporarily disabled or lose your income.
They believe that by working together they can achieve the extraordinary. They're a dedicated team that succeeds by sharing their know-how and enthusiasm. They provide their partners with expertise in operating, financing, promoting, and managing credit programmes. They also offer solutions in financial marketing, risk management, call centres, IT, and operations.
RCS Loans – Short-term loan
Loan Type

Short-term loans

Interest Rate

15 – 27.75% p/a

Loan Amount

up to R250,000

Repayment

12 months to 60 months
Benefits of RCS Loans
Insurance
Online loan applications
Reliable short-term loans
Short-term loan calculator
Apply for credit online or request a callback in seconds
It's easy to start this process and have RCS call you back.
They need some information to process the application. If it's approved the cash will be in your bank account in a day. You can also apply for a loan online, on their website.
You'll need the following
You must be over 18
The holder of a valid South African ID
A minimum income of R2000 per month
A bank account
Documentary proof of income (ie salary slips)
Applying is as easy as 1, 2, 3
RCS is a registered credit provider and financial services provider and is underwritten by Guardrisk.
Common Q and A's asked by RCS clients
How does RCS decide if you qualify for a loan?
They're regulated by the National Credit Act and apply the law in determining if they can extend credit to you.
They'll do an assessment using your credit score which lets them know how you've managed credit in the past. They'll also look at your expenses and income. After looking at all the relevant information, they'll decide whether they can give you credit.
How much will your RCS Quick Loan cost?
According to your assessments, they'll charge you a service fee every month to manage your account as well as interest, in line with NCA restrictions.
How do you pay RCS?
They'll do an automated debit withdrawal from your bank account on the date you choose when you apply for a loan.
What if you can't pay back your instalment on your RCS loan?
Call them and they'll try to make an arrangement to suit you.
Customer Reviews & Testimonials
"
June 2018
RCS is no foreign name around South African households. With an excellent reputation nationwide I expected nothing less than a pleasant experience from them. An easy five stars across the board f...
Kevin D
— Potchefstroom —
November 2018
Variety is definitely something that RCS is not lacking. They have a little something available for anyone and everyone. No matter what your financial situation is you can rest assured that they ...
Samantha D
— Rustenburg —
August 2018
A staff that will knock you for a six! I am so pleased with the level of professionalism I was greeted with at RCS. Their staff are all friendly, well-trained and know their products like the bac...
Charné P
— Kimberley —
June 2021
Variety is something that RCS is not lacking. They have a little something available for anyone and everyone. No matter what your financial situation is, you can rest assured that they will help ...
Fourie S
— Rustenburg —
August 2021
RCS is no foreign name in South African households. With an excellent reputation nationwide, I had a pleasant experience with them.
Dini S
— Cape Town —
September 2021
Their staff will knock you for a six! I am so pleased with the level of professionalism I was greeted with at RCS. Their staff are all friendly, well-trained, and know how to keep their clients h...
Bester J
— Queenstown —
RCS Loans Contact
Contact Number
E-Mail
Website
Physical Address
Liberty Grande Building, Voortrekker Rd & Jakes Gerwel Dr, Townsend Estate

Cape Town

Western Cape

7460

South Africa
---
Postal Address
PO Box 111, Goodwood, 7459, South Africa