Short-term loans up to R4,700
Low-interest starting from 38%
Repayment up to 6 months
In-page navigation
---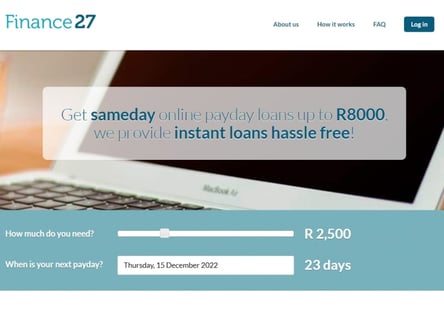 Author Finance 27. Screenshot of Finance 27 website.


[Accessed January 30, 2023]
Finance 27 - Instant cash loans
Life has a way of creeping up on us from time to time. There's no need to feel alone when money troubles come knocking.
A short-term loan from Finance 27 is a great bailout for anyone in need of financial assistance. Getting further into difficulty financially does not need to happen.
With a company like Finance 27 on your side, you can rest easy knowing you are being looked after based on your individual needs. Have the confidence you deserve and get the help you need today.
Short-term loans that are straightforward
When you're in a situation where money is a problem, getting a loan with lots of nasty surprises just makes life more complicated.
Nobody needs more complications and Finance 27 understands this better than their opposition in the business. For this reason, they have made their products available clearly and in the most straightforward way possible.
Their short-term loans are flexible and they provide their financial service to you with an unequalled level of customer service. You're what makes their story a success and therefore they put you first, always.
An online platform that is ready when you are
Time is a valuable commodity. Life has become a race. Days do not have enough time for everything. This is why Finance 27 has put together a website that is user-friendly and ready when you are.
You have the freedom and convenience to go online whenever the time suits you and apply for your loan.
Loan amounts up to R4000
When faced with financial difficulty, time is often a luxury you won't have.
Finance 27 know this and for that reason, strive to get you the help you need when you need it. Falling behind on financial responsibilities is not an option at Finance 27.
So, without any hassle, Finance 27 can have you sorted out in no time. They're committed to helping you keep your financial status intact and healthy.
Fuss-free short-term loans
Sometimes people find themselves in a situation where they might need a loan for a medical emergency. In this case, it's good to know that Finance 27 has a fuss-free solution.
A timeous application process and difficulty in acquiring a loan are all things that lead to added stress in already stressful situations.
You can be assured that Finance 27 understands that there's no need for a short-term loan to be complicated. They're in the business of simplifying life.
Know before you apply
When times are tough, the last thing you need is a nasty surprise. Being able to budget is a big bonus especially when you're already in need of extra money.
On the Finance 27 website, you'll be able to do just that. They have a nifty short-term loan calculator that can be put to use before you apply.
Simply use the slider to indicate the loan amount and do the same with the term. You'll then be presented with an estimate of what you can expect to repay every month.
Finance 27 – Short-term loan
Loan Type

Short-term loans

Interest Rate

from 38%

Loan Amount

up to R4,700

Repayment

30 days to 6 months
Benefits of Finance 27
Hassle-free instant loans
Straightforward and flexible short-term loans
Same-day online payday loans
Short-term loan calculator
Finance 27 - Simple, fast loan solutions
Getting a short-term loan from Finance 27 has never been this easy. They've put together a simple three-step process to get you the financial assistance you need in no time.
Their loans payout on the same day so you know you can get relief at the time you need it most.
Like any other loan, Finance 27 requires a few documents from you to prove income, address as well as identity. Make sure you have these available to simplify your application process.
Documents you may need
A valid copy of your South African identity document.
A 3 months bank statement to prove your income and expenses.
A recent account with your current address.
Easy fuss-free loan application process
On the website, use the calculator to indicate your loan amount and the term you prefer. You'll be given an estimate. Click on the button to get an instant answer.
You'll then be directed to the application page where you'll have to answer a few easy questions. Complete the process and submit the form along with the needed supporting documents.
You'll be presented with an answer almost instantly and your loan will be paid out on the same day.
There's no need to get into more financial trouble when Finance 27 can have you covered.
There is no time like the present
No matter what the circumstances, knowing that there is a lender that is in the business of being there when you need them and being able to get access to instant cash when you need it, surely lightens the load.
Don't delay any further, reach out to Finance 27 today and let them help you get the financial relief you deserve.
Finance 27 benefits
They offer same-day payouts
The process is quick and easy
You will enjoy an instant loan decision
Customer Reviews & Testimonials
"
February 2019
I found myself in a difficult situation that I thought I would be unable to escape this month. Juggling an unexpected debt along with the general bills that needed to be paid made put me in a sti...
Pieter V
— East London —
November 2018
I was taking the taxi home and heard about Finance 27 from a passenger on the drive home. With the help of my new friend's recommendation, I was able to apply for the finance I needed right there...
Tsepho N
— Butterworth —
January 2019
After receiving an unexpected phone call for a family emergency I needed to make my way across the country fast. Finance 27 understood the situation and helped me to get the money I needed fast a...
Bianca L
— Port Elizabeth —
September 2021
It was such a relief to find a lender that understands that when you are in financial difficulty, time is of the essence. They assisted me with a short-term loan that was paid out the same day.
Ngwenya T
— Witteklip —
October 2021
In the times we live in these days, we often need a little push. It is comforting to know that Finance 27 is ready with a short-term loan to lighten the load. They are a great company.
De Silva M
— Kenton-on-sea —
September 2021
When my car broke down in the middle of the month, I needed a short-term loan fast. Thankfully Finance 27 was there to help me out when I needed it most. I got paid on the same day.
Samuels C
— Boksburg —
Finance 27 Contact
Contact Number
E-Mail
Website
Physical Address
West Wing, First Floor, Wapadrand Shopping Centre, Wapadrand

Pretoria

Gauteng

0050

South Africa