Short-term loans up to R5,000
Low-interest up to 29.25%
Repayment up to 12 months
In-page navigation
---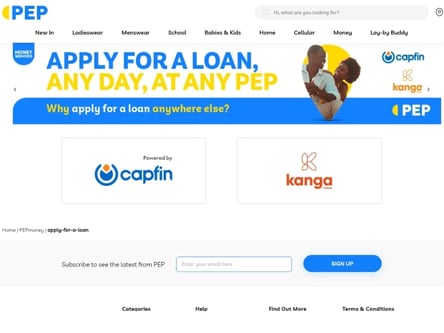 Author PEP. Screenshot of PEP website.


[Accessed August 8, 2023]
About PEP
PEP is a well-known, affordable clothing and general merchandise retailer in South Africa.
But they go beyond just offering a wide range of quality products – they've combined shopping with financial empowerment making it easy for you to achieve your financial dreams.
With a vision to support their customers in every aspect of life, they've teamed up with Capfin, a trusted financial partner, to provide accessible short-term loans.
Ethos and values: Building stronger communities
The company operates with integrity, transparency and social responsibility. They believe every South African deserves a chance to thrive, regardless of background or circumstances.
By providing loan options for a rainbow nation they foster financial inclusion and actively contribute to building stronger communities with bright futures.
Customer-centric approach: Your dreams, their priority
You're at the heart of everything they do. Committed to giving exceptional service they aim to understand your specific needs and goals.
Financial education: Equipping for success
They don't only provide loans, they're also passionate about educating you and giving you the skills necessary for long-term financial success. The company offers resources and workshops, empowering you to make good financial decisions.
They believe that financial freedom comes from access to funds and from the ability to manage them wisely.
Partnerships and community initiatives: Supporting growth together
Their partnership with Capfin loans gives them the resources and expertise to make your dreams a reality. Their willingness to collaborate with well-established organisations is one of the reasons they continue to see impressive financial growth. It also shows their commitment to your catering to your financial needs.
This partnership also supports community initiatives that uplift and empower. Through strategic alliances and community engagement, PEP aims to create a ripple effect of positive change, fostering economic growth and opportunities for all.
They inspire hope and trust for individuals and businesses in South Africa's ever-changing economic climate.
Driven by a customer-centric approach, affordability, and a strong commitment to social responsibility, they unlock the potential of dreams and pave the way for a brighter future.
PEP Services
PEP Loans offers financial solutions that are convenient and flexible.
Whether you need extra cash for unexpected expenses or you're looking to fund a personal project, they have the solution for you. With a wide range of plans and products designed to suit different needs, borrowing is easy and accessible.
Competitive interest rates: Making dreams affordable
At PEP they recognise that affordability plays a crucial role in shaping financial decisions. That's why they offer highly competitive interest rates, ensuring that dreams remain within reach. By keeping interest rates low, they commit to providing financial solutions that empower you to move forward without the burden of excessive debt.
Unlock your financial potential: PEP and Capfin's empowering short-term loans
PEP and Capfin offer short-term loans in South Africa. Convenient application process, instant approval, no collateral, and flexible repayment options promote financial inclusion and customer satisfaction.
Short-term loans:
They specialise in short-term loans that are ideal for covering unexpected expenses or bridging temporary financial gaps. These loans are designed to be repaid within a short period, usually between 1 and 6 months.
Flexible repayment options:
PEP Loans offers various repayment methods, including debit orders, Electronic Funds Transfer (EFT), and in-store payments. This flexibility allows you to choose the repayment option that suits your preferences and financial circumstances.
Example of their repayment plan:
6-Month Plan:
Loan Amount R5000
Maximum Interest Rate 6.5% per month
Initiation Fee R600
Monthly Service Fee R80
Maximum Monthly Installment R930
Maximum Loan Repayment R5580
12-Month Plan:
Loan Amount R5000
Maximum Interest Rate 32.5% per annum
Initiation Fee R600
Monthly Service Fee R80
Maximum Monthly Installment R520
Maximum Loan Repayment R6240
Please note that the figures provided in the table are for illustrative purposes only and may not reflect the exact terms and conditions of Pep loans. When it comes to financial solutions, they stand out as a reliable and customer-focused provider.
Through their partnership with Capfin, the company ensures that short-term borrowing needs are met efficiently and conveniently.
PEP – Short-term loan
Loan Type

Short-term loans

Interest Rate

29.25%

Loan Amount

up to R5,000

Repayment

12 months
Benefits of PEP
Reliable short-term loans
Low-interest rates
Quick online application
Short-term loan calculator
Get sorted with PEP loans: A step-by-step guide to quick cash
When unexpected expenses arise, they're there to help. With their short-term loan options, they provide accessible and efficient financial solutions to individuals in South Africa. Their application process is easy and hassle-free. Whether you need funds for emergency expenses, medical bills, or any other urgent financial needs, PEP loans offer a convenient solution.
Step-by-step application guide
1. Gather the required documents
Before starting the application process, make sure you have the necessary documents on hand. This will help streamline the application and ensure a quicker response.
The required documents include:
South African ID or Smart Card
Proof of residence (such as a utility bill or bank statement)
Proof of income (such as payslips or bank statements)
Contact details (including phone number and email address)
2. Visit the PEP website
To begin your application, visit their website. Access the loan application portal and follow the necessary steps.
3. Fill out the online application form
Once on the application portal, you'll be prompted to fill out a form. Provide accurate, up-to-date information and ensure that all fields are complete. You'll need to provide details such as your personal information, employment details, and financial information.
4. Submit the required documents
After completing the application form, you'll be asked to submit the required documents. This can be done by uploading scanned copies or clear photographs. Make sure to submit legible and accurate copies to avoid delays in the application process.
5. Review and confirm
Take a moment to review all the information provided before submitting your application. Double-check for any errors or missing details. Once you're satisfied with the accuracy of the application, confirm and submit it.
6. Await application response
After submitting your application, they'll review your information and assess your eligibility for the short-term loan. This process may take some time, but they strive to respond promptly. Be sure to provide accurate contact information so they can reach you with the outcome of your application.
7. Loan disbursement
If your application is approved, the loan amount will be paid to you according to the terms and conditions. The funds will be available, allowing you to address your immediate financial needs.
Applying for a short-term PEP loan is a simple process. By following the steps, you can submit your application with ease. PEP is dedicated to helping you overcome financial challenges and provide the support you need when it matters most.

PEP is a trusted & reliable provider of short-term loans
In our review, PEP adheres to the compliance criteria in accordance with the National Credit Act, where the granting the loan will not cause financial distress to the consumer.
✅ PEP is a registered credit provider in South Africa: NCRCP13053
Customer Reviews & Testimonials
"
April 2023
I recently used Pep for a short-term loan and I must say I was very satisfied with their service. The application process was quick and easy, and I received the funds within a few hours.
Candice R
— Pretoria —
April 2023
I appreciated the transparency and honesty throughout the entire process. If you're in need of a short-term loan, I highly recommend checking out Pep. They truly go above and beyond to provide ex...
Barry T
— Parow —
PEP Contact
Contact Number
E-Mail
Website
Physical Address
Shop 9 Parow Shopping Centre Corner Voortrekker Road, De La Rey St

Parow

Cape Town

7793

South Africa
Opening Hours
Monday

09:00 – 18:00

Tuesday

09:00 – 18:00

Wednesday

09:00 – 18:00

Thursday

09:00 – 18:00

Friday

09:00 – 18:00

Saturday

09:00 – 18:00

Sunday

09:00 – 18:00