Asset Finance
Refinance your car
Repayment up to 72 months
In-page navigation
---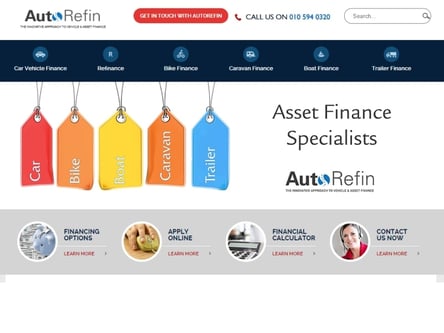 Author Auto Refin. Screenshot of Auto Refin website.


[Accessed January 30, 2023]
Auto Refin - They have the best deals on the market
Auto Refin's vehicle finance is well known in South Africa for asset management as well as the refinancing of vehicles.
Finding the right vehicle finance can be tiresome with a lot of research going into finding the right lender that'll provide you with affordable car loans.
Auto Refin has the solution
They pride themselves on offering a quality service with security and support. Their deals are some of the best currently available in the market. They strive to build great, lasting relationships with you and they look after your budget needs.
Quality service guaranteed
At Auto Refin they have a professional, well-trained staff that's qualified to find you the best deals in the market. Since 2009, they've grown into one of the best car finance option solutions in the market. They'll assist you in acquiring financing for the purchase of vehicles between individuals or companies.
Their consultants are ready to assist you
At Auto Refin they consider the financial strain that comes with the purchase of a new vehicle and they assist you in the loan process to ease this burden.
They'll review your household budget to make sure your monthly payments are affordable and furthermore negotiate low-interest rates on your behalf. They also ensure that you get the best possible deal on your vehicle loan or on a refinancing.
They have a range of products available
They offer a bouquet of products to meet your needs and pride themselves on their superb customer service. High-interest rates can add to an installation fee, which can be lowered by refinancing. They can refinance an existing loan to lower payments or otherwise secure lower interest rates for you. At Auto Refin, you have the option to be financed for both long and short-term periods in the case of a short-term loan.
Auto Refin – Vehicle finance
Loan Type

Vehicle finance

Repayment

12 months to 72 months
Benefits of Auto Refin
Lower interest rates
Repayment up to 72 months
Vehicle refinance
Vehicle finance calculator
Auto Refin – The best finance options
They'll assist you in restructuring your car repayments to lower the interest rates, and their refinancing option can potentially save you a fair share of money in the long term.
They're an independent financial firm with the correct and best processes to save you money. They have extensive experience in the industry and will help you sail through the entire process in a seamless manner. You can trust their services, as their positive outcomes with previous clients are a testament to this.
Apply online now
You can consider applying for refinancing when you have a vehicle, including caravans and boats that are fully settled. You only need to complete the online loan application form and they'll contact you with a proposed agreement.
Lower instalments
To qualify for lower instalments on vehicle finance, you first need to be in possession of a valid South African Driver's license. You'll need to have a good credit score and earn a minimum of R8 500 a month. A copy of your ID document and proof of residence must also accompany your application.
If you choose to buy a second-hand vehicle, it's important for you to consider factors such as service history, mileage, and any damage the vehicle might have. They don't refinance any vehicle made before 2004, stolen, recovered, or accident-damaged vehicles.
Refinancing will not have a negative credit effect
You can rest assured that refinancing will not negatively influence your credit score. It's just another personal loan you have taken out, and if you pay your monthly payments, it'll not affect your credit score at all. Your credit score comprises your income, payment history, and the current amount of debt you have.
Auto Refin is certainly the option for you if you want to lower your interest rates and refinance your vehicle at an affordable repayment rate. Their staff is friendly, professional and efficient. With their friendly service at your disposal, you can be sure to find the best deals in the market. Just apply online and a helpful consultant will guide you through the entire process. They're on standby to answer any questions you might have and to offer advice on any problems you might encounter.
Easy-to-use website
Use their online platform to contact their experienced and ready-to-assist consultants. They have years of experience in their field, and they'll help you find the personal finance you need in order to purchase the car you seek to own.
Customer Reviews & Testimonials
"
January 2019
I was so impressed with the low-interest rate that you were able to offer me on my car loan. You were able to negotiate a lower interest rate on my existing loan and lower my monthly instalments,...
Wandile L
— Kokstad —
March 2019
I was able to refinance my caravan and use it as security on my vehicle loan. The application process was very easy and the money was paid into my account very quickly so that I could buy my new ...
Samantha C
— Middelburg —
May 2019
I can't believe how much money I saved just by refinancing and restructuring my car repayments. Thank you for getting me a better interest rate and showing me how much money I could save every mo...
Nina S
— Ladysmith —
Auto Refin Contact
Contact Number
E-Mail
Website
Physical Address
32 Mercury St

Farrarmere

Benoni

1501

South Africa
---
Postal Address
P O Box 418, Benoni, 1500, South Africa
Opening Hours
Monday

08:00 – 17:00

Tuesday

08:00 – 17:00

Wednesday

08:00 – 17:00

Thursday

08:00 – 17:00

Friday

08:00 – 17:00

Saturday

– Closed

Sunday

– Closed