Vehicle finance up to R500,000
Low-interest starting from 36%
Repayment up to 36 months
In-page navigation
---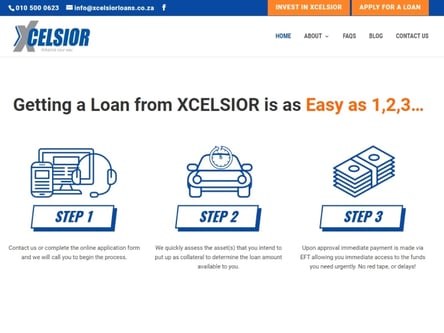 Author Xcelsior Loans. Screenshot of Xcelsior Loans website.


[Accessed January 30, 2023]
Xcelsior Loans - We have a unique approach to finance
When you need a little cash flow boost, Xcelsior will assist you.
We do not conduct any affordability assessments, unlike the banks might, and our unique approach is a great advantage if you have bad credit or need a loan for bad credit.
We're a preferred credit provider
We are an independent company and thus we can offer you better rates, better service, and better repayment terms. We are a registered credit provider and our management team boasts 15 years of combined experience in the loan sector specifically. What we do is take advantage of the mainstream lending industry's shortcomings, making us the preferred credit provider for vehicle finance.
Top-quality service
We do not use other credit providers in SA, so you benefit from a company that has the final say. You can expect to receive service delivery from a top-quality provider, and we always have our client's best interests and needs at heart.
Turn your assets into quick loan
The great advantage of having assets is that you can turn them into a quick loan without much effort.
At Xcelsior we offer you an approval time of just 30 minutes. You are able to put up a valuable asset as security and we will assist you with a short-term loan. Also, expect speedy feedback on your loan application.
It's that simple
Your assets will be stored with us in a safe facility until your loan is paid off. At Xcelsior we don't provide vehicle finance, we supply you with funds against your assets. Vehicles used as collateral must be paid in full before you can apply for a quick loan.
You can apply online or alternatively visit us at any one of our many offices. An Xcelsior representative can even visit you if you are at your home or office if you so prefer. Our company is transparent and there are no hidden costs involved. Based on an assessment, we can loan you up to 50% of the value of your assets.
Requirements for a loan
The item that you secure as collateral must belong to you. If you cannot repay your personal loan, we will take possession of your asset.
Xcelsior Loans – Vehicle finance
Loan Type

Vehicle finance

Interest Rate

36 – 60% p/a

Loan Amount

up to R500,000

Repayment

2 months to 36 months

Decision

30 minutes
Benefits of Xcelsior Loans
Loans are paid out on the same day
Apply for a loan in 3 easy steps
Get cash in 30 minutes
Vehicle finance calculator
Excelsior Loans – Fast, effortless lending
We will handle your application with complete confidentiality.
We treat every client with discretion during the complete process. Our application process is designed to be quick and easy and you can have cash the very same day as your application.
Note that you can deliver your assets to us or we can collect them if it's more convenient for you.
Loan application process
You apply for a loan online and within a few minutes, a consultant will call you to discuss service options. You need to deliver your assets to us for an appraisal and we will then lend you up to 50% of the value of the asset. Once we are happy and your asset is secure, we will transfer the funds.
Loan assessment process
We do not do any credit checks or require any bank statements as well also offer bad credit loans. You can access our services online or telephonically, and we understand that you need cash in a hurry, so we have designed the process to be quick and efficient.
We have an expert service
When you are approved for a loan, we will transfer the cash directly to your bank account. We will store your asset until you repay the loan in full, and with our expert service, we make the whole process simple for you.
Get cash today
We do not conduct any credit checks, and our loan process is quick. Once you have secured your assets, we will quote you with a loan amount and you can get the funds the same day.
Secured car loan
Our managers and consultants have been highly trained to bring you the highest quality services. We have extensive experience in obtaining short-term loans, and we will assist you in achieving the best deal possible. We can also lend you cash against your assets by using a secured loan. You will qualify for higher loan amounts if you are able to provide assets with higher values, including caravans, boats, and bikes.
Repayment terms
You have options when it comes to the repayment terms of your vehicle loan and we will determine a monthly repayment schedule for you. At the moment of the last payment, your asset will be delivered back to you. You can either pay the full amount back or opt for the monthly installments.
When you have assets with high value and need money fast, Xcelsior offers the best solution for you. We will save you time and effort, but the biggest advantage is that we will keep your process completely confidential, leaving you with peace of mind that your assets are safely stored with us.
Customer Reviews & Testimonials
"
November 2018
I needed money in a big hurry but every bank I went to just said NO! I was very worried and didn't know what I was going to do. I came across your website and was amazed that I could apply for a ...
Paul J
— Port Elizabeth —
March 2019
It was so easy to repay my loan over a few small monthly instalments. The day that I made my last payment, your consultant contacted me to arrange a time to drop off my vehicle. That I had used a...
Amber F
— Cape Town —
January 2019
I can see why your business has continued to grow for the past 15 years. The service I received was excellent and the consultants I spoke to were friendly and helpful. I was able to save so much ...
Kola B
— Soweto —
Xcelsior Loans Contact
Contact Number
E-Mail
Website
Physical Address
Building 2, Villebois Office Park, Cnr De Villebois & Jacques Streets, Moreleta Park

Pretoria

Gauteng

0044

South Africa
Opening Hours
Monday

08:00 – 17:00

Tuesday

08:00 – 17:00

Wednesday

08:00 – 17:00

Thursday

08:00 – 17:00

Friday

08:00 – 17:00

Saturday

08:00 – 12:00

Sunday

– Closed