Vehicle finance up to R250,000
Fast loan approval
Low interest rates
In-page navigation
---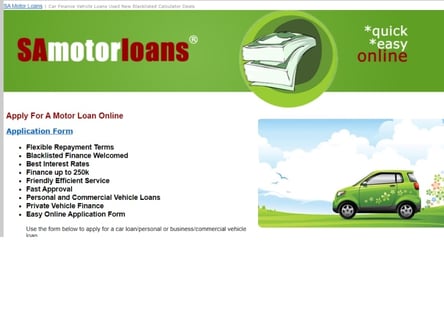 Author SA Motor Loans. Screenshot of SA Motor Loans website.


[Accessed January 30, 2023]
SA Motor Loans - They're the finance leaders
At SA Motor Loans they get the lowest interest rate from their wide range of lenders.
They'll help you receive the best vehicle finance in the market. With their experienced staff, you can expect to get the ideal terms and conditions and an affordable repayment plan.
They're the leaders in the finance industry and they have designed services to suit your personal needs. They specialise in many areas of vehicle finance from cars and bikes to trucks. They can also help with business or commercial vehicle loans.
Expect unique attention
They'll take the time to assess your individual needs. Their online loan application form is easy to complete and after completion, you'll start receiving quotes within minutes. They apply to many lenders on your behalf in order to spare you the effort. You should receive the cash to buy your ideal car very quickly when applying through them.
Lower interest rates on offer
They have professionals negotiating loans on your behalf, and by using their years of experience, they'll find you the most affordable loan with the lowest interest rates. Their consultants are well-trained and professional and will treat every application with the highest priority.
They offer vehicle finance for cars with a value of more than R30 000 and that are less than 10 years old.
Car and bike finance fast
They specialise in car and bike vehicle finance but also finance trailers and trucks. Their expert staff will offer you complete assistance throughout the process, regardless of the vehicle type you're purchasing.
Application process
Once you complete the quick and easy application form and fax your personal documents to them, they'll process your application with the highest priority and furnish you with optional quotas. They only make use of lenders that have great reputations and high ratings in the industry. With them, you can be sure that you'll only receive the best vehicle finance in the market.
Blacklisted or have bad credit
They can help you with vehicle finance even if you're blacklisted or have a poor credit record. You'll have to pay a slightly higher interest rate in comparison with someone who has a good credit score. But no matter what your credit score is they can obtain a bad credit loan for the purchase of a car for you.
Loan terms
They offer you personal loans up to R250 000, with various loan repayment terms. If you're married you can do a combined loan application which might be more affordable.
SA Motor Loans – Vehicle finance
Loan Type

Vehicle finance

Loan Amount

up to R250,000
Benefits of SA Motor Loans
A convenient paperless online application
Maximum flexibility
Finance for blacklisted clients
Vehicle finance calculator
SA Motor Loans - They'll find you the right vehicle finance
Their service runs entirely online and is designed to be quick and easy to use. Their company is completely transparent with no hidden clauses.
Before applying for a loan you need to work out how much you can afford. Apart from the monthly payments, you also need to consider the price of insurance on your vehicle. They'll help you choose between the many loan options and guide you to choose the right option that'll suit your budget. They'll also assist you with a repayment plan schedule.
They're an online car broker
They can give you car finance between R30 000 and R250 000, but if you apply with your spouse, you'll be able to get a larger loan amount. A common limitation set by all major lenders is the fact that they don't offer finance for cars older than 10 years.
Wide range of lenders available
They only use lenders with good reputations, this will ensure that you only get the best services possible. You can use your loan to buy from a private seller or from a dealer. You'll benefit from their personal attention and you'll be able to discuss your needs with an expert each and every time.
With SA Motor Loans you'll receive excellent service through reputable South African lenders. Their consultants will treat your application with the highest priority to get you that car you want in the shortest time possible. Their online platform is user-friendly and you'll start receiving quotes in just minutes! Should you need cash today, then SA Motor Loans are the best option for you. Apply today.
Customer Reviews & Testimonials
"
March 2019
There are very few companies that provide vehicle loans that cover motorbikes. I was very happy to apply for a motorbike loan and was approved on the very same day through your amazing service. I...
Eugene A
— Upington —
May 2019
I am blacklisted so I found it very difficult to obtain a car loan. After having my application declined so many times I was about to give up when I saw an advert for your company. I applied and ...
Ashley S
— Free State —
SA Motor Loans Contact
Contact Number
E-Mail
Website
Physical Address
170 Curzon Rd, Bryanston, Sandton, 2191

South Africa
Opening Hours
Monday

08:00 – 17:30

Tuesday

08:00 – 17:30

Wednesday

08:00 – 17:30

Thursday

08:00 – 17:30

Friday

09:00 – 17:00

Saturday

11:00 – 15:30

Sunday

– Closed