Rent to own
Instant online approval
Repayment up to 6 years
In-page navigation
---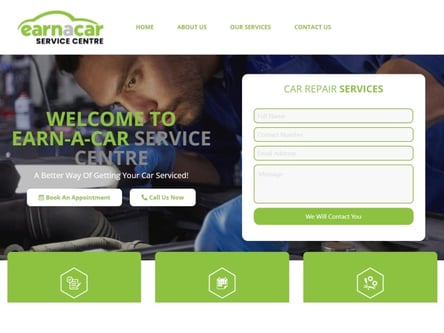 Author Earn a Car. Screenshot of Earn a Car website.


[Accessed January 30, 2023]
Earn a Car - We have a unique and innovative service
The time has come for you to get a new set of wheels. Purchasing the vehicle upfront is not an option and your credit is preventing you from getting the financing you need. This is where Earn a Car comes into the equation.
As the name suggests, they help you to rent a vehicle from them with the end goal of eventually owning it in mind. Earn a Car is the first rent-to-own vehicle company in the country. They can help you to own a car with no hidden terms and conditions.
Who Earn a Car is
Earn a Car has been in business for over 13 years. During this time they have assisted more than 6 000 South Africans to own their own vehicles. They give people access to easy and affordable vehicle finance that is straightforward.
They boast more than 1000 vehicles to choose from. A part of their promise is to provide their customers with outstanding financing options. Options that suit you individually as Earn a Car understand that each person is unique and so are their budgets.
A team that values independence
It goes without saying that owning your own vehicle gives you independence. There is no need to rely on a friend or public transport to get you where you need to be.
The team at Earn a Car is all about assisting South Africans to regain their independence by owning their own vehicle. Earn a Car has an expert team that is committed to assisting South Africans with a fast and efficient all-in-one solution to vehicle finance.
We have great deals and competitive interest rates
The first and most important thing to know about Earn a Car is that they deliver outstanding customer service every time. Going the extra mile is what they do best.
With Earn a Car it does not matter if you are blacklisted, under debt review, or just have no credit at all. The mission is to empower South Africans by owning their own vehicles and they have been doing this successfully for more than 13 years.
The best part is probably that they don't do credit checks so whatever your financial history might be, that does not matter to them.
The different Vehicle finance options
Apart from giving you outstanding service and not judging you based on your credit history, you get spoiled with choice when it comes to vehicle finance.
You can choose between the following options:
Rent-to-own a pre-owned car.
Rent to own a new vehicle.
They help you to get you paired up with the car that suits your budget best. By offering quick and fuss-free applications, they can give you an instant answer on your financing.
Why you should get Vehicle finance from Earn a Car
Many automotive dealers have a lot of promises that don't always end up being exactly as straightforward as they promise on paper. At Earn a Car you can be sure that what they promise is what you get.
They have no hidden costs and you are free to terminate the rental agreement with only one month's notice. Their cars come with comprehensive accident cover, breakdown, and roadside assistance, as well as vehicle tracking. In short, they have unbeatable deals for everyone.
Earn a Car – Vehicle finance
Loan Type

Vehicle finance

Repayment

4 years to 6 years
Benefits of Earn a Car
Affordable car loan options
Accident and roadside assistance
Get approved online instantly
Vehicle finance calculator
Earn a Car – Vehicle finance with great benefits
There has never been a better time to get back to independence than now. With these amazing deals at Earn a Car, you don't have to delay any further.
The application process has been made super easy. Everything is done online. There are only three easy steps to getting a car loan with them.
Step one:
Click on the online approval tab that will take you to the easy application process. Complete the form and answer 4 easy questions. This will take you no longer than 5 minutes.
Step two:
A consultant at Earn a Car will be in contact with you within 24 hours to finalise the agreement and get everything signed.
Step three:
When all the fuss-free paperwork has been taken care of, they will have you pick up your vehicle within the next 24 hours.
How is that for a super easy process?
Great things happen when there is an opportunity
Being able to own a car is not possible for many people. With Earn a Car this is changing. They want people to be independent and they go above and beyond to make that possible.
Take the chance today and let them help you get back your independence too. The deals are sweet and straightforward and they have been changing lives for many years.
Earn a Car benefits
There are no hidden costs in their deals.
They offer fixed rental payments on all their rent-to-own deals.
There is vehicle tracking on all their vehicles.
They offer breakdown and roadside assistance.
Customer Reviews & Testimonials
"
March 2019
I couldn't believe how easy it was to qualify for a car loan and how easy the repayment options were. The fact that I was able to earn rewards just by paying my loan on time every month was amazi...
Adrie S
— Parys —
December 2018
After being declined by banks and other loan companies because of my bad credit, I was worried that I would never find a loan. I applied for a loan via your website and was able to secure vehicle...
Boni A
— Welkom —
January 2019
I paid my vehicle loan and was rewarded with a cash payment of R400. That extra reward money came in very handy at the end of the month and the cash back incentive always makes me pay my loan on ...
Privina K
— Smithfield —
November 2021
I thought I would never see the day that I would be able to own my own vehicle. Thankfully Earn a Car has been making it possible for many people including me. They have great vehicle finance opt...
Moloi C
— Bethuli —
November 2021
My biggest dream has become a reality with Earn a Car. They have made it possible for me to own my own car. Their vehicle finance options make it easy for people with bad credit to have a chance ...
Morake B
— Pietersburg —
December 2021
I would just like to take this opportunity to say a big thank you to Earn a Car. They have made it possible for me to own my first vehicle. With their finance options, I was finally able to get t...
Van Willing A
— Cape Town —
Earn a Car Contact
Contact Number
E-Mail
Website
Physical Address
8 Jubilee St, O.R. Tambo, Kempton Park

Johannesburg

Gauteng

1619

South Africa
Opening Hours
Monday

08:00 – 16:30

Tuesday

08:00 – 16:30

Wednesday

08:00 – 16:30

Thursday

08:00 – 16:30

Friday

08:00 – 16:30

Saturday

08:00 – 12:00

Sunday

– Closed