Buy and sell cars
Low-interest starting from 10.25%
Repayment up to 24 months
In-page navigation
---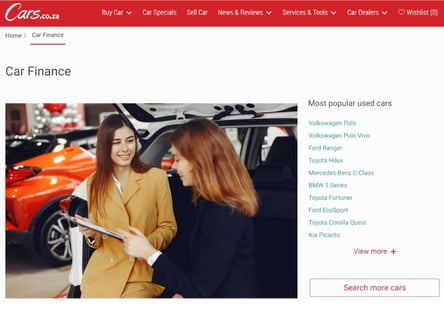 Author Cars.co.za. Screenshot of Cars.co.za website.


[Accessed January 30, 2023]
Cars.co.za is a leader in car finance & insurance
If you are on the lookout for a new vehicle, Cars.co.za is South Africa's leading automobile platform.
They can get you the car of your dreams and throw in vehicle finance to sweeten the deal. From humble beginnings as a start-up company established in Johannesburg, Cars.co.za grew into a well-respected name across the country.
With a social media following as big as Cars.co.za has, it's hard to find someone who has not heard about them. Serving South Africans with only the best is its number one goal.
Cars.co.za has great values
A company that is based on great values reaches success wherever they operate. Cars.co.za has values that keep them reaching new heights continuously.
Values like honesty, not only with its customers but its team as well. They have not forgotten where they started and they have kept that dream alive through the years.
The goals that they set for the company have always been larger than life and that will never change. The goals they set are the goals they reach and the success of the company shows it.
Making a difference feels good
Many businesses are involved in issues that concern the planet, their communities, and the environment. This is no different at Cars.co.za. Helping those in need has always been a belt under the heart of the team at Cars.co.za.
They strive to leave a better environment for future generations while working to make positive differences where they can in the communities they live. Investing 1% of its annual turnover to 'Do Good' projects is another way they are actively making a change.
Easy to use online platform
At Cars.co.za they offer a whole range of automotive-related services. Each service is unique and with its own set of benefits.
Their website is comprehensive and extremely user-friendly. You can easily navigate through their services and view the cars they have on offer. Everything you need to know is neatly put together in one place.
The friendly, helpful, and highly experienced team will be there to guide you through the whole process, from choosing the right vehicle right down to getting vehicle finance.
Vehicle finance explained to the T
Never in the history of financing has a company invested so much in explaining the process of buying a vehicle to its customers. Cars.co.za has put together a comprehensive list of everything that you need to know to make the best decision. They explain everything from the value of the car to the offer-to-purchase document.
When it comes to the finance options they explain the different options, including how to get vehicle finance. You will never be left in the dark at any stage of the process.
Some other services at Cars.co.za
Apart from explaining vehicle finance, Cars.co.za has a few other useful services to make things easier. There is a vehicle finance calculator that lets you see how much will be repaid on the finance amount you need.
Being able to compare cars is a great bonus. There is a whole section on their website that lets you do just that. They are always ready to assist you and answer any questions you might have.
With Cars.co.za you will feel at ease and know exactly what you need to know to make the best choice.
Cars.co.za – Vehicle finance
Loan Type

Vehicle finance

Interest Rate

from 10.25%

Repayment

12 months to 24 months
Benefits of Cars.co.za
Affordable vehicle finance
Low-interest rates starting from 10.25
Quality cars to choose from
Vehicle finance calculator
Cars.co.za - Get your dream car today
Getting vehicle finance from Cars.co.za is a breeze. They will help you find the car you need, get the finance for that car, and insure you, all in one place.
Once you have selected the car you want, you can apply for financing through Cars.co.za. They will do all the work for you and find the best financing deal available. All you need to do is supply them with the necessary documentation.
Documents you may need:
Any recent account to show your current address.
A copy of your ID.
Three months' bank statements to show your income and expenses.
Proof of employment from your employer.
Let Cars.co.za help you find your dream car
Indicate to them that you want to apply for car finance
They will then search for the best finance provider possible. They will organize a great deal for you and present you with an offer
If you accept the vehicle finance offer from Cars.co.za, there will be a contract that you need to sign in order to seal the deal
You can now pose for your photo and take possession of your new vehicle. It's really as easy as that
Let Cars.co.za make your dream car a reality
When you have your eye on that car you have always dreamt of but you don't have the money to buy it in cash, Cars.co.za can help. Let them make your dream a reality with their fast, easy, and honest vehicle finance.
The time is now. Don't let financing stand in your way when there is an affordable solution to owning your dream.
Benefits of Vehicle finance
They offer fast and reliable vehicle finance.
There are different financing options available.
They do the searching for you.
They are South Africa's leading automotive platform.
Customer Reviews & Testimonials
"
January 2019
I love the large variety of options available on your website, from personal loans to vehicle financing you have everything available on your website. The 3 step process made it simple to apply. ...
Zuko C
— Cape Town —
April 2019
Your search function made it so easy for me to find a car that I liked in my price range. All I needed to do was outline my search and your website found me the perfect match very quickly. I like...
Dave M
— Umtata —
September 2021
I never thought that getting the car of my dreams would be so easy. Cars.co.za found my dream car, offered me a sweet deal on vehicle finance, and organized the insurance on my behalf. That is wh...
Ncamani F
— Boksburg —
May 2021
I would just like to thank Cars.co.za for the amazing service I received from their team. Everything was handled professionally and I am very satisfied with them. My vehicle finance was sorted an...
Bouwer S
— Kempton Park —
June 2021
It is not difficult to understand why Cars.co.za has become such a great success. They go above and beyond for their customers in every way. They are a great company and I will recommend them to ...
Du Preeze S
— Port Elizabeth —
Cars.co.za Contact
Contact Number
E-Mail
Website
Physical Address
Block E, Hans Merensky Office Park, 32 Van Buuren Road

Bedfordview

Gauteng

2008

South Africa
Opening Hours
Monday

09:00 – 17:00

Tuesday

09:00 – 17:00

Wednesday

09:00 – 17:00

Thursday

09:00 – 17:00

Friday

09:00 – 17:00

Saturday

– Closed

Sunday

– Closed