Payday loans up to R4,000
Low-interest starting from 60%
Repayment up to 32 days
In-page navigation
---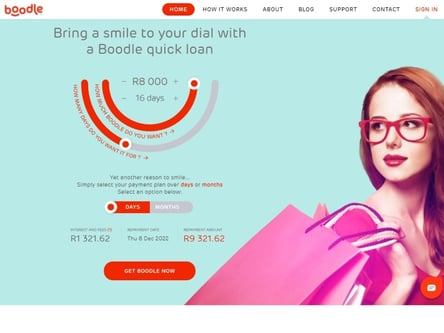 Author Boodle. Screenshot of Boodle website.


[Accessed January 31, 2023]
Boodle - Loan applicatons under 10 minutes
Many times the unexpected happens. This is not always a problem as beautiful and welcome things also happen unexpectedly.
Then there are those times when the unexpected is a not-so-welcome thing to happen. This often comes as a shortage of finances.
You can turn your unwelcome money troubles into a smile with a payday loan from Boodle. There is no need to panic because Boodle is in the finance industry to make life easier.
Why you should choose Boodle
With Boodle, everything is easy. They saw that people were struggling financially and that many big lenders make the process of getting financial help difficult.
So they set out to assist. They decided on the easiest way possible to assist South Africans financially. All you need is access to the internet to apply online.
Their entire payday loan application is quick and easy. It will take you less than ten minutes to complete and they even have a live chat option available to help you with any questions you may have.
Taking the frustration out of a Payday loan
There are many lenders in the industry that claim to be there for their customers. They make many promises just to leave you hanging in the end.
Boodle has set its mind to changing that. They have made available many different ways to reach them.
You can get in touch with them in a live chat on the Boodle website. They have made available an email address where you can send any questions as well as a phone number to speak to a consultant.
Transparent lending services
Customer satisfaction is of the highest priority to Boodle. They strive to keep their customers happy. This has been their main goal from the start.
They know and understand that every person has a unique financial situation. They have taken that into careful consideration when they made these services available.
Knowing that life can sometimes get you down and there is just no time for queues and mounds of paperwork, they have super-simplified the entire process.
How Boodle works
Keeping in mind that Boodle makes life easy, you don't have to expect any fuss. There are no heaps of paperwork to fill in either. There is an easy-to-use payday loan calculator on the Boodle website that will get you on your way to the funding you need.
Simply use the dials to indicate how much money you need to borrow as well as the loan term. You can borrow up to R6 000 with up to 32 days to repay your loan.
Safety comes first with Boodle
The one thing you want to be sure of when sharing sensitive information online is safety. You don't want or need your details laying around for anyone to get a hold of.
Boodle knows the importance of privacy and safety. They have done everything technologically possible to ensure that your information always stays secure. When you are applying for a payday loan with Boodle, you can rest assured that you and the safety of your information are important to them.
Boodle – Payday loan
Loan Type

Payday loans

Interest Rate

from 60%

Loan Amount

up to R4,000

Repayment

48 hours to 32 days
Benefits of Boodle
Loan applications are fast
Loans paid out in 10 minutes
Use the SmileDial to choose the required amount
We support responsible lending
Boodle - Fast payday loans
The entire process has been narrowed down into four easy-to-follow steps. You will be done in less than 10 minutes and you can apply from anywhere you are.
Documents you may need:
You will need to confirm your age and identity with your ID document.
To prove that you receive a regular income you will need a letter of employment.
For your expenses, you can provide a three months bank statement.
Confirm your current address with any latest account.
You are now ready to move on to the payday loan application.
Step one:
On the Boodle website you can make use of the loan calculator. Use the sliders to indicate the amount of up to R6 000 that you would like to borrow. The next slider will allow you to choose the repayment term of up to 32 days.
Step two:
Once you have got the estimate that suits you, you may proceed to the application form. Complete the form in full and submit it along with the requested documentation.
Step three:
Boodle will now do the necessary checks and get a loan offer ready for you. As soon as you have signed the offer, the payday loan process is done.
Step four:
Your Boodle loan is paid out to you between 10 minutes to 2 hours.
Boodle takes fast to a new level
Many lenders claim to have the fastest process and payout speed. The promise that Boodle makes is a promise kept. They make it so easy that there is no excuse to not make them your go-to company of choice.
With Boodle you have cash in your account on the same day that you apply. They pride themselves on assisting as fast as possible when it matters most.
Benefits of a Boodle payday loan
Your information is secure with Boodle.
The application process is lightning fast.
Receive your payout in record time.

Boodle is a trusted & reliable provider of payday loans
In our review, Boodle adheres to the compliance criteria in accordance with the National Credit Act, where the granting the loan will not cause financial distress to the consumer.
✅ Boodle is a registered credit provider in South Africa: NCRCP 5361
Customer Reviews & Testimonials
"
November 2018
Boodle's service is very open and the staff is very friendly. They made getting my payday loan a walk in the park.
Vivian N
— Pretoria —
February 2019
I give a big thumbs up to Boodle for making my application for a payday loan so smooth and simple.
Siyabonga M
— Nelspruit —
May 2021
I never realised that getting a payday loan from Boodle will be this easy. They were available to answer all my questions on Whatsapp. I got my loan paid out on the same day. Boodle is a great co...
Sholasi T
— Durban —
June 2021
I required a payday loan and was not sure which lender to use. A friend told me all about Boodle and I decided to apply. They are an amazing company and I will be using them again in the future i...
Moloi J
— East Rand —
October 2021
Everybody should know what a great company Boodle is. They can assist you with a super-fast payday loan that pays out on the same day that you apply. They have been there in my difficult times an...
Verwey C
— Port Elizabeth —
Boodle Contact
Contact Number
E-Mail
Website
Physical Address
Block 2, 53B Wierda Road West

Sandton

Gauteng

2196

South Africa
---
Postal Address
Suite 86, Private Bag x1, Melrose Arch, 2076, South Africa
Opening Hours
Monday

08:30 – 17:30

Tuesday

08:30 – 17:30

Wednesday

08:30 – 17:30

Thursday

08:30 – 17:30

Friday

09:00 – 17:30

Saturday

09:30 – 13:00

Sunday

– Closed