Payday loans up to R10,000
Low-interest starting from 24%
Repayment up to 3 months
In-page navigation
---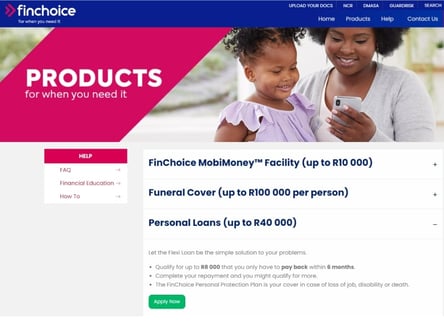 Author FinChoice. Screenshot of FinChoice website.


[Accessed January 31, 2023]
About FinChoice
Finchoice was established to offer South Africans a credit alternative that's easy to access. These loans are ideal for taking care of daily necessities.
They offer a comprehensive range of financial solutions that range from small short-term payday loans to larger loans with longer repayment periods.
Availability at your fingertips
Having access to cash when you need it makes life easier. FinChoice can assist you with your financial needs with speed and ease. With their MobiMoney app, you can do a variety of things from accessing a payday or personal loan to taking out funeral cover in record time.
Who is FinChoice?
FinChoice is the sister company and a division of HomeChoice. It's a trusted name that rapidly became a preferred brand. They focus on delivering quality products with the option to pay over a longer period.
What is a payday loan?
A payday loan is a sum of money that you acquire for various purposes and repays within 32 days. Some payday loans allow you to repay over 3 months.
You may use a payday loan for various reasons. Whether an unexpected bill arrives, the kids need something for school on short notice or just to have some extra cash during the month. Whatever the reason may be, a payday loan is an ideal solution as it does not limit you on the ways you can spend it.
What you should know before applying
With any credit application, some things should be taken into consideration before you apply. Making a responsible and well-informed decision when it comes to credit reflects positively on your credit record.
Compare different loan options to ensure you get the best interest rate.
Understand all the costs involved and get a clear picture of what you're getting into.
Stay within your affordability range to prevent falling into debt.
Establish what you need the loan for and never borrow more than you can repay.
FinChoice Services
FinChoice is a well-known and firmly established brand in South Africa. They're dedicated to offering you financial and insurance products and services at affordable rates.
They treat all their customers like family. They entered the market to offer you an affordable alternative and always put your financial well-being first.
The FinChoice payday loan
Choosing to partner with FinChoice opens up a range of financial solutions at competitive and affordable prices. You'll be glad to know that they have a payday loan that rewards you for financially responsible behaviour. The payday loan option offers you credit between R100 and R10 000. FinChoice lets you enjoy a repayment period of up to three months.
Repaying your first loan according to the agreement and on time, could see you qualify for a larger loan. They offer loans of up to R40,000. All of their credit facilities are credit profile dependant and you'll undergo an affordability check before the credit is granted.
The MobiMoney facility offers you:
Free activation
You only pay for the credit that you use
Access between R100 and R10,000 withdrawals on the same day you apply
Repayment periods of between one and three months
Access airtime, electricity, and data 24 hours a day
Funeral cover for you and your family
FinChoice offers funeral cover for you and up to 19 family members for up to R100,000 starting from as low as R49 per month. Your premiums stay the same for 12 months and claims are paid out within 48 hours.
The FinChoice mobile app
The FinChoice mobile app allows you to do a range of things from your smartphone. These include:
Applying for an advance
Updating your personal details
Take out a loan or funeral cover
Request a settlement quote
Upload the documents needed
Request to skip a loan instalment
FinChoice – Payday loan
Loan Type

Payday loans

Interest Rate

from 24%

Loan Amount

up to R10,000

Repayment

30 days to 3 months

Decision

2 minutes
Benefits of FinChoice
Low-interest rates starting from 24%
Payday loans up to R10,000
Repayment terms up to 3 months
Access a payday loan in record time
Applying for a payday loan from FinChoice is easier than ever.
The entire application can be completed online by clicking on 'apply now'. They've made the loan application quick to complete and easy to understand. FinChoice believes in offering trustworthy and transparent financing.
The documents needed for the application
When applying for credit in any form, certain documents need to be supplied to the lender. These documents are used for confirmation and verification purposes. They might include:
Proof of your current address not older than three months
Your South African ID document/Smartcard
Your most recent payslip
Three consecutive month's stamped bank statements
The FinChoice credit eligibility criteria
To acquire a payday loan from FinChoice, a certain criterion needs to be met. This criteria requirement is referred to as eligibility. The eligibility often includes:
Undergo an affordability assessment
Have a bank account that reflects your salary
Be at least 18 years old
Supply an address
Submit to a credit check
Have a steady income
The application process explained in 6 easy steps
Applying for a FinChoice payday loan is super easy and quick. All you need is a laptop, smartphone, or a computer and an internet connection.
Use your preferred device and navigate to the FinChoice website. Find the payday loan option on the homepage. The plus sign on the right hand opens a drop-down menu with an apply now button. Click and proceed.
The next page consists of a login for existing customers and an application section for new customers. Under the new customer section, click on apply now.
You're redirected to the application page for various products on offer at FinChoice. Select the FinChoice MobiMoney facility option and click on get your quote.
A questionnaire will appear and requires you to submit information like your name and surname, ID number, cellphone number, email address, employment status, and your nett salary. Agree to the credit check and click on continue.
You'll be required to submit supporting documents via a link and when they have all the documents required, your application is assessed.
If you qualify for the payday loan, the money is paid into your account once all paperwork is finalised.
The benefits of a FinChoice payday loan
They're a trustworthy company
Affordability
Flexibility
Available 24/7 on the MobiMoney app
Become a part of the FinChoice family
FinChoice has been a trusted brand for many South Africans over the years. They're dedicated to offering you reliable and affordable products and services.
The website is easy to navigate and understand. Partnering with FinChoice could give you the ease of mind that should you need to access money fast, they'll deliver.

FinChoice is a trusted & reliable provider of payday loans
In our review, FinChoice adheres to the compliance criteria in accordance with the National Credit Act, where the granting the loan will not cause financial distress to the consumer.
✅ FinChoice is a registered credit provider in South Africa: NCRCP 434
Customer Reviews & Testimonials
"
December 2018
I've been using Fin Choice for 3 years and I'd still recommend them. Their service is unbelievably quick, not to mention they are reliable, polite and a pleasure to deal with. From a very happy c...
Brandon A
— Rustenburg —
February 2019
Applying for my payday loan online was a big time saver and it sped up the process a lot.
Candice S
— Kimberley —
March 2019
I applied and got the money all within 24 hours!
Bernard V
— Cape Town —
May 2021
A friend told me about FinChoice. I was excited to hear that they might be able to assist me with a payday loan and registered for the service. It was an easy process and everything is clear to u...
Conradie B
— Germiston —
October 2021
I was in serious need of funding to get me through the month as I had to pay for an unexpected account. I went on the FinChoice app and applied for a payday loan and it was paid out the next day.
Sebenza B
— George —
November 2021
When it comes to ease and convenience I just want to say thank you to FinChoice. Their app is so easy to use. Applying for my payday loan was a breeze. They offer a great and convenient service.
Smit S
— Carletonville —
FinChoice Contact
Contact Number
E-Mail
Website
Physical Address
78 Main Rd, Wynberg

Cape Town

Western Cape

South Africa
---
Postal Address
Private Bag X50, Claremont, Cape Town, 7735, South Africa
Opening Hours
Monday

07:30 – 19:00

Tuesday

07:30 – 19:00

Wednesday

07:30 – 19:00

Thursday

07:30 – 19:00

Friday

07:30 – 19:00

Saturday

08:00 – 17:00

Sunday

09:00 – 14:00