Payday loans up to R10,000
Low-interest starting from 24%
Repayment up to 3 months
In-page navigation
---
Author FinChoice. Screenshot of FinChoice website.


[Accessed May 13, 2018]
FinChoice - Transparent reliable payday loans
We are a digital financial service provider that specializes in flexible loans and funeral cover for consumers around South Africa. We currently operate out of Cape Town and form part of the HomeChoice group.
Our work is our passion, and what we at Finchoice strive to accomplish, is to become the financial services provider of choice when it comes to selecting products that are affordable to the average income person.
We are transparent
We also aim to be entirely transparent with our clients and provide ease of access when you need to reach us and apply to us. A key component to making our products more accessible is by reducing time-wasting efforts to achieve the end goal, and we start with the biggest time saver – avoiding queues.
FinChoice now offers all our services and information online and through this, you can create a unique login to manage your payday loans with us, as well as browse our full range of products.
You have already begun experiencing the benefits before you even apply for a loan, with no traveling, no queues, no fuss. Visit us today and let's see what we can do for you! If you need anything in terms of queries answered, please call us on 0861 346 246.
For our new customers
Looking to take out a personal loan? Then click on the "Apply Now" button to discover the amount you qualify for, you could potentially have the funds for your loan in your account within 24 hours.
For our existing customers
Already have a loan? Simply click the "Manage Account" button to view our entire list of services on finchoice.mobi
Loans up to R10 000
We offer an option called the Flexi Loan and this could literally be the simplest solution to your financial problems in the long term.
You can qualify for up to R8 000 which would need to be fully paid within 6 months from the start date. You would need to fully pay up a loan before qualifying for another. The FinChoice Personal Protection Plan will assist you with a cover in the unfortunate event of retrenchment, disability, or even death.
Payday loans up to R2500
A KwikAdvance will give you exactly that – a quick loan. With a loan, such as this, you'll receive funds up to R2 500, which you need to repay by your next pay date. If you choose to settle your loan sooner, you will be eligible to apply for more. The FinChoice personal protection plan also applies to these payday loans.
Premier loan options
Then we have our premier loan which is the ideal option for those who need to borrow large sums of money and can afford to pay it back over extended periods of time.
The payday loan amount that you can expect to borrow is up to R30 000 and the repayment terms can be chosen to suit you at 12, 24, or 36 months. There is no fee or interest if you can repay this loan within 14 days. Enjoy the peace of mind that you are covered by the FinChoice personal protection plan with this loan type as well.
Fancy yourself quite savvy online, then try our self-service function, where you have access to manage your money all day in a secure environment, using any computer or mobile device.
All you need handy is your username and password to login to finchoice.mobi.
FinChoice – Payday loan
Loan Type

Payday loans

Interest Rate

from 24%

Loan Amount

up to R10,000

Repayment

30 days to 3 months

Decision

2 minutes
Benefits of FinChoice
Low-interest rates starting from

24%
Payday loans

up to R10,000
Repayment terms

up to 3 months
FinChoice - We should be your number one choice
Finchoice should always be your number one choice for digital loan services
When your documentation is completed uploaded on our site, we will arrange for a transfer of funds into your bank account. Should this process all transpire before 3 pm on any business day, the funds will reflect in your account within 24 hours from the time of the online loan application. You'll receive confirmation via SMS to advise you when the money will be available to access.
Low-interest rates
Our interest rates are regulated by the National Credit Act (NCA). Therefore, don't expect any nasty surprises or inflated rates as other lenders tend to do. You are allowed to skip a payment, provided you've at least made one successful payment and your account is not in arrears with us.
If you need to miss a payment on your short-term loan, simply contact us or log in online to finchoice.mobi and request the skip there, alternatively you can request it via KwikSkip by dialing *120*1048#. The most popular option is to simply SMS the word 'Skip' to 083 8555 700 and we'll contact you!
A little advice
Affordability is not just a term or a circumstance, it is a regulation in place as per the NCA. What this means for you though, is that we cannot loan you money that you can't afford to pay back.
When you apply for an instant loan with us, we need to then cover a few points relating to your income and expenses. Prior to us sending you any funds, you'll have to provide proof of your income via 3 of your most recent payslips, bank statements, or pension slips if you're no longer employed.
Does FinChoice cost me anything
No, it doesn't' cost you a cent! The only costs you can expect are minor mobile data charges from your service provider. If you're in a WiFi zone, however, you can connect and not pay for any data at all! Bear in mind if you are subjected to data costs, finchoice.mobi is still cheaper than a phone call.
There are benefits to using FinChoice
You can view your payday loan in South Africa account balances at your peril. You're able to request to skip payments if you're having a tough month financially and need a little breathing room for one month.
Updating your personal details has never been easier through this account and you can even view a mini statement on finchoice.mobi. Other benefits include requesting a settlement quote without having to pick up the phone and even applying for a personal or family funeral policy.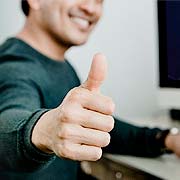 FinChoice is a trusted & reliable provider of payday loans
In our review, FinChoice adheres to the compliance criteria in accordance with the National Credit Act, where the granting the loan will not cause financial distress to the consumer.
FinChoice is a registered credit provider in South Africa: NCRCP 434
Customer Reviews & Testimonials
"
December 2018
I've been using Fin Choice for 3 years and I'd still recommend them. Their service is unbelievably quick, not to mention they are reliable, polite and a pleasure to deal with. From a very happy c...
Brandon A
— Rustenburg —
February 2019
Applying for my payday loan online was a big time saver and it sped up the process a lot.
Candice S
— Kimberley —
March 2019
I applied and got the money all within 24 hours!
Bernard V
— Cape Town —
FinChoice Contact
Contact Number
E-Mail
Website
Physical Address
78 Main Rd, Wynberg

Cape Town

Western Cape

South Africa
---
Postal Address
Private Bag X50, Claremont, Cape Town, 7735, South Africa
Opening Hours
Monday

07:30 – 19:00

Tuesday

07:30 – 19:00

Wednesday

07:30 – 19:00

Thursday

07:30 – 19:00

Friday

07:30 – 19:00

Saturday

08:00 – 17:00

Sunday

09:00 – 14:00