Payday loans up to R8,000
Low-interest starting from 36%
Repayment up to 6 months
In-page navigation
---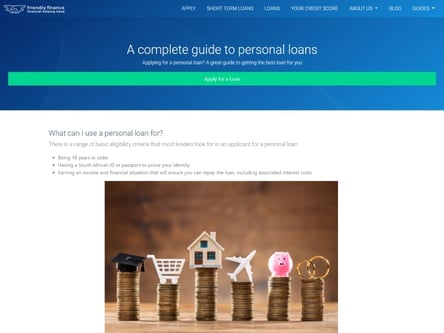 Author Friendly Finance. Screenshot of Friendly Finance website.


[Accessed January 31, 2023]
Friendly Finance - Easy payday loans
The mission at Friendly Finance is to ensure that South African citizens are educated with all the necessary information they need to make optimal financial decisions where credit is concerned.
They provide countless comparisons between payday loans that individuals commonly register and apply for. When you picture Friendly Finance, picture a helping hand for all your consumer finance product selections.
They're experienced
You might think that you know best and or have the upper hand when it comes to understanding your needs the best, but you have to take into account that they have decades of financial experience. Explicit knowledge of these products is all a result of working directly with all the creditors and partners in the industry.
The skills and experience that they're equipped with, reflect greatly on all the services they offer you.
It allows them to confidently advise and educate those who are still undecided on the routes to take when it comes to their credit needs and what their budget allows for.
They set loan-finding trends
Yes, it's true, there are other comparison sites available, however, consumer finance is ever-changing, and keeping up with these online loan trends is imperative to providing the best advice in the market.
It can take hours when you're doing it alone through these sites, which is why they're the best choice if you're unsettled about your own opinion on what to do. They choose the best scenario for you.
Often new products in the market are complex to decipher when it comes to their costs, their actual functions and the rates that you're likely to pay. Often, they're hidden!
Their function is to take the confusion out of the equation and pride themselves on being among the first to discover new personal loan products in the market. That way, when you ask them to do the hard work for you, they're fully informed on what's available when making a choice for you.
Payday loans up to R8 000
If you're someone who landed yourself in a pickle financially and needs to quickly remedy the problem, a short-term loan is the answer. Especially when things such as credit cards or bank loans aren't always available.
A short-term loan typically isn't for a long-term problem, simply due to the higher interest costs and fees. Instead, they're usually there to tide you over until your next payday.
Same-day loan approval
There are lenders who don't perform credit checks and merely assess your affordability based on the particulars that you furnish them with including expenses and income.
Then there are others who'll lend to those with poor credit scores, providing that they can show means of being able to repay the payday loan.
Need to know how long it'll take to approve? Well from lender to lender it's different, but in most cases, you can expect same-day approval if your applications are done online. Making sure that your information is 100% accurate when you upload it will help speed up this process.
Personal loans can assist you in the long-term
These loans are larger than the payday loans previously mentioned. Their repayment terms are therefore longer than for a short-term loan. It varies between 12 months and 6 years.

The interest that one will owe on a personal loan can be one of two interest types.
Either fixed, meaning that regardless of the rate changing due to inflation or other political reasons, your rate remains unchanged, or linked, also referred to as variable, meaning that as things change financially in the economy which causes interest to fluctuate, so will your rate.
Personal loans have the option to come secured with collateral attached to the loan, or unsecured meaning no assets are attached.
Friendly Finance – Payday loan
Loan Type

Payday loans

Interest Rate

from 36%

Loan Amount

up to R8,000

Repayment

30 days to 6 months
Benefits of Friendly Finance
Apply for a loan in 2 minutes
Apply online
Compare lenders and quotes
Use Friendly Finance for convenient pay day loans
Every day people get up and go to work or wherever it is that they spend their days, assuming that everything will go swimmingly and they won't have to encounter any drama or financial stress. That doesn't mean to say they won't encounter it in one way or another at some point, and at that point, you need to know what to do.
Friendly Finance will offer you all the information you could ever need in order to make an informed decision, and how to make it quickly. Their advice to you is to ensure that you apply for a payday loan and that you do so online. First of all, doing it via an online loan application is not only convenient, but it saves you time which you most likely don't have since you're in an emergency.
Payday loans up to R8 000
You can source lenders who'll offer instant cash loans in South Africa from as little as R100 to R8 000, which you can repay over 30 - 45 days – essentially at your next pay date. For the application process, you'll be asked to answer a series of questions pertaining to your personal details. This will be after you've stipulated your pay date with their online sliding scale. Most lenders provide this online tool today for ease of use.
If you can afford to repay a loan over a shorter period than the permitted time period, you should do so, as it will result in less interest owing on the loan. However, do make sure not to be hasty with any loan you take out. Consider all the financial variables.
What they'll need from you
Payday lenders require a form of identification and financial documentation to determine whether you'll qualify for a loan with them. That's due to assessing your affordability.
They'll perform a credit check, and will likely request your income and expenses, alongside 90 days of bank statements, your valid South African I.D number, an active email address and a daytime contact number. Your contact information will be used for means of correspondence between the lender and yourself.
Why Friendly Finance?
At your most compromising moment, when you might feel slightly suffocated due to financial strain, Friendly Finance offers you a life vest out of those troubled waters. They work tirelessly to provide convenient and honest information about quick loans online so that you know all there is to know when you need it most.
Which providers are trustworthy, who provide funds faster than the next, and how your loan will be handled from start to finish? In a time of struggle, they offer a financial marketplace to educate you on everything you need to solve your financial problems.
Customer Reviews & Testimonials
"
February 2019
Friendly Finance really lives up to its name. The team is simply amazing! It's always nice being on the receiving end of such exceptional customer service. Other lenders can learn a thing or two!
Ayisha G
— Cape Town —
January 2019
If I had to describe my impression of Friendly Finance's service, I would say extremely helpful and very useful.
Gail N
— Port Elizabeth —
February 2019
Thanks to Friendly Finance, I found the best payday loan for my situation.
Andrea W
— Johannesburg —
Friendly Finance Contact
Contact Number
E-Mail
Website