Payday loans up to R8,000
Low-interest starting from 36%
Repayment up to 45 days
In-page navigation
---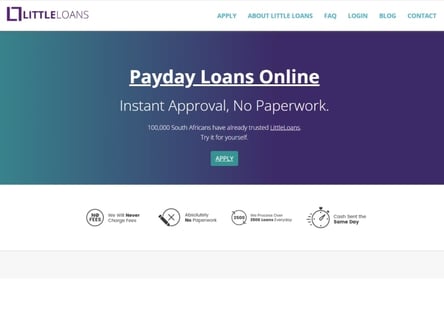 Author Little Loans. Screenshot of Little Loans website.


[Accessed January 31, 2023]
Little Loans - fast, reliable small loans
Throughout the country, there are numerous lenders that loan money out to consumers in need.
Everyone needs credit at some point in their lives, and that's why Little Loans are in business. Not every lender will successfully approve your payday loan, and when that situation transpires, you need to know that there are some lenders out there that'll assist you.
Choose the best options
You need to bear in mind that applying through multiple lenders can impact your credit score in a negative way. So, do your best to do the homework with all the lenders, but only apply through the best-suited options.
Little Loans abide by the rules and regulations of the National Credit Regulator (NCR) and was founded in 2014.
Their aim was to perfectly match you with your personal loan requirements and budget to a lender that could provide you with the service needed to suit those requirements.
Their service is free
When you need a quick loan that doesn't necessarily need to be taken out over an extended period, but rather to get you out of an unforeseen bind, then Little Loans are the company for you.
They'll offer you a loan of up to R8 000 by routing your application to over 11 lenders throughout the country. They receive multiple loan offers, and all you need to do is select the best one for you.
They're renowned for being the number one lender in the industry and your information is 100% secure with them. Their service to you is 100% free, and to prove this – they don't ask you for any banking details.
Loans between R500 and R8 000
They offer short-term loans ranging from as low as R500 up to R8 000 which can all be settled with them on your next pay date.
Most individuals live in a paycheck-to-paycheck fashion, barely making it to the end of the month. They find that people are mostly left with more months than money and that's why they're there to offer you that little breathing room to help you make it through.
Fast payday loans
Fast loans live up to their name, and provide you with money, fast! No credit checks or applications are necessary, just apply online!
They're only human, and no one can predict the future as much as they'd love to. So, when life throws you lemons in the form of financial hardship, remember, you're not alone, many fellow South Africans are just trying to make lemonade along with you.
Financial struggles bring about heaps of unwanted stress and anxiety, but there's no need to mope because there are companies out there who understand your pain and want to help.
Finance in times of emergencies
You can apply for an emergency loan whenever you need it! These types of loans can be exactly what you need during this time of urgency and they have a fuss-free loan application that you can complete in order to apply for one.
What are payday loans?
Payday loans provide instant approval, with no paperwork! It's a quick fix, to help you through to the next date you get paid. 100 000 South Africans use thier services, be a part of that number today!
Little Loans – Payday loan
Loan Type

Payday loans

Interest Rate

from 36%

Loan Amount

up to R8,000

Repayment

10 days to 45 days
Benefits of Little Loans
No paperwork
Cash sent on the same day
Instant loan approval
No fees or costs
Little Loans – 9 things to know before applying
They have an Annual Percentage Rate (APR) of 3% per month (36% APR).
That said, they'll never charge you any fees and pride themselves on their transparency in that regard. There's no paperwork required either and they're experts in the process of getting your funds in a hurry, as they process over 2 500 payday loans every day.
1. No collateral is required
If you're applying for a payday loan, you won't ever need to concern yourself with collateral in order to apply or to be successfully approved.
2. High-interest rates
Payday loan lenders do tend to charge higher interest rates, due to the shortness of the period, however, note that payday loans generally come with a term limit of 1 month so you aren't in for interest over long periods of time.
3. Funds are available within hours
Approvals are fast with payday loans and you don't need to subject yourself to any credit checks to determine your credit score. Provided you're full-time employed and possess a bank account, you can expect fast approval on a personal loan.
4. Convenience
In today's world, a loan application can be done quickly and simply online from the comfort of your surroundings. No need to leave your spot!
5. Beware of hidden costs
Payday loan providers can tend to bring in additional fees to interest charges. Look out for them, they might not always be so clear at first. Common additional fees are initiation and service fees.
6. Avoid slipping into further debt
Skipping a payment means the interest is carried over to the following month. Should this continue for a couple of months, you could end up with an amount that you can't afford to repay. When borrowing money, be very careful how you plan your finances around it.
7. Don't fall for a loan scam
There are scam artists out there. So, take precautionary measures to validate the authenticity of the lender. Ask around for referrals rather than those you trust before jumping in with a company that you don't know anything about. Put your vulnerability aside and do your homework.
8. Lenders will harass you
If you keep missing payments, your lender might start to harass you for payments. They also need to ensure that you don't land in a position where you let it accumulate too high, so beware of missing too many payments. Lenders will go the legal route if you don't make up for the shortfalls. Expect phone calls at unreasonable hours too – which no one wants.
9. Don't fret over your credit score
These types of bad credit loans are designed for individuals with low credit scores. Therefore, many lenders just perform affordability assessments before deciding on the approval of your loan.
Customer Reviews & Testimonials
"
November 2018
I got my payday loan and I didn't even have to fill in any paperwork!
Henry L
— Durban —
March 2019
If you need a payday loan as in right now, I'd recommend Little Loans.
Ryan S
— Cape Town —
December 2018
Little Loans is a company that truly cares about helping people. Getting my payday loan was completely stress-free which I'm not used to when applying for a loan, but Little Loans are the excepti...
Sandra H
— Bloemfontein —
May 2019
Getting my payday loan was so smooth and uncomplicated. Little Loans is great at what they do.
Rorisang M
— Port Elizabeth —
Little Loans Contact
Contact Number
E-Mail
Website