Payday loans up to R5,000
Low-interest starting from 12%
Repayment up to 6 months
In-page navigation
---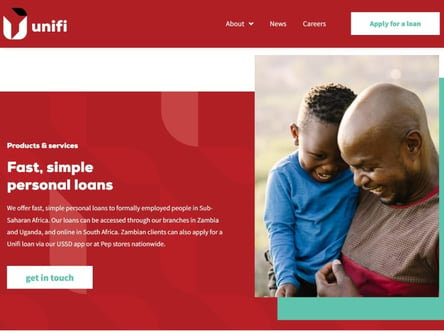 Author Dunami. Screenshot of Dunami website.


[Accessed January 31, 2023]
Dunami - Fast payday loans
If you are in need of some quick cash, Dunami has the perfect payday loan for you.
They have gained a remarkable understanding of assisting clients over the years and this has enabled them to become a leading online lender.
Their offices are based in Cape Town, but they offer online assistance to make it more convenient for you. Applying for a loan online can be done from anywhere without having to leave your home.
They take pride in their good values
They believe that success comes from taking a set of values and constantly striving to live by them through passion and dedication.
Honesty is at the core of all their values, and they aim to have an open relationship among their customers and employees. They will ensure that they maintain high levels of integrity in all their dealings.
NCR Registered
Dunami stands by the National Credit Regulator's policy on responsible lending, and they don't wish to see their clients sustain any further debt issues, therefore their lending criteria are complying with the industry standards.
Deciding on a payday loan constitutes a variety of factors that you need to consider. A few of these are your salary before and after deductions, employment, as well as the length of employment and a general credit check.
They will go through the credit bureau to get an indication of your financial habits and to clear you of any fraudulent activity that could be related to your ID number.
Hassle-free payday loans
If you need a payday loan at some point in your life, Dunami will be there to support you and give you advice on your loan whenever you need it.
A respectful lender
Showing respect to you is a top priority for them and they strive to perform their best when it comes to assisting their clients. Having innovation as a key component in their company truly breeds customer satisfaction.
Flexible loans and repayment terms
Their loans will help you handle unexpected expenses in the form of a medical emergency or even a special occasion that was not planned. You can expect to qualify for a loan amount from R1,000 to R5,000 with a repayment period of 6 months and an interest rate of 12%.
Their service is convenient and fast with a turnaround time of 24 hours.
Monthly payments made easy
You can easily load a debit order on your account and select a due date for the instalment to be deducted. This means that you will not have to make cash deposits or any other form of repayment arrangement as everything will be done automatically.
Enjoy their helpful Personal loan calculator
They have a loan calculator that will help you to work out the amount of payday loan that you qualify for.
Use their easy-to-use sliders to see what your repayments and interest rates will be and slide them according to your needs. This will help you to create and select a perfect loan that can easily fit into your budget.
Dunami – Payday loan
Loan Type

Payday loans

Interest Rate

from 12%

Loan Amount

up to R5,000

Repayment

10 days to 6 months
Benefits of Dunami
Low-interest rates from 12%
Payday loans up to R5,000
Repayment term up to 6 months
Qualify instantly for a quick, affordable payday loans
They understand that not having it in the bank can be rather stressful, and it is not always possible for you to visit your nearest bank. You can apply in the comfort of your own home, saving you a lot of precious time.
Follow these easy steps to apply for a loan at Dunami:
Step 1:
Complete a short application form by logging onto their website. You will need to enter your personal details and attach a few documents.
Step 2:
They will offer you a few packages tailored to your budget. You just need to choose the perfect package suitable for you.
Step 3:
The funds will be deposited into your bank account within 24 hours if your loan is approved.
It will only take 5 mins of your time to get a great payday loan that could pull you through that last stretch at the end of the month. Let Dunami help you to find your way to financial freedom. Apply today.
Benefits Dunami has to offer
Safe and secure online website.
The application will only take you 5 minutes to complete.
Professional and kind staff that is ready to assist.
Loans up to R5,000.
Flexible repayment terms.
Customer Reviews & Testimonials
"
December 2018
I felt so important and valued as a customer. The next time I need another payday loan, I'm calling Dunami!
Nokubonga D
— Pietermaritzburg —
February 2019
I got approved for my payday loan in minutes! Outstanding!
Rassie G
— Pretoria —
January 2019
Dunami listens to its customers. That's what I like about them and why I keep coming back.
Robert M
— Kimberley —
February 2021
Dunami listens to their customers. That's what I like about them and why I keep going back.
Bolo T
— Pietermaritzburg —
September 2021
I got approved for my payday loan in minutes! Outstanding service I would recommend them.
Blume K
— Nelspruit —
October 2021
I felt so important and valued as a customer. The next time I need another payday loan, I'm using them.
Venter K
— Kimberly —
Dunami Contact
Contact Number
E-Mail
Website
Physical Address
9 Lower Burg St, Cape Town City Centre

Cape Town

Western Cape

8000

South Africa